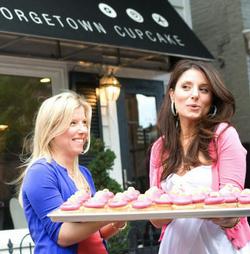 With Friday's premiere of D.C. Cupcakes (10 PM on TLC), sisters Sophie LaMontagne and Katherine Kallinis will officially be the sweetest stars in Washington's suddenly booming reality-television scene. And that's not just because they're in the sugar business at Georgetown Cupcake. At a screening party for the pilot episode at the Ritz-Carlton Georgetown, where they saw themselves onscreen for the first time, they sported coordinated pink Christian Louboutin shoes (sequins for LaMontagne, silk for Kallinis) and declared the episode "cute" and said "it really pulled my heartstrings." But are they too nice for reality television?
The first episode starts on the cutesiest of all holidays, Valentine's Day, and Georgetown Cupcake's puffs of batter and frosting are hot in demand. Even the show's drama is adorable. The girls' mother, an inexperienced baker who goes by "Mommy," takes a batch of red-velvet cupcakes out of the oven at the wrong time and spoils them. Sophie just can't resist a request from St. Jude's Hospital for 1,000 last-minute cupcakes, arranged like a Mardi Gras mask, and adds a huge amount of work to the store's load. There are no professional rivals in sight, no bickering between the sisters that's more than momentary. These are women so nice that they're thrilled to have raised $1,600 for charity.
In a way, it's a relief, given the serious—by fluffy-entertainment standards—tensions of The Real Housewives of Washington, D.C. (premiering August 5 at 9 PM on Bravo), and the manufactured escalations of Top Chef: DC (Wednesdays at 9, also on Bravo). Niceness isn't a bad thing, and LaMontagne says future episodes will focus more on Georgetown Cupcake's staff, many of whom have been with the company since its inception two years ago.
Judging from the first episode, that'd be a good way to spice up the show—and not just in a using-apple-cider-vinegar-in-the-red-velvet-cupcakes kind of way. The real breakout stars of the pilot are another set of family members: Andres, the company's earlobe-plugged skateboarder head baker, and Yasmin, one of the company's first employees and Andres's cousin. "Just because you speak louder, it doesn't make you righter," Andres snaps at Yasmin at one point, before declaring a baking disaster "one ugly mess." The episode rolls like his audition tape for Top Chef: Just Desserts.
And the sisters also promise that future episodes will show them out in Washington, working with organizations such as St. Jude's and the DC Fire Department. "We're really proud to be a small business in DC," Sophie says. Here's hoping future episodes will show some of the challenges along with the fondant.
More>> Capital Comment Blog | News & Politics | Party Photos