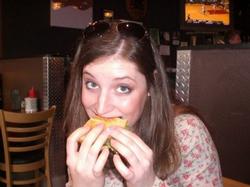 It's no secret that social media, led by Twitter, is helping define pop culture in an era of reality entertainment. A sign of its power and influence? MTV announced in June that it's searching for the first ever TJ, or Twitter Jockey—a play on the Video Jockey title given to the network's personalities since its founding in 1981.
Leading the pack of 25 hopefuls is Rachael King, better known as @LivitLuvit, a 26-year-old Washingtonian who runs the popular and notoriously unapologetic comedy blog—Livit, Luvit—for the past three years. After a series of Twitter-based challenges—including getting celebrity followers and publicizing an unknown band—contestants are judged by their TweetLevel, a specially designed system measuring one's influence on Twitter. Four Tweeters are selected by an MTV panel to go to New York City for the finale, and the fifth spot is given to the person with the best TweetLevel. So far, King has the highest score.
"Last night, I saw myself on MTV. That was pretty insane," she said, admitting that the whole experience has caught her off-guard. King, who has been on Twitter "a couple of years, at least," is known for her cringeworthy blog posts about her personal life and a weekly theme known as "TMI Thursday," that features embarrassing stories about herself, family, and friends.
When MTV contacted her to be in the competition, "I kind of thought it was a joke or something," she says. "I actually turned them down when they said I'd have to move to New York City." Her boyfriend convinced her to take the plunge, and the next day she told MTV she was in.
The stakes are high: The winner is awarded $100,000 and a yearlong contract with MTV in New York City. The experience has been accordingly grueling, says King. "I'd like to eat or sleep again someday," she joked. "The band challenge was hard for me. I knew who I wanted to do, but how to break a band? It's nearly impossible, or else there'd be a lot more famous bands out there. But I did my best."
King says her feelings are torn when it comes to leaving Washington if chosen for the job. To pursue pop culture, she says, "you probably have to go to New York," despite the recent surge of reality shows in Washington. "I'm terrified of the Real Housewives DC. I want to see if they can hold a candle to New Jersey, but at the same time, I don't. I guess now I know how New Jersey feels."
Washington, though, will always be home for King. "I love this city. I'll never let it go. Even if I'm not living here."
Voting closes at 5 PM EST on Thursday, and on Friday morning, MTV will announce the five top contestants who will advance to a competition in New York. A final winner will be announced August 8.
Regardless of whether she makes the jump into the national spotlight, King is determined to keep blogging. "There are a few different DC personalities," she says. "The Georgetown crew, the hipster crew, and the people who have found a place where they can be a complete dork and it makes them cool. That would be me."
Subscribe to Washingtonian
Follow Washingtonian on Twitter
More>> Capital Comment Blog | News & Politics | Party Photos