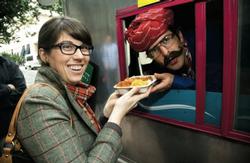 The growing fleet of food trucks in DC adds new life to the city's dining scene, offering more choices for lunchers and late-night salvation for bargoers. So who's not on board? Restaurant owners who have lost customers to the pop-up competition.
Leona Agouridis of the Golden Triangle Business Improvement District—which represents downtown businesses—says restaurants "are paying the rent, the fees, and the overhead for the whole business day, instead of just coming in for the peak hours." The owner of one food establishment says he loses as much as a third of his lunchtime business when trucks park nearby.
Mobile vendors face their own challenge: Licenses from the DC Department of Consumer and Regulatory Affairs stipulate that there must be a line of waiting customers for a truck to pull over—the same rules that apply to ice-cream trucks—which is why they rely on Twitter and Facebook to announce their locations.
Sandra Panetta, owner of Sweetbites, a truck that specializes in pastries, says the rule is hard to follow: It takes her about 20 minutes to get set up, although she has never received a citation.
The two sides agree that a solution is to identify city zones where there aren't many lunch options—one area under consideration is Franklin Park, at 14th and K streets, Northwest—and create an outdoor food court where trucks could park.
The DCRA recently proposed rules that would prohibit mobile vendors from parking within 60 feet of a similar type of food establishment.
What happens if there's no agreement between the parties? The last time there was conflict with street vending—in the '90s—the DC government placed an eight-year moratorium on new licenses.
This article appears in the August 2010 issue of The Washingtonian.
Subscribe to Washingtonian
Follow Washingtonian on Twitter
Follow the Best Bites Bloggers on Twitter at twitter.com/bestbitesblog
More>> Best Bites Blog | Food & Dining | Restaurant Finder