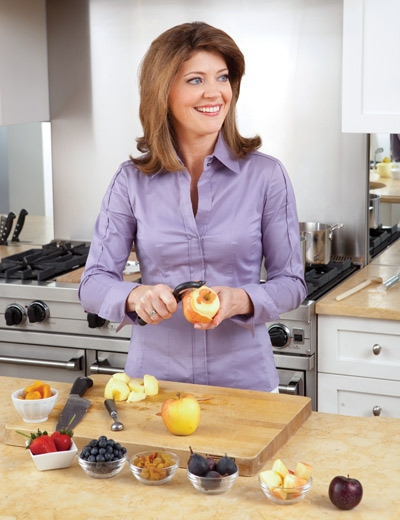 Want to try some of Norah and Geoff's recipes from Baby Love, out on August 31? Whip up their Perfectly Basic Apple for little ones or Whole-Grain Blueberry Pancakes With Flax for kids of all ages.
Until now, there's been just one Nora on Washington's food scene—organic-food-loving chef Nora Pouillon, whose Dupont Circle restaurant bears her first name. Norah O'Donnell, MSNBC's Washington correspondent, isn't trying to go head-to-head with Pouillon (she leaves the chef title to her husband, restaurateur Geoff Tracy, who has a few restaurants of his own, including three Chef Geoff's). But O'Donnell and Tracy do have a new cookbook for parents, Baby Love: Healthy, Easy, Delicious Meals for Your Baby and Toddler, out on August 31. The formidable political reporter applied her journalism skills to children's nutrition for the book, and she says that having three children in 13 months changed the way she does her day job.
"I'm a better journalist and reporter and person because I'm a mom," O'Donnell says. "I've become less uptight on television. Many people have mentioned to me that I'm much better at my job because I'm less serious, I'm more fun. I'm not just focused on one thing, which was politics and the White House."
In turn, she says that the many kinds of writing she's done in her career—from print stories for Roll Call to scripts for television broadcasts—made it easier for her to shift into a newer, more personal kind of writing. And O'Donnell's focus on policy and politics informed her approach to writing her sections of Baby Love, she says. She talked to the American Academy of Pediatrics and consulted with noted Tufts University nutrition-science researcher Susan Roberts to make sure readers would understand how the food choices they make for their babies will influence how their children eat for the rest of their lives.
"The thing that just sort of blew my mind was the idea of metabolic programming—that foods eaten in childhood can have a long-lasting and permanent impact on how the body grows," she says. O'Donnell quotes Roberts at length in explaining that during the phenomenal growth babies experience in their first year, parents have an opportunity to train their children's bodies to prefer nutritious food.
Whereas O'Donnell hones in on science, Tracy writes movingly about his early-childhood memories of frozen foods and his encounters with parents who feed their children unhealthy or uninspiring food because they simply don't know there are other options. But O'Donnell emphasizes that the book is meant to convince readers that making delicious, healthy food for babies and young children at home is simple and cost-effective—she says she's shooting for the "slow food" approach as well as taste, but without the connotations of cost and pretension associated with that movement. In some of the books she and Tracy looked to as models, recipes called for luxury ingredients such as desiccated liver powder or agave juice.
"Geoff said, 'I don't care if it's great for them—I don't know where to get that, and it's ridiculous,' " O'Donnell says. "Parents don't know where to get agave juice. This is about making it very easy and simple for people."
And O'Donnell knows easy and simple. In the book and in conversation, she shows that having children has clearly been a joy, but O'Donnell is sharply aware of the challenges of parenting and of falling into a trap that suggests that there's some ideal formula for it.
"I'm constantly struggling with long hours and making sure I spend enough time with my kids," she says. "It's a real source of angst and guilt for me. What I've come to realize is that there's no balance, and that word is really a destructive word because it suggests the scales of justice between work and family."
And she says those kinds of calculations fall particularly heavily on women.
"Men are never asked how they balance it all," O'Donnell notes. "That's because women, at the end of the day, even if they have great, supportive husbands like I do, we're responsible for making sure they get to their dentists' appointments, their yearly checkups, and they get all their shots for school."
The book project was an example of their strong partnership, O'Donnell says. And just as Tracy helped O'Donnell develop her passion for food in Baby Love, she's encouraging her husband to write a book he's long considered, a cautionary guide for aspiring restaurant owners.
Norah O'Donnell may not be putting her name on a restaurant or giving up the broadcast booth for the kitchen any time soon. But at a time when Washingtonians value food as much as politics, she's finding a place for herself in both worlds.
Subscribe to Washingtonian
Follow Washingtonian on Twitter
More>> Capital Comment Blog | News & Politics | Party Photos