DATE NIGHT
Bistro Provence
Longtime chef Yannick Cam has traded truffles and foie gras for ratatouille and roast chicken. His new Bethesda bistro is a far cry from his plush downtown DC restaurant, Le Paradou, which closed last year. But Cam's take on casual means that a generous, beautifully cooked appetizer of lobster is served not with Sauternes butter but on a bed of green lentils, tiny clams are stuffed with onion confit and walnuts, and asparagus is blanketed in a lush, eggy custard. Service has been erratic—friendly and attentive on less crowded weeknights, maddeningly slow on packed Saturdays. 4933 Fairmont Ave.; 301-656-7373. Entrées $19.50 to $29.
Black's Bar & Kitchen
Jeff and Barbara Black's sleek restaurant might be the perfect place for a blind date. You can share a quick flatbread in the bamboo-toned bar and then, if all is going well, settle in for a longer dinner. The menu poaches from many cuisines, so on the same table you might find warm cornbread with honey butter, saffron-scented seafood stew, and mussels swimming in Thai coconut broth. And if things are going really well? Stick around for the late-night happy hour—Thursday 10 to 11, Friday and Saturday 11 to midnight—when you can get two oysters for the price of one; the same deal is from 4 to 7 on weekdays. 7750 Woodmont Ave.; 301-652-6278. Entrées $24 to $32.
Faryab Afghan
When you want to make eyes at your significant other, head to this white-walled space where Afghan textiles and rugs hang like art. Vegetables are the culinary stars, with plates such as buranee badejan (meltingly tender eggplant stew), kadu (sweet pumpkin with yogurt and meat sauce), and sabsi (puréed spinach with onion and garlic). Kofta kebab (spiced ground beef) and qabili palau (a heap of rice studded with chunks of lamb, currants, and shredded carrot) are the best of the meat dishes. But silky ravioli filled with scallions (aushak) or meat (mantu) and finished with swipes of tomato and yogurt are the hands-down winners of them all. 4917 Cordell Ave.; 301-951-3484. Entrées $15 to $22.
Grapeseed
Bethesda's oldest wine bar may have a West Coast vibe, but chef/owner Jeff Heineman's seasonal menus get inspiration from all over the globe. Recent plates have included sweet roast piquillo peppers stuffed with goat cheese, earthy fried chicken livers, spicy shrimp stew, and filet gilded with oxtail ragoût. The wine list is several hundred strong, with many ways to imbibe: by the bottle, glass, sip, or flight. In warm weather, when the floor-to-ceiling windows are open and an atmospheric breeze ripples through the small space, you might think you're in Napa. 4865 Cordell Ave.; 301-986-9592. Entrées $24 to $35.
Jaleo
Experience superstar chef José Andrés's take on tapas in this color-washed dining room. In recent years, Andrés has upped the luxe factor with delicacies such as Ibérico ham—there are three to try—and rarefied plates such as fried egg with caviar and rustic paella with Ibérico de Bellota pork ribs. But the Spanish-born chef pays homage to standards, too, including pan con tomate (toasted bread rubbed with fresh tomato), gambas ajillo (garlicky shrimp), and tortilla—in Spain it refers to a classic potato-egg omelet. A bit of Andrés's Minibar flash is also on display with such innovations as rice with duck confit, duck breast, and foie gras cream. 7271 Woodmont Ave.; 301-913-0003. Tapas $6.50 to $12.
Mussel Bar
Robert Wiedmaier's new beer-and-mussel house has the dark wood, tin ceiling, and conversational din of a Brussels drinking hall. The food nods to Belgium, but it's also globally hip: pizza-like wood-fired tarts with crisp crusts; spicy Berkshire pork cooked doner kebab style and tucked into flatbread with pickled cucumbers and onions; a stellar lobster roll sprinkled with Old Bay. Big pots of mussels are perfect for sharing, and fries come with house-made mayo for dipping. The no-reservations policy can mean long waits. 7262 Woodmont Ave.; 301-215-7817. Entrées $15 to $28.
Nest Café
This 1½-year-old wine bar has lengthy waits most nights. The appeal? An architecturally avant garde space with wood and corrugated metal, a deck and dining room at once sceney and cozy, a smart wine-and-beer list, wallet-friendly tabs, and, if you order wisely, well-turned-out food. The rave-worthy cheeseburger is a mash-up of ground brisket and short ribs on a flour-dusted house-made bun. Equally delicious is a basket of fried calamari with crunchy artichoke leaves to share. Pastas and desserts aren't where this kitchen's energy is, but the chocolate-chip bread pudding with vanilla ice cream goes down sweet and smooth. 4921 Bethesda Ave.; 301-718-6378. Entrées $9.95 to $21.95.
Persimmon
Miniature lobster rolls, dead ringers for that Maine classic, are reason enough to slip into this romantic hideaway. Served on buttery toasted rolls, they're fat with chunks of tail meat and come with a side of crunchy house-made Old Bay potato chips. Other plates to seek out: fennel-and-arugula salad, sautéed rockfish with roasted corn, and a trio of fresh-fruit sorbets. Add a background hum just right for conversation and a smart wine list—the restaurant won a Wine Spectator award—and you have a dining room with eater appeal. 7003 Wisconsin Ave.; 301-654-9860. Entrées $25 to $32.
Redwood
Feel like grazing? Head to this slate-and-redwood dining room, where you can cobble together a shareable meal of cheeses, terrines, and Parmesan-dusted flatbreads served with a variety of dips (we like the slightly sweet sheep's-milk ricotta). The menu of more substantial fare changes often, but recent hits have been a duck-filled bánh mì and a grilled New York strip with white beans, broccolini, and garlicky salsa. 7121 Bethesda La.; 301-656-5515. Entrées $14 to $32.
Next >> Bethesda's best family-friendly restaurants
BRING THE FAMILY
BGR the Burger Joint
The '80s music is loud and the lines long, but this growing local chain gets a lot of things right: crisp Yukon Gold and sweet-potato fries, thick stand-a-spoon-in-'em shakes, and meaty burgers fashioned from dry-aged beef on a house-made brioche bun. We like the classic cheeseburger with its rosemary-flecked bacon and the messy, Greek-inspired version with ground lamb, tzatziki, and feta. Details aren't overlooked, either—tomatoes are ripe, onions are grilled, beer and wine are available, and syrup shots for sodas (e.g., cherry Coke!) are free. 4827 Fairmont Ave.; 301-358-6137. Entrées $6.99 to $14.99.
Cesco Trattoria
This 14-year-old spot is much-loved for family celebrations. Plates evoke Italy's Tuscany and Piedmont regions: white beans glistening with olive oil, bright salads of shaved fennel and roasted tomatoes, delicate squares of butternut-squash ravioli, whole rockfish roasted in a carapace of salt and fileted tableside. Breads are made in-house, and it shows—the focaccia is one of the best around. 4871 Cordell Ave.; 301-654-8333. Entrées $12.95 to $26.95.
Mia's Pizzas
This cheery spot is run by Melissa Ballinger, who once worked at DC's Pizzeria Paradiso. She's hit a winning formula with her pies (try the standard-setting Margherita or the sausage-and-pepperoni-topped Salsiccia), small but interesting wine selection, and casual small plates, which include meatball sliders and miniature mac and cheese for kids and roasted olives and bowls of mussels for parents. 4926 Cordell Ave.; 301-718-6427. Pizzas $7.25 to $12.95.
Raku
Oversize chopsticks and bright parasols swing from the rafters at this Asian-fusion eatery. Silky tuna tartare; pumpkin-ginger soup; buttery wok-charred, miso-glazed Chilean sea bass; and coconut red curry with noodles and meats are among the draws. Bento boxes are fun, too, and while sushi and rolls are good, they're not the hits of this menu. Everyone's drinking boutique sakes, but you can also get a decent glass of wine. 7240 Woodmont Ave.; 301-718-8680. Entrées $17 to $29.
Woodmont Grill
The restaurant formerly known as Houston's—part of a national chain—is trying to shake its mass-market association with a new name. Little else has changed, and that's a good thing. Fans of the old place will find the same addictive spinach-and-artichoke dip, generous lump crabcakes, and standout veggie burgers, plus such new additions as airy-battered fried shrimp and roasted prime rib. Houston's has always been praised for its spot-on service, and it's carried on here—we've yet to see an empty soda or water glass. 7715 Woodmont Ave.; 301-656-9755. Entrées $19 to $36.Next >> Transporting Experiences and Weekend Brunch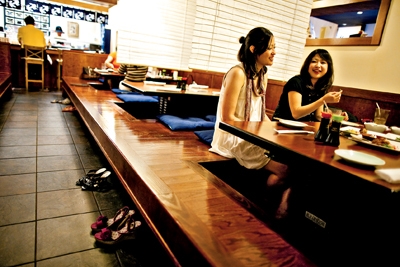 TRANSPORTING EXPERIENCES
Satsuma
Something about shedding your shoes and settling in at a low table with a yakiniku (Japanese barbecue) makes you feel as though you're not in Bethesda. Then comes a platter of razor-thin beef tongue and Berkshire-pork jowl, and you feel transported to Tokyo. Beyond the meat and seafood pleasures of the grill are delicate pork gyoza with sesame-chili soy sauce; rice balls stuffed with plum, salmon, or fish eggs; perfectly fried soft-shell crab; and glisteningly fresh sushi. 8003 Norfolk Ave.; 301-652-1400. Entrées $12 to $15.
Assaggi Mozzarella Bar
Glance at the menu and you might start dreaming about catching an Alitalia flight out of Dulles. Buttery burrata cheese paired with condiments such as basil-marinated zucchini and green-tomato marmalade evokes the antipasto tables of Italian resort towns. Other regional Italian plates include savory artichokes Romana, the robust Tuscan vegetable soup known as ribollita, and the Venetian specialty fritto misto. Peachy walls give off a flattering glow, and windows open onto the street to let in the night air. With the debut of sister restaurant Assaggi Osteria in McLean, service in Bethesda has been dodgy, but here's hoping that's a temporary glitch. 4838 Bethesda Ave.; 301-951-1988. Entrées $15 to $29.
Passage to India
Carved antique doors and framed photos of Indian rajahs give this serene dining room an otherworldly feel. Chef/owner Sudhir Seth's regional cooking is fittingly exotic with plates such as chicken kebab, ground dark meat shot through with jalapeños and nibs of house-made Indian cheese; airy vegetable fritters (the corn is fabulous); Parsi-style lamb stew studded with apricots and crunchy potato sticks; and a wonderfully light Goan shrimp curry. Crisp flatbreads are a must for sopping up sauces, as is the chili-stoked house-made pickle platter—if you can take the heat. 4931 Cordell Ave.; 301-656-3373. Entrées $13.95 to $21.95.
Rock Creek
With a kitchen that shuns cream and butter and an entire menu page devoted to the nutritional lowdown, this upscale hot spot has the virtuosity of a spa. Most dishes don't miss the fat. A jumbo-lump crab cake, available as an appetizer or entrée, and sweet-corn agnolotti are rich and satisfying. Organic salmon gets a boost from Asian flavors, and a dessert of sorbets, including an outstanding blueberry-basil, is healthful and tasty. The only slip-ups are the flavorless chocolate cake and a slow kitchen that handicaps an otherwise conscientious wait staff. 4917 Elm St.; 301-907-7625. Entrées $18 to $44.
WEEKEND BRUNCH
Cafe Deluxe
This sprawling dining room has something for everyone. Eggy plates such as the house Benedict—poached eggs, ham, and sun-dried tomato hollandaise on a wedge of sourdough toast—appear alongside lunch and dinner classics including a fork-licking Gruyère mac and cheese with prosciutto and nicely seared scallops over arugula. A recent special of dewy cod on a mound of roasted corn hit the mark. Besides the usual Bloody Marys and mimosas, the bar shakes up a mean mint julep. 4910 Elm St.; 301-656-3131. Entrées $8 to $12.
Mon Ami Gabi
With heaping portions and well-spaced tables, the spirit of this dining room is more American than French, though the curvy bar area, with snug seating and brasserie-style globes, does feel a bit like Paris. Crab eggs Benedict nods to the Mid-Atlantic and Nutella waffles to Italy, but the croque monsieur, crepes, and steak frites are more Franco-centric. For dessert, try the delicious profiteroles filled with a classic Mad Men–era trio of vanilla, chocolate, and strawberry ice cream. 7239 Woodmont Ave.; 301-654-1234. Entrées $8.95 to $20.
Subscribe to Washingtonian
Follow Washingtonian on Twitter
Follow the Best Bites Bloggers on Twitter at twitter.com/bestbitesblog
More>> Best Bites Blog | Food & Dining | Restaurant Finder