Poisoning the Press by Mark Feldstein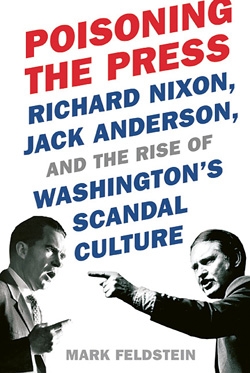 Decades before WikiLeaks, Jack Anderson mastered the art of snatching up sensitive material for his column, Washington Merry-Go-Round. Using CIA-like tactics to lure moles from President Nixon's camp, Anderson riveted the Beltway with damning reports of the administration's shady dealings at home and abroad, including attempts to sack Chilean president Salvador Allende and assassinate Cuba's Fidel Castro. The definition of a muckraker—Anderson once combed through J. Edgar Hoover's trash looking for proof of the FBI director's rumored homosexuality—he landed at the top of Nixon's hit list. After smear campaigns failed, Nixon's henchmen powwowed at the Hay-Adams hotel in 1972 to plot Anderson's death. Car wreck, poisoning, knife attack—any of these might have been his fate had Watergate not erupted and diverted the President.
In Poisoning the Press, Mark Feldstein wants to make a systemic point about how Anderson's battle with Nixon forever changed the relationship between the White House and the media, but the book works better at the human level, as a recreation of the fracas between two buttoned-up Washingtonians, each out for the other's blood.
Stalling for Time by Gary Noesner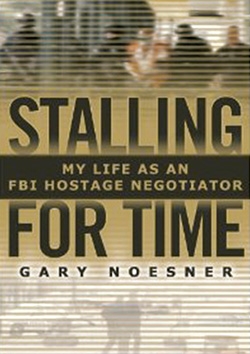 As a hostage negotiator for the FBI, Gary Noesner helped talk a cornered Colombian drug smuggler into coming out of an Amtrak train, Palestinian terrorist Majed al-Molqi into confessing to the murder of an American paraplegic on the Achille Lauro cruise ship, and cult leader David Koresh into releasing 35 captives, many of them children, from the Branch Davidian compound in Waco, Texas.
In his suspenseful memoir, Stalling for Time, Noesner shows how empathy and what the FBI calls "rapport building" can lure the kookiest of killers down from the proverbial ledge.
Along the way, the author, whose childhood dream was to work for the Feds, grinds his axe against trigger-happy colleagues within the bureau who, eager to ensure abrupt ends to standoffs, subvert negotiations in favor of excessive force, jeopardizing the lives of innocent hostages.
Despite wafts of egotism, Noesner's case studies—brisk, character-driven, and full of unexpected turns—are thoroughly convincing.
This article first appeared in the September 2010 edition of The Washingtonian.
Subscribe to Washingtonian
Follow Washingtonian on Twitter
More>> Capital Comment Blog | News & Politics | Party Photos