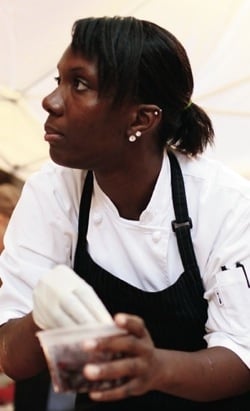 The current season of Top Chef is set in Washington, but only one contestant—Tamesha Warren—is based here. The 24-year-old Barbados native, a sous chef at DC's Oval Room, was the youngest "cheftestant" on the show and lasted six episodes until she had to pack her knives because of a too-spicy scallop dish. She took a break from the kitchen for our Either/Or questionnaire.
Breakfast of champions—Wheaties or beer?
Beer. Any kind of IPA, especially the Dogfish Head brand. I don't like Wheaties, and I don't eat breakfast. My first meal of the day is usually around noon.
Bacon or foie gras?
Both. I use bacon more in my cooking—I put it in everything. To eat, it'd be foie gras. Hard question, though.
Tom Colicchio or Gail Simmons?
Tom. He's a restaurateur and a chef, so I relate to him more.
Coconut water or Gatorade?
Coconut water straight from the coconut. There's processed coconut water on the shelves, but nothing is better than someone climbing a tree and cutting down a coconut that's still warm from the sun. It's so much sweeter.
Julia Child or David Chang?
David Chang. I love Asian food. I have the Momofuku cookbook. I want to try making my own ramen noodles and steamed buns.
Lamb neck or duck tongue?
Braised lamb neck is delicious. We had it on the menu, and every time I'd pull it out of the oven, I'd grab a dinner roll and stuff it with the lamb.
New York– or Neapolitan-style pizza?
Neapolitan because I love Margherita pies. I love 2 Amys, and I've had good pizza at Potenza recently.
Heels or flats?
I'm a heels girl—whenever I get to wear them, which is never because I'm always in the kitchen.
Donovan McNabb or Stephen Strasburg?
McNabb. I think he just joined the Redskins or something.
This article appears in the September 2010 issue of The Washingtonian.
Subscribe to Washingtonian
Follow Washingtonian on Twitter
Follow the Best Bites Bloggers on Twitter at twitter.com/bestbitesblog
More>> Best Bites Blog | Food & Dining | Restaurant Finder