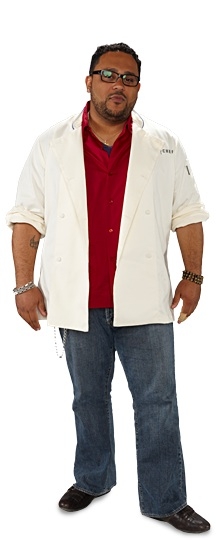 On this week's finale, the three remaining chefs created the four-course meal of their lives, as they battled it out for the title of Top Chef. Helped along by their sous chefs—previous winners Ilan Hall, Hung Huynh, and Michael Voltaggio—they each put their spin on ingredients such as rouget, duck, and pork belly. While Angelo fell ill and Ed fell apart, Kevin Sbraga stepped up to create a meal that "paid homage to every ingredient" (according to finicky French judge Eric Ripert), winning him the title and a prize of $125,000. We spoke with the New Jersey chef about winning, being called the show's bad boy, and his plans for the future.
>>For a recap of Episode 14, click here.
Once you'd had a chance to evaluate the competition, who did you see as your biggest threat?
"I wasn't focused on anyone. I was more focused on myself. I can't control how good or how bad Kenny or Angelo or any other competitor performs. Really, at the end of the day, it's all about yourself. How well they perform can't determine how well you perform."
How were you feeling while you were cooking for the final challenge? Could you tell you had made the best dishes?
"I was very, very confident during the finale. I felt like my dishes looked better than anyone else's and, more importantly, I felt I executed better. At that point, it was more how the judges viewed it."
Tom and Eric chose the main components of the meal so that everyone cooked with the same ingredients. What was the reaction?
"I loved it. Now you're comparing apples to apples, a duck dish to a duck dish, rouget to rouget, vegetable to vegetable. I've done a lot of competitions and most the time that's the way it's set up. I hope they continue."
How did you create the winning Singapore Sling dessert?
"I grew up in the bakery business, and my wife's a pastry chef, so I'm not scared of desserts at all. It was based on a dessert my wife makes. I thought about it, I researched it, I practiced making the Singapore Sling granita—seeing how it would freeze. Back home, I used a lot of canned fruit juices. But in Singapore, I used all fresh fruit. It came out very good."
Did Angelo's freak flu affect his performance?
"There's no denying it, he wasn't feeling well. But he didn't come to Singapore hot. Angelo was kind of out of the picture in my book. Ed was hot—he was fired up when he came to Singapore. It just so happened that I was able to edge him out in the finale. I may have embraced the culture a little more than he did during the final challenge."
Angelo called you the "bad boy" of the show. Was that a fair assessment?
"No, I don't think so. My temper flared up a little bit here and there, but I think Angelo was the bad boy of the show. I don't think I was. He was the one that everyone was hating."
Who was the toughest judge to face?
"Tom, because he's very cutthroat. He's very dry—he just says it. But I was blown away with Eric Ripert's detail. The way he picks apart food and knows the detail is amazing."
Was winning the highlight of this experience for you? What were some of the low points?
"The high point was definitely winning. When it first happened, I was shocked. It was late at night. It was hard to hear Padma. My dream came true in that moment. The low point was the Quickfire when I made the duck dish for the baby-food challenge. I never finished my dish—it was damn near inedible."
What's next for you?
"I want to open my own restaurant. It'll most likely be in Philadelphia—something very small, very high-end, with a menu that changes often, if not every day. Something I can really put my hands in."
>>For more Top Chef DC coverage, click here.
Subscribe to Washingtonian
Follow Washingtonian on Twitter
Follow the Best Bites Bloggers on Twitter at twitter.com/bestbitesblog
More>> Best Bites Blog | Food & Dining | Restaurant Finder