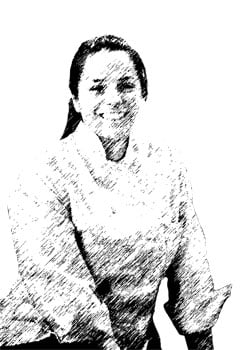 Who: Diana Davila-Boldin, executive chef at Jackie's, Silver Spring
Age: 28.
Why we chose her: The menu looks like it has culinary ADD—it includes dishes from her Mexican heritage, Southern-fried chicken, Korean-accented tuna, and squid-ink pasta—but she pulls it off with confidence and skill.
Hometown: Chicago.
Also worked at: Her parents' Mexican restaurants starting in fifth grade; Ardeo in DC's Cleveland Park.
Favorite childhood snack: "Flautas—my mom used boiled chicken, and she used to make me shred it by hand. I tried to wait for it to cool down, but she told me to do it right away and it'd taste better."
Guilty pleasure: "It used to be a Filet-O-Fish sandwich from McDonald's. I always hid it from my husband."
Favorite cookbook: "All of Charlie Trotter's basics cookbooks—Meat & Game, Seafood, Vegetables, and Desserts. Anytime I'm writing a menu, they're my go-to."
Post-work drink: "Herradura tequila. It's made in Mexico—a beautiful silky, vanilla-y tequila that never gets any credit."
On her iPod: "Madonna—the only famous person that if I were to meet her, I'd cry."
Follow the Best Bites Bloggers on Twitter at twitter.com/bestbitesblog
More>> Best Bites Blog | Food & Dining | Restaurant Finder