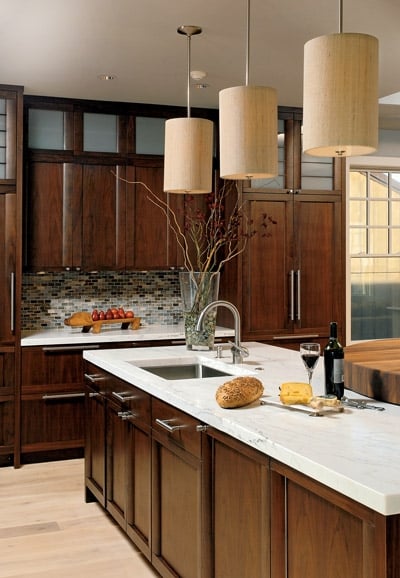 Looking to spruce up your cooking space? We asked design experts what trends they're seeing now and what they predict will stay popular beyond 2010.
STREAMLINED CABINETS
When it comes to cabinets, think "warm contemporary," says Jennifer Gilmer of Jennifer Gilmer Kitchen & Bath in Chevy Chase. "Since many of the houses are traditional in style, clients are hesitant to put in very sleek, shiny cabinets," she says. Gilmer suggests using modern-looking flat cabinet doors instead but softening the effect with a wood-finish veneer.
The veneer can come from either traditional wood or, as Gilmer is seeing more and more, engineered wood that looks like genuine exotic species. Popular engineered woods come in teak, macassar, and wenge, and they're "greener" than the real thing.
"I'm also finding that clients sometimes like to add some punch by adding a second color to the cabinets, like a gloss white," Gilmer says.
That's not to say traditional cabinets are on their way out. Walnut, cherry, and oak are still popular, though in the last two years cabinets have become more streamlined. Says Gilmer: "People are wanting a much simpler inset—ones that have a plain, not beaded, frame—and a simple door without a lot of embellishments or details."
BOLD COLOR
Joanne Fitzgerald, owner of Rockville's Gatéga Interior Design, used to have to press her clients into considering bright colors in kitchens. Not anymore: "All of a sudden people seem much more eager to put big color on their walls."
She says that whatever is popular on the fashion runways tends to trickle down to interior design. Purple is a recent example—a lot in the fashion lines, a lot in the home. Yes, even in the kitchen.
Colors she suggests avoiding in kitchens are green and yellow because they reflect poorly on food. If you have a small kitchen, Fitzgerald advises picking a color you absolutely love and having it made three shades grayer and two shades darker than the paint chip "because whatever color you're going to look at in your hand is probably going to be way too vibrant on the wall."
BIGGER STONE SLABS
Granite and marble are still hot, but in thicker slabs. "Before, it was a ¾-inch slab," says Steve Kirstein, principal of Bowa, a McLean-based renovation company. "Now we've got two-inch-thick pieces that are created by laminating pieces together. It feels more substantial, and it's a little more traditional and warmer."
He's using bigger pieces of stone on floors, too, more 16-by-16-inch-to-24-by-24-inch pieces instead of the usual 12-by-12.
Both granite and limestone are still popular, but Kirstein says granite is edging out marble in popularity because it's more durable and requires less maintenance. "It's still a good idea to seal and maintain granite yearly," he adds. "With limestone it could be every six months."
Expect to see more counters that are flush with drawer fronts, says Andrea Gibson of the Gibson Design Group, which is based in Charlottesville but does a lot of work in Washington. "It is a more contemporary look and very streamlined. White countertops seem to be making a comeback, especially with the vibrant reds, pinks, and purples that are appearing in kitchens."
MOSAIC BACKSPLASHES
Stone is being used in smaller pieces, too, which can be turned into custom mosaics for backsplashes. "They can be individualized, and you can have your own pattern worked into the mosaic," Kirstein says. "It's really lent a whole new look to these kitchens."
Glass mosaics are popular, too, says Susan Jamieson, owner of Bridget Beari Designs in Richmond, especially with stainless-steel appliances: "A little bit of glitz on the backsplash balances all the bling of the stainless appliances."
CLAY TILE
One material on the rise in kitchens, says Jay Irwin, president of Irwin Design & Build in Potomac, is clay tiles made of 60 percent recycled materials.
He used clay tiles in a kitchen for the first time in 2007. The green building material wasn't exactly new but had just come onto a client's radar. This year, lots of people are requesting it. The reason? Affordable sustainability.
"Everybody wants to do their part," Irwin says. "For a lot of materials, that means spending double what you would on green materials." But clay tiles are only slightly more expensive than traditional tiles and have the same durability and look because they go through the same finishing process.
They're also installed the same way as traditional tiles. You can use clay tiles in any way that you would traditional, and they come in nearly as many colors, finishes, and types. Most of Irwin's clients use them for backsplashes or flooring.
This article first appeared in the October 2010 issue of The Washingtonian.