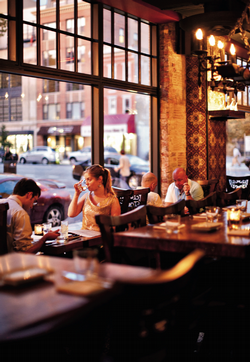 It's 5:45 on a Tuesday night—15 minutes after the doors have opened at Estadio—and already there's a gaggle of girls jockeying for my trio of seats at the bar. The Spanish tapas place is the latest restaurant to hit 14th Street, and it's drawing foodies like Iberian pigs to a field of acorns. Waits for a table here on weekends can stretch to two hours; at least now you stand a better chance of getting into the beer den ChurchKey, the formerly hottest hot spot a few blocks away.
Maybe it's the lure of gin-spiked "slushees," which quickly became the drink of the summer. Or maybe it's the food of Spain, which has been hot for the past decade—ever since El Bulli chef Ferran Adrià revolutionized haute cuisine with his artichoke foams and syringes of gin-and-tonic. Although Washington has long been home to the celebrated Spanish chef José Andrés, the cuisine hasn't quite caught on here in the way that, say, French bistros and Italian trattorias have. Lots of restaurants here do small plates, but few of them, aside from Andrés's three Jaleos, are Spanish.
Enter Mark Kuller, who's making a case for Spain's staying power. He's a longtime tax attorney who capitalized on one of the local scene's blind spots when he opened Proof, his downtown DC restaurant that merged a wine bar with a serious kitchen. Now he's doing it again in what used to be a garden shop near DC's Logan Circle.
Kuller has a knack for smart hiring. At Proof, he put together a dream team of talent, luring chef Haidar Karoum away from Asia Nora, bringing on former Komi sommelier Sebastian Zutant, and poaching cocktail savant Adam Bernbach from Bar Pilar. That trio is now also in charge at Estadio.
The space has been made to look like a Madrid tapas den, with painted tiles, cured hams dangling from the ceiling, and medieval-looking wooden chairs, which are about as comfortable as what you'd find in Sunday school. Even the World Cup games looping on the TVs are vintage.
But in the kitchen and bar, there's no hidebound devotion to tradition. Customers might be pouring white wine and lemon soda down their throats (and onto their shirts) with porrons—the Catalan glass wine vessels—but they also might get their kicks from one of those deceptively potent slushees. One of the best dishes on the menu is a grilled chicken leg, marinated tandoori style in yogurt, sambal, and Madras curry and served with a green salsa made with labne, the ultra-thick Lebanese yogurt.
Mostly though, the menu is a celebration of all things Spain, with tangy Cabrales blue cheese, boquerónes (vinegar-cured white anchovies), and pimentón making multiple appearances. A good place to start is with the pintxos, one-bite toothpick-speared snacks of artichokes and boquerónes or, even better, chorizo, Manchego, and a cube of quince paste dusted with crushed pistachio. A bowl of blistered shishito peppers has the same crunchy appeal as edamame.
Creamy croquetas—stuffed with hen-of-the-woods, shiitake, and oyster mushrooms and béchamel—are nice to share, and they fare better than the Serrano-ham version. Another tapas-bar staple, the potato-filled tortilla española, had an oily sheen and lacked much flavor, and deviled eggs with oil-cured tuna have been on the salty side.
Breads, made in-house, are excellent, whether the crusty rolls for mini-sandwiches of chorizo and Idiazábal cheese or the rustic slabs slathered with whipped goat cheese, tomato, and salsa verde or an odd but good layering of smoked salmon with yogurt and honey. Or you might use thick slices of compagnolo bread to sop up the garlicky, lemony oil pooled around what might be the best dish on the menu, the squid a la plancha, which arrives tender and just charred enough from the flat-top grill; the octopus, on the other hand, has been rubbery and bland.
Karoum shows even more finesse with fish and meat plates, many of which are sized like entrées. A cut of halibut glazed in sherry, pimentón, and honey is as meltingly delicious as one of Karoum's signature dishes at Asia Nora, the miso-glazed sablefish. Juicy hanger steak is well matched with a cilantro-flecked mojo verde sauce.
The deft touches extend to dessert, where there's a lovely shortbread-crusted fig tart and a playful sherry float with vanilla ice cream.
The downside of Estadio has been its instant success. Rushing from work to get a seat or waiting hours for a table seems an incongruous start to what's supposed to be a spontaneous and lingering dining style. But it's also a signal that there's plenty of room on the Washington scene for more places like it.