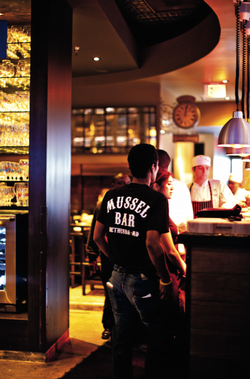 Robert Wiedmaier came up in a system that rewarded tradition and mastery of process, and he has risen above his craftsman's pride to try to satisfy a dining public less inclined toward fanciness. When opportunities for expansion came his way, he didn't look to replicate Marcel's, a restaurant that so prides itself on pampering that it ferries prix fixe diners to and from the Kennedy Center via its fleet of Benzes.
Instead, Wiedmaier opened the Belgian bistro Brasserie Beck in DC and the elegant but simple Brabo Tasting Room in Old Town Alexandria. And his Brabo Restaurant in the same Old Town location, though somewhat formal, is no match for Marcel's when it comes to polish and sophistication. Nor, it needs to be said, when it comes to price.
Wiedmaier chose Bethesda for his latest concept, Mussel Bar, a place that initially came across as so casual it hardly seemed to be trying. I wondered if Wiedmaier figured he was due for a toss-off.
The small place is infernally noisy at prime time, when the wait for a table can be an hour and a half. Service can be agonizingly slow or oddly frenetic, with long lags between courses punctuated by the arrival of multiple servers depositing plates.
Early on, the cooking wanted guidance, too. I was struck that, among the half dozen plates I ordered for the table one night, the most rewarding were vegetable side dishes—a cauliflower-and-potato curry and a lively beet-and-yogurt salad—while the most disappointing were the mussels.
It remains a mystery to me that the mussels aren't better—I've found them on two occasions to be small, more tough than tender, and stintingly doled out—but elsewhere the kitchen has made significant strides. Portion sizes have increased, and the degree of precision has improved—an unusual development considering that most new restaurants scale back their plates and grow more ragged in execution as the months wear on.
A smoked-salmon salad is abundant with thick slices of fish, which sous chef Joseph Paire cures in-house. The pasta Bolognese is house-made, as before, but the wide, eggy noodles and the ragu, made with long-braised short ribs, make for a more cohesive match; undersalting is no longer a problem. The biggest improvement is in the "tarts," which the restaurant also refers to as pizzas. A version with seared pork belly, mussels, and tomatoes is superb, with a thin crust that, unlike the floppy slices that proliferate among Neapolitan knockoffs, doesn't buckle.
The excellent beer menu, dominated by Belgian brews (including a Pils made especially for Wiedmaier), is longer and more deserving of exploration than the menu—which tells you how best to approach Mussel Bar. This isn't a place for a multicourse meal but for sharing a few plates with a friend before or after a movie while indulging in a couple of cold pints.
Given Wiedmaier's reputation and the emphasis on doing just a few things well, the place ought to feel more effortless. It ought to feel as though everything comes easy and service and food are delivered without strain. Mussel Bar might never find that ideal, but it's encouraging to see that it's working to tighten its grasp of detail. As the best of the new-breed restaurants understand, casual should describe the experience, not the execution.