ROSSLYN
Few areas offer as many culinary pleasures as this one, a short walk from the Rosslyn Metro station. There's Guajillo, the cheery and welcoming Mexican spot that eschews cheese-blanketed Tex-Mex fare in favor of chicken with a deeply flavored mole, excellent ceviche, and lamb-filled tacos.
Its neighbor is Ray's Hell-Burger, Michael Landrum's bare-bones burger dive, with supremely juicy ten-ounce patties—try the Soul Burger Number One, with Swiss cheese, grilled onions, and sherry-sautéed mushrooms—and mac and cheese that justify the long lines. It's become so popular that Landrum recently opened Ray's Hell-Burger Too a few storefronts down. It has the same menu as the original plus a handful of non-beef burgers, such as a deliciously glazed wild-boar patty topped with a Vietnamese mixture of mint, pickled carrots, and daikon. And it has some luxuries: table service, a credit-card machine, and a few Belgian beers.
Some of the best pho in the area can be found next door at the stripped-down, fast-paced Pho 75, which has been a fixture on The Washingtonian's list of 100 Best Bargain Restaurants for 24 years. The aromatic and soothing Vietnamese beef broths can be jazzed up with Thai basil, slivered chilies, and Sriracha sauce.
Across the street is Cafe Assorti, a coffeehouse, bakery, and bargain restaurant rolled into one brightly colored package. The Eastern European, Russian, and Kazakh comfort food is filling and delicious: Manti, big beef-stuffed dumplings, come three to an order; fluffy buns are packed with meat, fish, eggs, and veggies; and the Assorti chopped beefsteak gets finished with a fried egg. For something lighter, the garlicky carrot salad and creamy beet salad with walnuts are tasty.
>> Next: Courthouse restaurants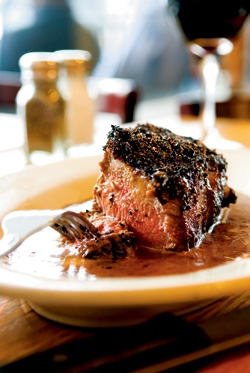 COURTHOUSE
The tiny sandwich shop Earl's feels like a small-town lunch counter. You don't come here to eat delicately: Fried-egg breakfast sandwiches, pork sandwiches piled with French fries, and buttery roast-beef-and-cheddar melts with horseradish mayo are the standouts.
There's always sure to be one thing at Ray's the Steaks, the flagship of restaurateur Michael Landrum's empire: a full house. His high-quality steaks—New York strip slathered in blue cheese, rib eye with horseradish cream—are mostly less than $25 and come with free sides of mashed potatoes and creamed spinach. There's an interesting and affordable collection of wines assembled by former Citronelle sommelier Mark Slater. Although waits are common, the restaurant takes a limited number of reservations and tables turn quickly.
With its carved-wood dividers and deep-red walls, the flavorful Lebanese mezze at Me Jana add up to a much smaller bill than the stylish setting and attentive service would suggest. Meals start with warm balloons of puffed-up house-baked pita; smoky baba ghanoush, eggplant whipped with lemon and garlic; hummus with chickpeas both puréed and whole; and little fried mounds of falafel with a tangy slaw of diced tomato, parsley, and mint. For a meat fix, try chicken shawarma, silver-dollar-size pressed sandwiches with lemon-marinated shredded poultry.
At Chez Manelle, Washington's only Tunisian restaurant, you'll see influences from that country's neighbors: Turkey, Italy, and Morocco. The result is fresh produce in the form of omek houria, or carrots mashed with garlic and olive oil; spicy eggplant spread with lemon and tahini; and a stew with tomatoes, peppers, and onions, made into a good meal with a fried egg, sausage, and French fries.
One of the best new additions to the neighborhood is Fireworks Pizza (2350 Clarendon Blvd.; 703-527-8700; fireworkspizza.com), which favors the same organic ingredients and nitrate-free meats as the original location in Leesburg. Two to try are the Smokey Blue—which marries Gorgonzola, locally made bacon, rosemary, and a drizzle of balsamic vinegar—and the Virginia Luau, elevated with country ham and roasted pineapple. A Caesar salad has good garlicky flavor, but ask the kitchen to go light on the dressing.
>> Next: Clarendon restaurants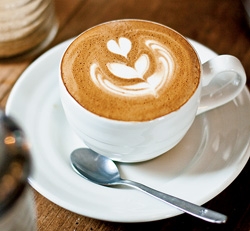 CLARENDON
Delhi Club has been inconsistent, but its neon-red tandoori chicken wings are as good as ever and the Bengali curry with shrimp still radiates an impressive level of heat. The paneer makhani, a creamy curry with cubes of semisoft Indian cheese, is a dish for the spice-averse.
Call well ahead if you want a seat among the dramatic velvet curtains in the dining room at Eventide, where chef Miles Vaden puts out a seasonal American menu with unexpected touches. Pumpkin soup is garnished with balsamic-pickled chayote squash, bison tartare comes with cranberry mustard, and raw oysters have a tomato-horseradish gelée. The lounge, where seats are also hard to come by at prime time (there are no reservations), has upmarket bar staples such as house-made bratwurst, French fries with apricot-horseradish mustard, and barbecue-bison sliders.
At Liberty Tavern, a cozy bilevel restaurant and bar, chef Liam LaCivita regularly changes his American menu, a roster of dishes that pulls from his Italian background. That means that house-made gnocchi—surprisingly delicate—come with corn and tomatoes in summer and apples and ham in fall. His time in New England kitchens is evident, too, in a plate of crispy fried clams with fennel and lemon. LaCivita puts lots of labor into his food—nearly everything, starting with the bread basket, is made from scratch. He also oversees Lyon Hall, a German-influenced brasserie with buttery pork schnitzel and a terrific house-made hot dog, and Northside Social — quaint coffee shop by day, wine bar/cafe by night. Regardless of the hour, don't miss the wonderful coconut-pecan cookies.
Bar fare and Southern cooking get an upgrade at 3 Bar & Grill, where Art Deco architecture meets rustic-chic decor. The menu can be hit or miss; the dishes that sound the most caloric (food from the fryer) are generally the best. Reliably good are chips covered in blue cheese and house-cured bacon as well as a great rendition of chicken and waffles. Cornmeal-crusted oysters, paired with a spicy rémoulade, come out crispy, and doughnuts arrive hot with a chocolate-coffee dipping sauce.
Falls Church Vietnamese restaurants get all the attention, but some of the area's best renditions of that cuisine can be found at Minh's, a friendly dining room on the ground floor of an office building. The kitchen is skilled at many things: pork-and-shrimp-stuffed pancakes, cool vermicelli bowls, caramel hot pots, and grilled meats. It's especially deft with the fryer, as shown by the greaseless sweet-potato-and-shrimp fritters and spring rolls.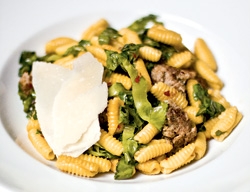 In the mood for a burger? Head to Harry's Tap Room, a casual modern saloon that does a great job with challah-sandwiched patties and turns out nice pots of mussels. It's also a good Benedict-and–Bloody Mary stop on weekend mornings.
Tallula exudes refinement in both its dining room—rust-orange walls, simple dark-wood furniture—and its ever-changing menu. A recent meal turned up a disk of blue-crab sausage over fregola, an Italian couscous; a Portuguese-inspired plate of haddock with clams, mussels, and linguiça; and duck with Brussels sprouts and figs. One dish chef Barry Koslow hasn't pulled from the menu: a terrific bowl of house-made cavatelli with escarole and veal sausage.
Former AOLer Wendy Buckley combined her business savvy with a love of wine when she opened Screwtop Wine Bar earlier this year. The cheese and charcuterie selections are limited, but small plates such as a buffalo-meatloaf sandwich and grilled-cheese sliders with tomato soup bulk up the menu. Check the Web site for a calendar of regular winetasting classes.
Pastry chef Justin Stegall quietly arrived in Washington with a custom-cakes business in 2006 and made pastries for a few coffee shops. A year ago, he entered the cupcake wars with Bakeshop. His cupcakes are small but have a good cake-to-frosting ratio. We're fans of the almond, anchored by a spongecake-like bottom, as well as his chocolate-based options such as cookies-and-cream and devil's food. Stegall's "oatmeal cream pie" is made with delightfully soft cookies.
>> Next: Food trucks and Ballston restaurants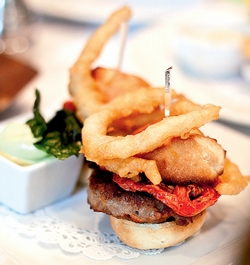 BALLSTON
The most ambitious restaurant in Ballston is Willow, overseen by Tracy O'Grady—a protégé of Bob Kinkead's—and veteran pastry chef Kate Jansen. Its quirky menu veers around the globe and changes regularly, but we've recently liked a rich rendition of the scallop dish coquilles St. Jacques, smoked salmon with latkes, and a spicy, creamy coconut fish stew presented in a pumpkin. Don't miss Jansen's cream pies and layer cakes. An excellent and extensive bar menu offers $5 snacks such as five-cheese fondue, deviled eggs, and Gruyère puffs.
The cash-only, cafeteria-like El Pollo Rico does one thing only: Peruvian-style chicken, caked in a spice blend, charbroiled, and cleavered to order. And as the crowds attest, it's the Washington area's best. Grab some extra containers of fiery chili purée and tangy mayo sauce and you're good to go.
Pupatella, the new brick-and-mortar version of the popular pizza cart (which isn't on the streets right now), uses an Italian wood-burning oven to quick-fire its pies. Pizzaiolo Enzo Algarme's creations are thin in the middle, puffy around the edges, and topped with high-quality produce and meats (we like the simple Margherita and the prosciutto-and-arugula versions). A sausage panino—made with crackly bread cooked in the pizza oven, house-made meat pressed with soft onions, and fresh mozzarella—is excellent.
ON THE MOVE

District Taco, which dishes out Mexican breakfast and lunch, and Tasty Kabob, with Middle Eastern meats, are often parked along Wilson Boulevard. Check their Twitter accounts to find out their locations.
Also worth hunting down: Solar Crepes, a hot-pink truck that moves between Courthouse and Ballston and fills its thin pancakes with good-quality fillings.
This article first appeared in the November 2010 issue of The Washingtonian.