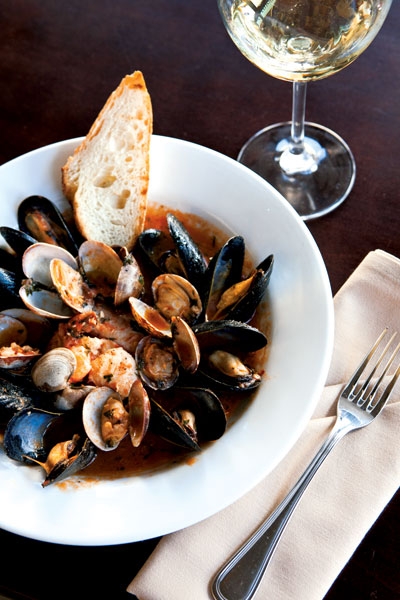 COZY AND CASUAL
Acacia Bistro & Wine Bar (202-537-1040) is very much a family affair. Chef Liliana Dumas and her husband, Maurice, grow many of the vegetables and herbs in their garden, and son Michel has taken on sommelier and front-of-the-house duties. Dumas's cooking is soulful and personal, be it bacalao (dried salt cod), Ligurian seafood stew (the family is originally from Italy's Liguria region), or simple grilled orata with crisp skin and moist flesh. Ligurian-style pasta with pesto, green beans, and potatoes offers simple pleasures, too. Charcuterie boards are generous with Italian and Spanish meats and cheeses. Sit at the sleek bar and sample from almost 90 wallet-friendly Old and New World wines available by the glass and half glass. For lovers of bubbly, the roster of sparklers is longer than most. And don't miss out on dessert. Moist madeleine-style cake with nougat-studded pistachio mousse is a knockout. Entrées $14 to $25.
Moroccan and Lebanese are among the culinary languages spoken at the lively Café Olé (202-244-1330). This means top-notch hummus with sumac-crusted pita chips for dipping; orange-scented lamb tagine with Israeli couscous; Lebanese-style chicken marinated in wild thyme and sesame; and juicy little lamb sliders with sumac-shot aïoli. Even fusion dishes often turn out well—for example, penne tossed with chickpeas, soujouk (a spicy Middle Eastern sausage), and a lick of cream. Entrées $14 to $16.
At Masala Art (202-362-4441), the twang of sitar and Indian art and artifacts are the backdrop for chef Surinder Kumar's thoughtful cooking and spicing. Fried onion with yogurt curry for dipping—where crunchy and creamy meet—is a case in point. So is Kumar's take on the familiar murgh makhani, tender chicken chunks with velvety tomato-cream sauce, a.k.a. butter chicken. If the ultra-creamy dal seems familiar, it's because Kumar and owner Atul Bhola are alums of Glover Park's much-touted Heritage India. Flaky breads such as the cilantro-and-rock-salt-crusted naan are perfect for sopping up gravies and sauces. Entrées $9.95 to $21.95.
Fans of DC interior designer Thomas Pheasant will feel at home at Matisse (202-244-5222), with its pale cream-and-white palette punctuated by playful black ironwork. William Rivera's Modern American cooking echoes the visuals with dishes both simple and eye-opening: fresh Hawaiian hearts of palm with artisanal sheep's-milk ricotta, smoked sea salt, and citrus vinaigrette; pistachio-crusted lemon snapper with fennel and lemon oil; and an ethereal hazelnut gelato with meringue and chocolate sauce for dessert. The Old and New World wine list has nice picks by the glass—just as well because this is a place that seems to be made for lingering conversation. Entrées $22 to $29.
CHIC RETREATS
At the sleek Italian trattoria M Cafe Bar (301-986-4818),the ladies-who-shop hold sway by day, while date-nighters and families gather in the evenings. Arugula and endive with shaved pear marries bitter and sweet, and well-marinated slices of flatiron steak top a heap of frisée and house greens kissed with balsamic. Classic chicken Milanese is lightly breaded and shored up with a tangle of arugula and cherry tomatoes; a special of crabcakes underscores the delicacy of the seafood. Pasta standouts include classic pappardelle Bolognese and saffron tagliatelle with a gutsy ragu of lamb, olives, and Asiago cheese. Entrées $9.95 to $25.95.
The sexy, red-splashed lounge at Sushi-Ko Chevy Chase (301-961-1644) is ideal for saketinis and crunchy shrimp maki. (During happy hour, look for discounts on drinks and rolls.) At the long, curved sushi bar, chefs offer the freshest picks of the day, such as buttery spot-prawn nigiri. But most people settle comfortably in booths or tables for pitch-perfect small plates including beef tenderloin with seven-spice powder, seafood and vegetable tempura with vinegar dipping sauce, soy-and-sake-marinated tuna, and pristine sushi. Finish with house-made coconut ice cream with mango mousse, a fun riff on the Creamsicle. Small plates $4.50 to $14.50, entrées $11.50 to $20.
>> Next: Pizza, bar food, and restaurants with a mood
TRANSPORTING EXPERIENCES
Wooden beams and decorative canoes make for a cozy scene at Buck's Fishing & Camping (202-364-0777). The menu offers retro classics such as perfect fried oysters, a crisp wedge salad with horseradish dressing, and a house-smoked-trout spread. You'll also find one of the area's best steaks—a dry-aged, nicely marbled prime sirloin. Lest things get lost in Mad Men–era nostalgia, chef Vickie Reh offers such side trips as tacos loaded with braised pork and lime cream. The long communal table in the center of the dining room is great for groups—or for a get-to-know-you chat with people you just met. Entrées $14 to $39.
The windowed porch at Le Chat Noir (202-244-2044)stays toasty even when the mercury drops. Plates worth seeking out are steak frites with crisp shoestring fries, briny chicken with olives and lemon confit, and a textbook cassoulet. There are also crepes with fillings both savory (we like the sautéed spinach, ham, and crème fraîche) and sweet (the citron-sucre is our top pick here). Upstairs, Le Chat Perché is an airy bar devoted mostly to organic and regional French wines. Entrées $14.95 to $23.95.
Ornate tapestries and plush chaises create an opulent mood at Indique Heights (301-656-4822), where regional street food meets classic curry. There's papri chaat, the potato-chickpea-yogurt "salad" from New Delhi; bhel puri, a toss of rice puffs, crunchy noodles, and tamarind from Mumbai; and miniature chicken- and potato-filled dosas with an array of chutneys. Chef/co-owner K.N. Vinod's kitchen doesn't shy away from heat, as evidenced in chicken chettinad, crusted with coriander and fiery Tellicherry peppers. For something milder, try the chicken tikka makhani, cooked in the tandoor, then basted with tomato gravy. Though mango lassi is the traditional drink, a mangotini from the cocktail roster cools fires just as handily. Entrées $8 to $22.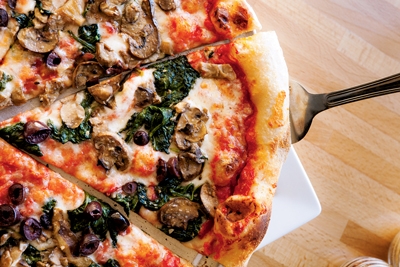 PIZZA, BEER, AND BAR FOOD
The industrial-chic pizza joint Comet Ping Pong (202-364-0404) has become something of a neighborhood clubhouse where locals dine on thin, wood-oven pizzas and wage Ping-Pong tourneys in the back room. Among the best pies: the Stanley, with house-made fennel sausage and roasted peppers, and the basic cheese with smoky mushrooms. The list of toppings is prodigious, but beware of pie overload, which can mean floppy crusts. Wines and craft beers are well priced and well chosen. The retro, sheet-pan-style chocolate birthday cake with fudge frosting is best eaten à la mode with a scoop of vanilla. Ten-inch pizzas $7.95 to $15.
The clam-studded pie at Pete's New Haven Style Apizza (202-237-7383) may get the press, but what about the fabulous house-made sausage-and-wild-mushroom or the New Haven Green with artichoke hearts and sautéed spinach? No wonder Joe Biden recently nabbed a couple of pizzas to go. The classic cheese plus several combos can be had by the slice, and creative salads—we like fennel-apple with mint and ricotta salata as well as beet with chèvre and cider vinaigrette—are a perfect counterpoint. While pastas and panini are fine, they pale in comparison with the crisp-crusted pizza. Boutique beers and Italian wines are as interesting as the pizzas, and desserts made in-house are usually on the mark. Pizza $2.50 to $3.25 a slice, $18.95 to $25.95 for an 18-inch pie.
Chadwicks (202-362-8040) has the feel of a neighborhood pub, with TVs for the sports crowd, a menu that hits all your bar cravings, and a glassed-in dining room to get away from the din. Calamari is lightly crusted and studded with bits of sweet and hot peppers, sweet-potato fries are crisp, and Buffalo wings are the real thing. The charbroiled burger is an ode to the days before designer burgers, which is to say it's a respectable bar burger. Not every dish is a winner, though. Crabcakes are unpleasantly fishy and the pasta woefully overcooked, but then again you should know better than to order pasta in a pub. Among the beers on draft are the mellow Chadwicks' Amber, brewed in Virginia. There are also wines by the glass and bottle, cocktails, and a short list of craft beers—try the complex Brooklyn Brown Ale. Entrées $12.95 to $21.95.
>> Next: Brunch, sweets, and places to grab a quick bite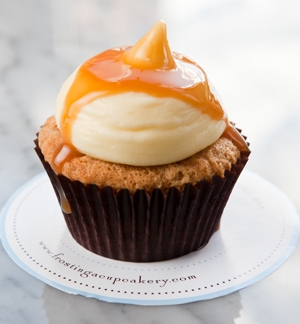 BRUNCH
For kids, Clyde's (301-951-9600) is all about the train, a model choo-choo that does a high-wire chug around the dining room on tracks suspended from the ceiling. The silver-dollar pancakes and French-toast bites don't hurt, either. Grownups can tuck into sunny-side-up eggs over spicy chorizo hash; a sort of Maryland Benedict with mini-crabcakes instead of ham plus Old Bay–spiked hollandaise; or a nicely charred burger topped with a fried egg on an English muffin. Should the Nickelodeon set grow bored with the train, there are models of vintage planes and ocean liners, too. Brunch is served Saturday and Sunday. Entrées $7 to $19.95.
Italians don't do brunch, but at Lia's (240-223-5427 ) the meal takes much of its inspiration from Italy. There's the clever crespelle—a pileup of crepes layered with scrambled eggs, prosciutto, fontina, and arugula—and a crisp waffle with mascarpone cream and maple sausage. There isn't much Italian about Eggs Chesapeake, poached rounds on biscuits with a hash of lump crab and Old Bay, but it's delicious. Pancetta elevates Lia's Burger, which drips with meaty juice and is available at great discount during happy hour—and can be had at lunch and dinner as well. Create-your-own mimosas with a flight of exotic juices put a new spin on the brunch classic. Entrées $10.95 to $18.95.
SWEETS
Our favorite time to visit Frosting: A Cupcakery (301-539-9021) is the weekend. That's when the luscious Edelweiss—almond cake with almond buttercream—rules. Everyday flavors include the classic but definitely not boring intense vanilla cake with vanilla or chocolate buttercream. And the Illy coffee is good, too.
You don't have to wait for the holidays to nibble on the stellar gingerbread at Marvelous Market—we like it sliced with a smear of cream cheese. Oversize brownies and chocolate chip cookies are also tops. Plus there's free wireless Internet.
Head to Whole Foods (301-657-1520) for gelato and fresh-fruit ice pops at the coffee bar or to the Avalon Theatre Café (202-966-6000) for a scoop of Moorenko's Megajolt, coffee ice cream with chocolate shavings. The rich fondue at Bread & Chocolate (202-966-7413) is almost guilt-free, with dippers of fresh fruit and tea bread.
QUICK BITES
On the go? With its simple charcuterie boards, panini, and Enomatic wine dispenser, the (301-664-9494) makes the Tasting Room for a fun pre– or post–Mazza Gallerie cinema stop.
It doesn't get much juicier than the Peruvian-style rotisserie chick­en at Crisp & Juicy (202-966-1222), best with a mash-up of rice and beans.
New England lobster rolls with mayo and melted butter have arrived in the neighborhood courtesy of the Red Hook Lobster Pound. The carrot-ginger soup and prosciutto-mozzarella-basil panini at Modern Times Coffeehouse at Politics and Prose bookstore (202-362-2408) make it more than just a place to plug in your laptop.
If nothing but a hamburger will do, Z-Burger (202-966-1999) flips satisfying fast-food-style burgers and shakes. The house-made organic bison and veggie burgers at Whole Foods Burger Bar (301-657-1520) are good enough to quell a junk-food craving. Ditto for the garlicky twin kosher franks at Booeymonger (202-686-5805). And shoppers on the fly should hit the takeout cart on the lower level of Saks Fifth Avenue (301-657-9000) for the chunky chicken-salad sandwich.