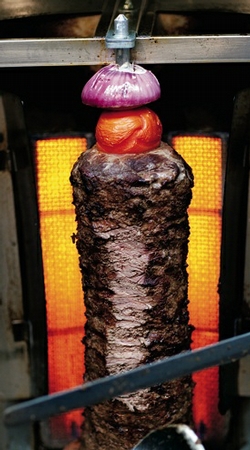 When Tony Alexis opened Bethesda's Yamas Mediterranean Grill in August, he focused on such details as grass-fed beef and antibiotic-free chicken, hand-cut fries, and cooking from scratch. Sound expensive? He's doing it all with low prices. Take his gyro ($6.95)—slices of meat, veggies, and condiments rolled into a thick pita. While most restaurants order a cone of processed beef and lamb, chef Mediha Keler makes her own a couple of times a day. The result, better than most of its competition, is peppery meat sporting a crispy surface. The only thing lacking is consistency: It might be great one day, not so the next.
The garlicky tzatziki is terrific—scooped up with triangles of pita ($5.95), as a partner with the gyro meat, or to give an extra kick to lemony cubes of chicken souvlaki ($6.95). It elevates a feta-topped lamb burger ($6.95) to star status. Order the burger with skin-on fries, which are crisped in olive oil and sprinkled with oregano ($2.95) or tossed with feta ($3.50). Grilled lamb chops (three for $7.95, six for $12.95) are among the few highlights of a small-plates menu that includes spanakopita ($6.95) that tastes previously frozen and a too-salty taramasalata ($5.95), the fish-roe spread. Although rotisserie chicken—in quarter ($4.50 for white meat, $4.25 dark), half ($6.95), and whole ($10.95) birds—has a golden, well-seasoned exterior, the meat inside is dry.
Given the kitchen's strengths, it's best to treat Yamas as a quick lunch stop rather than as a sit-down restaurant. Even so, it's a refreshing reminder that carefully tended meats and house-made ingredients don't have to go hand in hand with white tablecloths.
This article appears in the December 2010 issue of The Washingtonian.