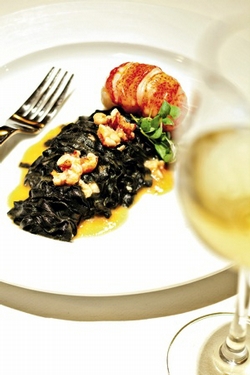 Great chefs sometimes speak of their missions in mystical terms. They don't just want to satisfy their customers; they want to spirit them to a different time and place.
With the long-awaited opening of Galileo III, the reincarnation of Roberto Donna's flagship restaurant, the mission is both grandly mystical and urgently practical: Can the chef's elegant pastas and house-made breads induce both sighs of pleasure and waves of forgetfulness about his recent troubles?
The Donna who presides over the kitchen at Galileo III is far from the cherubic kid from Turin who opened the original Galileo in 1984, bewitching Washingtonians with his lusty but elegant interpretations of regional Italian cooking. Nine restaurants followed over the next decade, and his empire seemed assured. Throughout the '90s, Donna dominated the culinary scene, his showpiece kitchen a proving ground for some of the brightest young chefs of the last decade.
Today only a handful remain open, and Donna has no role in any of them. The past few years have been cruel to the chef's legacy. In 2006, he was forced to shutter Galileo because of building renovations. Transplanting his operations across the river to Crystal City, he launched a casual spot called Bebo Trattoria. The new spot promised the simple, soulful cooking of Donna's Galileo Grill, an operation run out of the Galileo kitchen at lunchtime, but undermined by service and management failures, it never found its rhythm.
From time to time, rumors would surface of Galileo's return. But it didn't happen. Last year Bebo closed, too. Donna had become a chef in exile.
This summer, he pleaded guilty to felony embezzlement; Arlington County court records reveal that he failed to turn over roughly $150,000 in meal taxes paid by customers at Bebo. Donna received a suspended sentence of five years, contingent on the repayment of back taxes.
A recent Washington Post article suggested that repayment may not come easily: Donna reportedly is about $38,000 behind on a mortgage and $70,000 in debt on his credit cards. The Arlington County treasurer recently told Arlnow.com, an Arlington blog, that the state's tax-enforcement office and the IRS are "close to prosecuting Donna for hundreds of thousands of dollars' worth of unpaid sales and employment taxes." As if that weren't enough, some of Donna's former employees are suing him for unpaid wages.
The chef appeared to be feeling the strain as Galileo III neared its debut. Following rumors that the new venture was doomed, he posted a picture on his Facebook page and urged the "evil eyes" to "eat s–t." Fortunately, Donna is smarter at the stove than he is at the word processor.
In fact, Galileo III is a reminder of what ultimately is so sad about Donna's struggles with the law: The man is a superb cook.
You can taste it in one of his signature concoctions, a humble risotto elevated to sumptuous creaminess by generous quantities of Gorgonzola Dolce—a sweet blue cheese from the Piedmont region of Italy—and a sprinkle of crushed pistachios. Or in his budino, a kind of savory crème brûlée best tackled slowly and in tiny spoonfuls to savor the intricacy of the construction: a Parmesan-cheese pudding at the bottom, a layer of burrata cheese in the middle, a thick cream of porcini mushrooms on top. Or in his chestnut soup, so luxuriously rich it tastes like liquefied foie gras. (For a video of Donna cooking the budino, click here.)
All three dishes recall the glory days of the tasting menu at Laboratorio, a chef's table in the back of Galileo where Donna piled on the riches and dazzled diners with his talents.
Among those talents is the rare ability to transform flour, egg, and water into something memorable, a gift as evident today as it was 25 years ago. Each of the eight pastas on the menu at Galileo III has a distinct texture and taste, be it a squash-filled cappelacci dusted with crushed almond cookies, agnolotti stuffed with ricotta and spinach, or raviolini—pinched ravioli—made with three kinds of meat and sauced with veal jus.
The presentation is elegant, but the flavors are as soulful as those at a rustic trattoria in the Italian countryside. One bite often has the depth of three.
There is no chef's table at the new restaurant, but the array of prix fixe menus underscores Donna's intention to deliver an experience that straddles the elegant sumptuousness of Laboratorio and the comparatively simpler pleasures of Galileo. The least expensive option is three courses for $55. Five courses cost $89. There's also the option, price unlisted, of "having chef cook for you," as the waiters all make a point of announcing.
The menu is divided into thirds—starters and salads; pastas; meats and fishes—but you can select among non-dessert courses without regard to section. If you opt for the three-course meal, you can have two salads or two soups or two pastas or two main courses. Go wrong in ordering and you can come away hungry.
A friend who dined with me one night mused about the return of nouvelle cuisine. (Wrong country, right idea.) Course one brought two small, seared scallops on parallel swipes of polenta: one black, one yellow. Colorful, tasty—and gone in a flash. Course two was the risotto, which arrived in an enormous bowl yet amounted to perhaps ten spoonfuls. His meal ended with a portion of hazelnut semifreddo only slightly bigger than a silver dollar.
Right up until the check came, he wore the expectant look of someone prepared to seek more food elsewhere and asked me how I could be full. I'd started with the chestnut soup, one of the richest dishes on the menu (or any menu), and chose for my second course the black taglierini—three mounds of springy noodles made black by squid ink mixed into the dough and glossy from a long toss in butter—with a succulent lobster tail.
Another night, while a friend complained of too little to eat—her main course consisted of four cappelacci—another was swooning over a whole branzino cooked en papillotte with olives, tiny potatoes, and capers, deboned tableside, and anointed with a generous drizzle of olive oil that made a sweet fish even more luscious. Then again, she'd had the equivalent of a fourth course: The fish came with an $8 upcharge.
I lingered over the table's serving of branzino at the expense of my roasted stuffed breast of Guinea hen, whose muted flavors were in stark contrast to the vivid simplicity that made the fish so irresistible. A tartare of diced veal with basil oil was good, though it left me pining for the greater rewards of the pastas.
How you feel about prices and portions affects how you view Donna's return. If you look upon him as a fallen chef, obliged to make amends for the sins of Bebo, you may see presumption. If you regard Galileo III as the comeback of one of the city's greatest chefs, $55 for three small courses doesn't seem a great price to pay given the cost of most of the area's top tasting menus.
At a time when chefs are downscaling their ambitions, Donna's pricing and portions come across almost as a rejection of the times—as if he were determined not just to take back his place among the city's chefs but also to turn back the clock. Nearly everything about the multitiered dining room feels out of synch with the culinary moment, from the tables laid with two white tablecloths to the masculine color scheme (its tans and browns summoning a supper club in Milan) to the Old World formality of servers (all men, all in ties) who murmer their approval of requests: "But of course."
The quality of the service—fo
llowing years when Donna seemed deaf to complaints of indifferent treatment—suggests that he's now listening. It's been ages since he had such an excellent team around him—waiters who exude grace and professionalism. The one woman working the room is the chef's wife, Nancy, who checks in with tables a couple of times during the meal—troubleshooting, smoothing out kinks, flashing a dazzling smile.
Donna sometimes can be seen making the rounds, though quickly. A jovial presence in the dining room of the old Galileo, he seems content in the early days of the new place to stay in the kitchen overseeing his crew and expediting orders.
Sitting in the dining room under the spell of the Barolos and Barbarescos and the chef's elegantly sauced pastas, watching him bark instructions from his open kitchen, you might be tempted to dismiss the past three years as a bad dream. Surely Donna wishes it were so. But his agreement with his investors reflects a new, tempered reality. Having once commanded an empire, he's no longer an owner of the restaurant he commands.
Donna has always been a better cook than a businessman—the new arrangement simply acknowledges that fact. With Galileo III, he's freed to concentrate on what he excels at and to ignore what he doesn't. It may not be the ideal situation for him, but for the rest of us, a fresh and narrowly focused Roberto Donna is welcome news.