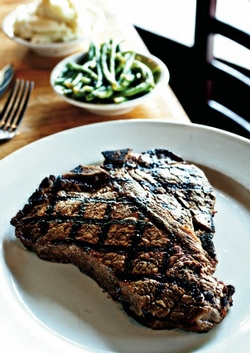 The local food scene barely resembles its former self. In the past few years, Washington has transformed from a power-dining town to a city whose restaurants (Bibiana), markets (Cork), and bars (the Passenger) are getting national attention. This week, John Mariani of Esquire magazine named us one of the top ten restaurant cities in the country (but really, Mariani, we're below Houston?). Here's how 2010—with its boozy slushies, Padma sightings, and mobile lobster rolls—has helped make Washington a great eating town.
• A crop of talented homegrown chefs, the backbone of Washington's restaurant world, held strong despite the lagging economy. Michel Richard tacked his name onto a third property, Michel, at the Ritz-Carlton in Tysons Corner—and money wasn't an object: He spent $2.5 million remodeling the former Maestro dining room. But other chefs are stripping their tables of white linens: Pastry chef David Guas is dishing out messy roast-beef sandwiches and home-baked beignets at Bayou Bakery, his Courthouse ode to his native New Orleans; Robert Wiedmaier is steaming hundreds of pounds of bivalves at Mussel Bar in Bethesda; Frank Ruta took over the adjacent storefront to expand his popular Palena Cafe; Michael Landrum is serving affordable American fare at Ray's the Steaks at East River in DC's Benning; former Top Chef contestant Spike Mendelsohn matched his Good Stuff Eatery lines with equally long queues at We, the Pizza; after leaving Nicaro, Pedro Matamoros came back with 8407 Kitchen & Bar; and this summer crowds piled into Estadio—the latest from Proof owner Mark Kuller—for pintxos and sherry slushies.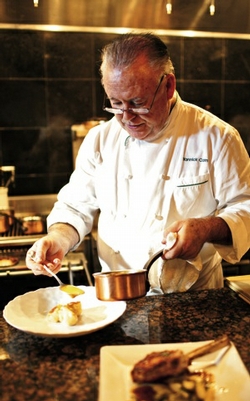 • A few veteran restaurateurs announced their plans in the pipeline for 2011: Cathal Armstrong (Restaurant Eve) is working on Virtue Feed & Grain, a 300-seat pub in Old Town Alexandria; R.J. Cooper, formerly of Vidalia, will serve 20-plus courses in an alley warehouse in DC's Shaw neighborhood; Gillian Clark signed a lease in DC's NoMa neighborhood to bring back her now-closed Colorado Kitchen; Jackie Greenbaum of Jackie's and the Kaz Okochi/Richard Sandoval team (Masa 14) are opening taco joints; and Landrum has plans for a slew of coffeeshops and a seafood restaurant. Speaking of ocean fare, Todd Gray of Equinox is working on Watershed in NoMa; Jeff Black is setting up shop on DC's 14th Street with Pearl Dive Oyster Bar; and Jeff Tunks announced he's going to open an oyster bar and burger place under one roof. Two former Top Chef contestants are capitalizing on their small-screen momentum: Bryan Voltaggio (Volt) is scouting locations for a second place, also in Frederick, and he's investing in Mike Isabella's soon-to-open Graffiato in Penn Quarter.
• Old talent resurfaced. Nearly 12 months ago, Fabio Trabocchi, formerly of Maestro, quickened our collective pulse when he told Tom Sietsema he was thinking of returning to DC after a whirlwind tour of New York kitchens. Finally in October, he confirmed that he's bringing his deft Italian cooking back to us. Another Italian superstar, Roberto Donna, opened Galileo III despite the hundreds of thousands of dollars he owes to past employees and the Arlington County tax office. Yannick Cam, who shuttered the lavish Le Paradou, came back strong with Bistro Provence in Bethesda, and another Frenchman, Gerard Pangaud of the long-shuttered Gerard's Place, turned up in the Pentagon dining room and consulting at a country inn. Morou Ouattara says he's bringing back a version of Farrah Olivia—the deconstruction-happy restaurant he closed in Old Town—with weekly dinners in the private room at Kora, his Crystal City Italian restaurant.
• Our most famous resident continued his tour of Washington restaurants. The list of the Obamas' eating adventures is so very long, but this pairing sums it up: The First Couple went for a date night to Komi, and the President took the Russian head of state to Ray's Hell-Burger.
• Lunchtime now means checking Twitter to find your favorite food truck. If one trend defined Washington's food scene in 2010, it was meals on wheels. It seemed as if there was a new truck to follow every week, each one wackier than the last. Come noon, you'll find lines snaking around the block for lobster rolls, Korean tacos, crepes, mac and cheese, and Ethiopian food from the costumed Fojol Bros. While customers celebrated the curbside lunch, the trucks' existence has rustled some feathers at brick-and-mortar restaurants.
• The half-smoke became hip. No longer is the sausage/hot-dog hybrid coming only from sidewalk vendors and Ben's Chili Bowl.
• New York restaurateurs continued to recognize Washington's dining potential. What we care about most: Shake Shack is going into the former Fuddrucker's space just south of DC's Dupont Circle. Also coming: Boqueria and Bobby Flay's burger place. Opened this year: Bond 45, P.J. Clarke's, and Carmine's.
• The hot dog became the new burger. Two dog-dedicated places opened this fall: ChiDogO's and DC-3.
• Washington attracted reality TV. Of course, there was Top Chef with its Virginia-farm dinner, Nationals Park concessions, and cherry-blossom cocktail party. Then TLC somehow found Georgetown Cupcake's kitchen worthy of not one but two series on what it's like to run a baking business. Oh, and the Real Housewives. Not that Michaele Salahi eats.
• José Andrés was everywhere. Washington's best-known Spanish chef showed up on 60 Minutes; in the New York Times; on the Economist Web site; with three new Las Vegas restaurants and a rumor of a Jaleo in Miami; teaching a class at Harvard; and in a profile in our October issue.
• We paid our respects to one of Washington's fine-dining pioneers. François Haeringer, who opened L'Auberge Chez François 56 years ago, passed away in June at 91. His death marks the end of a fine-dining era, but his son Jacques, who runs the kitchen, still uses François's recipes, and the dining room still has touches (servers in vests, flower-heavy decor) that remind us of the founder's generation.
Subscribe to Washingtonian
Follow Washingtonian on Twitter
Follow the Best Bites Bloggers on Twitter at twitter.com/bestbitesblog
More>> Best Bites Blog | Food & Dining | Restaurant Finder