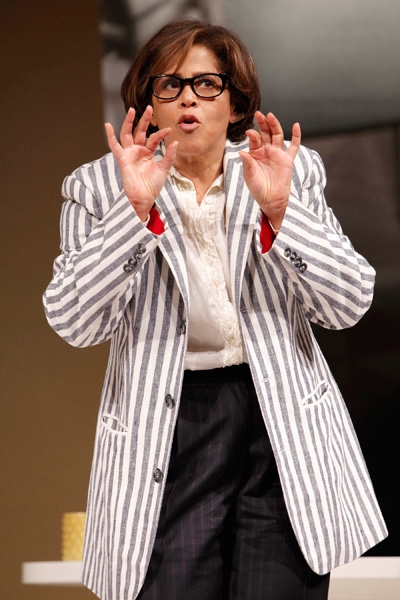 Actress and playwright Anna Deavere Smith is a familiar face from her many film and television roles, from 1995's The American President to Showtime's current hit show Nurse Jackie. Smith is also a critically acclaimed playwright: Her 1994 Broadway show, Twilight: Los Angeles, used a documentary theater style to explore the aftermath of the 1992 Rodney King trial and was nominated for a Tony Award for Best Play. And her current touring production, Let Me Down Easy, which looks closely at health, bodies, and the human spirit, was called "spectacular" by the New York Observer in 2009.
Smith's portrayals of real-life characters in their own words—including bicyclist Lance Armstrong and former Texas governor Ann Richards—are adapted from more than 300 interviews that she conducted while researching the show, and can be seen at Arena Stage's Kreeger Theatre through February 13. We spoke to Smith about acting, the healthcare debate, and what she thinks of the new Arena Stage space.
What was your aim in developing this show?
All of the plays that I write are part of a larger project I've been doing for many years called "On the Road: The Search For American Character." My larger artistic goal is to learn as much as I can about human beings by listening carefully to how they speak and what they say. It's looking at speech and the action of speech as a way of getting close to people and wanting to know more about them. And the point of the play as a theatrical experience is to give the audience a rapid display of different ideas in a condensed amount of time, so over the course of 90 minutes the audience watches me portray more than 20 people.
What are the challenges in doing a one-woman show?
I suppose every phase of it has a challenge. There's the research phase, where in this case I did 320 interviews in three continents. And there was the challenge in figuring out where the healthcare debate was going to be in the U.S., right before the show came to New York when the healthcare bill was being debated. Then there's the challenge of actually performing the show every night, which requires that you take care of your voice and stay physically strong. I live pretty much like a monk when I'm performing—I can't go any place that's loud because I can't strain my voice to talk over the noise.
How did you arrive on the subject of the human body?
In 2000, I was invited to the Yale School of Medicine by a professor, Dr. Ralph Horowitz, who later became one of my muses in this project. He asked me to come to Yale to interview doctors and patients for Medical Grand Rounds, a formalized lecture series that's usually done by scientists, not actors. I became interested in and intrigued by all the voices that I heard, particularly the patients, but also the doctors. Then over the next ten years I did a lot of other things, like TV and movies. But I kept coming back to this project, and then health care became a greater topic of debate in this country. What brought me to it was trying to understand a little bit more about how people manage to survive when they're physically vulnerable. What is care, where does it exist, and what do you do if there's nobody taking care of you?
Was there anything you loved that you had to cut?
There was a lot. I went out to Montana and Colorado when President Obama was doing his town halls last August, and I did a lot of interviews there, some with early Tea Party people. I met a woman in Colorado who I would have loved to included, but by then the play had an integrity of its own and it was impossible to put that in there. I did a wonderful interview with Zeke Emanuel that was very hard to learn because he's an NIH scientist, and I put in probably a week and a half of steady work on it, but it just didn't really work. That's often the case—I have great material, I put a lot of effort into getting it, and then sometimes I just have to drop it.
Is there anything else you're working on at the moment?
This tour is going to take half a year, and I'm filming Nurse Jackie right now—interestingly enough, I'm also doing a TV show that also has to do with some of the issues in the healthcare debate.
Are you excited to be performing in the new Arena Stage space?
Sure. Arena Stage has been a part of so many people's lives, and for me, it's one of the first major regional theaters in America, and it's just iconic. It means so much to the history of American theater, as does Zelda Fichandler. She transformed the way so many actors—including myself—think about their craft. And what Molly Smith has done here is nothing short of phenomenal. The building reminds me of a speech I made at the National Endowment for the Arts in the 1990s, called "I'm Dreaming of a Theater With Glass Walls." When I saw the new Arena, with all that glass, I saw that Molly and the people she worked with have a real respect for the community and a real respect to make theater a transparent environment that's not hidden away like some ivory tower. The desire to have it be a two-way street is really clear in the architecture of the building, and that's what I'm all about.
Let Me Down Easy is at Arena Stage's Kreeger Theatre through February 13. Buy tickets (starting at $40) by calling 202-488-3300 or visiting arenastage.org.
Subscribe to Washingtonian
Follow Washingtonian on Twitter
More>> After Hours Blog | Arts & Events | Happy Hour Finder | Calendar of Events