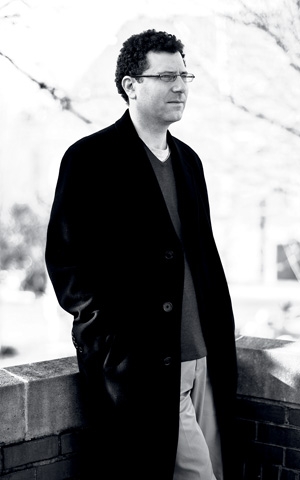 It's been years since the Post dominated the White House beat.
In the competition for news and profiles, Wallsten most fears Peter Baker and Mark Leibovich. Both left the Post and now work for the New York Times. Wallsten will be filling a slot that opened when Michael Shear jumped to the Times last August.
Wallsten has the potential to break news in an increasingly crowded beat. Writing for the Wall Street Journal last January, he broke Rahm Emanuel's quote referring to some liberal activists as "f—ing retarded." He was among the first to write that Barack Obama's memoir Dreams From My Father had more dreams than fact in places.
"I want to write stories that surprise people," he tells me during the one-week hiatus between switching papers.
Wallsten, 38, has been an itinerant newsman. Born and raised in Chapel Hill, he knew he wanted to be a reporter early on: "Seemed like a way to always be involved with what's going on. It would be fun. It would be useful to the world."
After graduating from the University of North Carolina, he wrote for the St. Petersburg Times, the Charlotte Observer, and the Miami Herald. In 2004, he came to Washington to cover the White House for the Los Angeles Times. In 2009, he went to the Wall Street Journal to write about national politics.
The Post had made a run at Wallsten in 2006, and then national-news chief Kevin Merida called in the summer.
"I was immediately intrigued," Wallsten says. "For political writing, the Post is an unbelievable platform with great reporters."
He'll join the Post's team of Perry Bacon Jr., who covers the daily beat, Scott Wilson, and Anne Kornblut.
Despite hard times in the news business, coverage of politics and the White House is more competitive than ever. Who besides Baker and Leibovich at the Times does Wallsten worry most about?
Politico's Ben Smith: "He has the whole political world wired."
Marc Ambinder, who switched from the Atlantic, where he blogged, to the National Journal: "He always has a smart take on things, and he has a ton of sources."
Jonathan Weisman, Wallsten's former colleague at the Journal, makes him sweat. Ditto ABC's Jake Tapper.
"I worry about people who are doing real reporting, digging up new information," Wallsten says, "not people who are ruminating."
Did Wallsten—who lives in Georgetown with his wife and son—ruminate over the Post's survivability?
"The Washington Post will be around forever," he says.
That's what Post Company chairman Don Graham told him in an early-evening phone call to seal the deal. It was a short chat—Graham had to wake up early to ride around with paper carriers to make sure the Post got delivered on time.
This story first appeared in the January 2011 issue of The Washingtonian.
Subscribe to Washingtonian
Follow Washingtonian on Twitter
More>> Capital Comment Blog | News & Politics | Party Photos