The Top Chef: All Stars crew is down to nine contestants, and even though Marcel and his cocky attitude went home last week, the group is starting to wear on each other: This week's episode opens with Antonia saying that Mike Isabella is high on her list of people she'd vote off. They all lighten up when it comes to tackling the Quickfire—Padma and designer Isaac Mizrahi will judge their plates based on aesthetics alone—and watching Fabio drop lemon "acid rain" on tuna people and Angelo painting on the table like a mad man.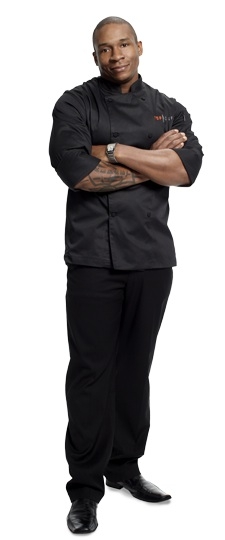 For the elimination challenge, the chefs have to cook at the godfather of New York Italian restaurants, Rao's, where, Padma says, tables are basically owned and passed down from generation to generation. The guys tasked with cooking a pasta course—Tre, Mike, and Dale—all fail miserably and end up on the chopping block for too-stiff risotto (Tre), undercooked pasta (Mike), and no flavor (Dale). In the end, the axe fell on Tre, who talks to us here about his favorite challenge, who to watch for going forward, and what his future plans are.
There were clips of Tom Colicchio and Anthony Bourdain liking your risotto from the last time you were on the show. What went wrong this time?
I think that the garnish was too much. I think the consistency was pretty much the same. Usually I serve risotto with a piece of meat on top, so I kind of made it like a side to come with something else.
Were you thinking you were going to hear Mike's name when the judges told you to go home?
I thought that a little bit. There was a lot you didn't hear about how harsh the judges came down on me. So I wasn't surprised that it happened.
What was different about this time around on Top Chef?
The first time, Top Chef was totally foreign to me. I had never watched it. I had only heard it was a cooking show. When I was asked to be on it, I had to be explained what it was. [When I got to the show], I was like a little boy in the big spotlight. I clammed up. This time I said, "I'm with 17 bad asses from Top Chef and I'm going to learn as much as I can. I'm gonna have fun and I'm gonna open up."
What was your favorite challenge on the show?
The no-utensils challenge. It was funny to see what people used as a utensil, and as a chef I've never been put in a situation where I have no utensils.
Which contestant should we be keeping our eye on?
The group that is left is all talented. Richard Blais is phenomenal and by far the most technically trained chef I've come across in my career. Angelo is also top notch.
What are your future plans?
I'm opening Marquee Grill March 14 in Highland Park Village, a historic shopping plaza in Dallas. It's an iconic location. Everyone around town will be like, "you lucky dog." I think it's important with all the Top Chef All Stars that we all get to a restaurant where the fans can come find us and have our food. [At Marquee Grill, there's a] custom-made wood-burning grill. I can load that baby up with all kinds of wood. [The food will be] new-American with Texas flair and some European touches—I'll have risotto my way on the menu.
Subscribe to Washingtonian
Follow Washingtonian on Twitter
Follow the Best Bites Bloggers on Twitter at twitter.com/bestbitesblog
More>> Best Bites Blog | Food & Dining | Restaurant Finder