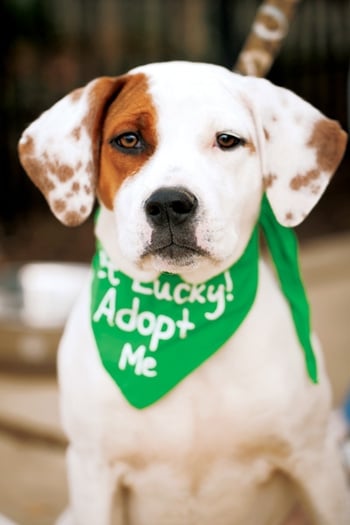 Chi Chi was quiet on the seven-hour ride in the back of a cargo van. Her metal crate, the bottom covered with a donated carpet sample, was stacked on top of another crate. The white mutt with black spots wore a band around her neck that read FLORENCE TO DC.
The driver, Stephanie Duer, and her sister, Andrea, had to stack the crates to make room for all the dogs—a German-shepherd puppy that had been turned into the shelter because it was chewing on things, a Lab mix surrendered during a divorce, strays such as Chi Chi.
An emergency-room nurse, Duer left Florence, South Carolina—an hour northwest of Myrtle Beach—on a Friday afternoon in November, feeling as if she'd pulled off a jail break. Abandoned dogs are common in poorer parts of South Carolina, and shelters can't afford to keep them all. A group in DC, Lucky Dog Animal Rescue, had agreed to care for the dogs in the van.
For Chi Chi, who had been picked up by animal control, the drive north meant the end of an eight-week stay in an outdoor kennel run where she slept on concrete. Her igloo-style doghouse was filled with blankets, but it still got cold at night. Chew toys were hard to come by. Duer hoped the dog's life would be different in Washington.
The Humane Society of the United States estimates that 6 million to 8 million dogs and cats enter animal shelters each year, and nearly half are euthanized. Many are strays found running loose. Some are given up by owners who can no longer afford them. Others are puppies or kittens that were part of an unplanned litter. The goal of groups such as Lucky Dog is to save as many as they can: They take animals out of shelters with high kill rates and place them in temporary foster homes until they're adopted.
"We have hundreds of animals that we send out to our 80 rescue partners each year—we wouldn't be able to save them without their help," says Michelle Hankins, community-outreach manager for the Fairfax County Animal Shelter, which took in 1,392 stray and 670 owner-surrendered dogs in 2009. She volunteered for three rescue groups before taking a job at the shelter. "People can get an amazing animal when they go to a shelter or rescue."
Until recently, the South Carolina shelter Chi Chi came from was putting down 85 to 100 animals a month.
"Ninety percent of the dogs we bring up wouldn't stand a chance in our shelter," says Duer, who volunteers to drive the transport van for the Florence Area Humane Society. "I can't go to the shelter that much because then you learn who's there and who's gone."
Over the past year and a half, Lucky Dog has pulled around 2,500 dogs from shelters in rural areas of South Carolina, North Carolina, and Virginia.
"The ones there send out euthanasia lists. They say: 'These dogs are going to die tomorrow,' " says Lucky Dog executive director Mirah Horowitz, a senior counsel for the Department of Justice who runs the all-volunteer nonprofit.
One of the shelters she works with doesn't adopt out any of its dogs locally and used to euthanize them in a gas chamber, she says. The animal-control manager now allows Horowitz to rescue the dogs he deems adoptable—two to eight every week. Other shelters, such as the one in Florence, have adoption programs but struggle with overpopulation, in part because of low spay and neuter rates.
"People either can't afford it or they don't think it's a problem," Duer says. She says the mindset where she lives is that if your dog has puppies, you just give them away or let them go.
"It's a different world down there," says Horowitz. "You see dogs running down the side of the road."
When Duer pulled into the parking lot of a DC grocery store that Friday night in November, a crowd from Lucky Dog had gathered. Volunteers were handing out leashes and crates. Families who'd adopted dogs they'd seen online were waiting to meet them: A border-collie mix named Sally was going home with a little girl and her dad.
Carla Cleveland and her husband, Jason Paraiso, fostered six dogs before they met Chi Chi. They signed up to volunteer for Lucky Dog last April, three months after their 14-year-old springer spaniel, Lilly, passed away. They wanted to be around dogs but weren't ready for their own. Cleveland had held Lilly when the dog was two days old. She was devastated by her dog's death and worried that a new one would feel like a replacement.
The plan was to keep Chi Chi until Lucky Dog found a home for her, just as they'd done with other dogs: Brody, the boxer mix who couldn't stand being crated; Elaine, the shiba inu/husky combo with separation anxiety; Jack, the 15-pound puggle—pug and beagle—who liked jogging in Old Town.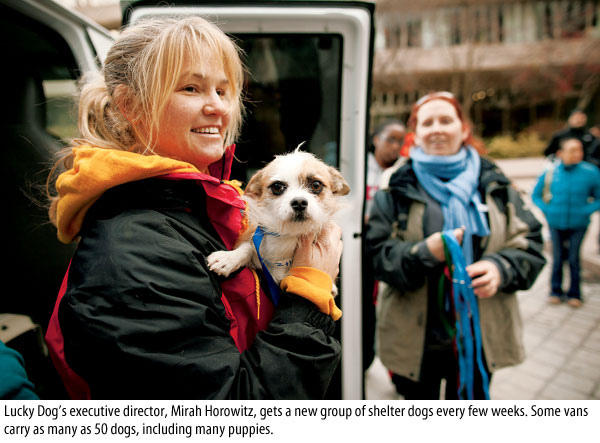 Horowitz had begged the couple to foster Jack while they were sitting at a Lucky Dog happy hour. The group raises money through fundraisers—winetastings, a summer barbecue—and $200-to-$325 adoption fees, which help cover the costs of vet bills.
Like most rescue groups, Lucky Dog can't survive without foster families. Regular fosters keep the dog as long as necessary; overnight fosters meet the dogs at the van, take them home and bathe them—the animals usually arrive smelling like a shelter—and drive them to an adoption event the following day. The organization hosts the events nearly every weekend, usually outside pet shops, and potential adopters can fill out adoption applications that day.
Lucky Dog doesn't have its own boarding facility, and once in a while Horowitz takes more dogs than she has foster homes for. The puggle was living at Wagtime Pet Spa & Boutique in DC, which donates boarding space to Lucky Dog. Cleveland and Paraiso walked to Wagtime from happy hour, picked up Jack, and brought him home in a cab.
"Fostering teaches them how to act in a home," says Cleveland, an analyst for the Air Force surgeon general. "Some of the dogs have been on the street or in a kennel for so long that they don't know how to act."
When Cleveland and Paraiso first brought Chi Chi into their Alexandria condo, the dog was shaking. They couldn't get her to walk up the stairs. She wouldn't eat from her bowl. "She'd take a kibble from my hand and go into the living room," Cleveland says. "She would take it somewhere she thought was safe."
Within two weeks, Chi Chi was going up the stairs on her own. She wasn't allowed on the furniture, so she cuddled with Cleveland on the floor. When Paraiso put on his socks to take her on a run, she got him his shoes.
All four of the dogs chewing on Bully Sticks in Horowitz's living room were rescued. Three are hers; Bear, a black Lab, is a foster.
"He was brought into a vet clinic to be put to sleep because he was scared of thunderstorms," she says.
Pepper, a Portuguese water dog, and Hobo, a goldendoodle, are what Horowitz calls "failed fosters." She was supposed to just foster them but decided to keep them.
Horowitz got into dog rescue by accident. She'd grown up riding horses in San Francisco and competed in equestrian events during law school. When she moved to Washington to work as counsel for Senator John Kerry, she didn't have time to ride. She missed animals, so she got on the Web, found a photo of a black-Lab mix named Sparky, and adopted him from a Richmond rescue group. Soon after, a friend convinced Horowitz to try fostering.
Someone had to open up their home to save Sparky, Horowitz thought. I could do that.
She volunteered to foster for a local rescue group and started her own organization in May 2009. She wanted to focus on shelters in the South because that's where she saw the most need. She says that one shelter, a few hours from Florence, had a nearly 100-percent kill rate. By comparison, 10 to 20 percent of animals in the Montgomery County shelter have to be put down; in Fairfax County, one-quarter of the 2,313 dogs that entered the shelter in 2009 were euthanized.
"The shelters we work with have almost no volunteer help at all," Horowitz says. If she has an adopter looking for a breed she doesn't have or she has open foster space, she'll pull a dog from the shelter in Prince George's County—something Tamela Terry thinks Washington-area rescues should do more often.
"The local needs are such that we choose not to import animals," says Terry, president of the SPCA/Humane Society of Prince George's County. "The shelter is full of young, healthy animals that could be easy to place if they got some exposure."
Horowitz pulled one dog from the Prince George's County shelter as soon as she saw her. She was walking by the kennels when she noticed a German-shepherd mix huddled in a ball. The dog, Mousie, thumped her tail when she saw Horowitz but wouldn't get closer.
Horowitz decided to bring the dog to her rowhouse in Georgetown and foster her herself. She took a close-up picture of Mousie and posted it on the group's Web site. The dog was adopted a week later.
Pictures are important for rescues: A Golden retriever with a blurry photo might not receive any applications; with a good picture, the same dog might have a home in days. That's one reason black dogs don't get as much attention as lighter ones—they're harder to see in photographs. Says Horowitz: "People like to make eye contact."
The first time the rescue coordinator at the shelter in Florence, South Carolina, sent out a photo of Chi Chi in the hopes that Lucky Dog would help, Horowitz didn't respond. Chi Chi was cute and a good weight, but white dogs with freckles aren't as popular as poodle mixes, Shih Tzus, or yellow Labs. Horowitz was short on fosters—she couldn't pull a dog who might not get adopted quickly.
She can't take every dog. She gets requests from shelters several times a day. Pet owners e-mail to ask if she'll find a new home for their dogs. Some tell her they're moving or just had a baby; others say their dogs became aggressive or they can't afford the vet bills. The woman in Florence kept e-mailing about Chi Chi, saying what a great dog she was, and Horowitz finally said yes. A sign went up on Chi Chi's kennel in mid-October: going to rescue.
Many rescue organizations are breed-specific—Mid-Atlantic German Shepherd Rescue, Maryland Westie Rescue—but Horowitz takes every breed, from yorkies to rottweilers. She looks for a variety: big and small dogs, mutts and purebreds: "If I've already got two black Labs and I have one spot open and the shelter sends me a photo of a yellow Lab, a collie, and a black Lab, I'm not going to add the black Lab," she says.
Puppies are a challenge—they have to have two of three vaccinations before she'll take them or they might get sick on the transport van. She doesn't like to separate siblings for the first few weeks, and only a handful of fosters will take a litter of puppies.
"Puppies are hard to have to say no to," says Horowitz. "It is so disheartening to think that a puppy is going to be put to sleep in a shelter."
She tries not to have too many older dogs at once. There are people who want older dogs—Lucky Dog recently found a home for a ten-year-old Pomeranian named Clover—but they're harder to find.
Horowitz has found that people are more often willing to open their hearts and homes to dogs with health problems. Horowitz got Raine, a boxer mix with a brain disorder, from Rocky Mount, Virginia, about five hours southwest of DC. The puppy—found in a dumpster—fell down a lot, had trouble with steps, and struggled with being on a leash. A physical therapist and Lucky Dog volunteer, Anne Wuhrer, agreed to foster Raine and work with her on balance problems. Wuhrer wasn't sure Raine would get adopted: While other dogs played and greeted strangers at an Alexandria adoption event in December, the dog was so cold and scared that she could barely stand. A volunteer wrapped her in blankets and put her in a grocery cart. Soon a couple with a young daughter had put in an application.
Two weeks later, Wuhrer got an e-mail from Raine's new family. "She has gained confidence and has perfected the art of leaping from the couch or my bed to the floor," they wrote. "She is not quite able to jump up yet, but I imagine it will only be a matter of time."
Lots of people stopped to pet Chi Chi when she was being fostered, but few were interested in adopting her. Jason Paraiso was taking the dog on three-mile runs every morning, which kept her from gnawing on the furniture. If anyone asked about Chi Chi, he and his wife, Carla Cleveland, told the truth: If she didn't get exercise, she was going to chew.
"You get protective," says Cleveland, who put Chi Chi in a seat belt on the way to an adoption fair at Petco in Rockville. "If you know the dog is going to a good home, then you're okay with it, even if you are a little bit attached."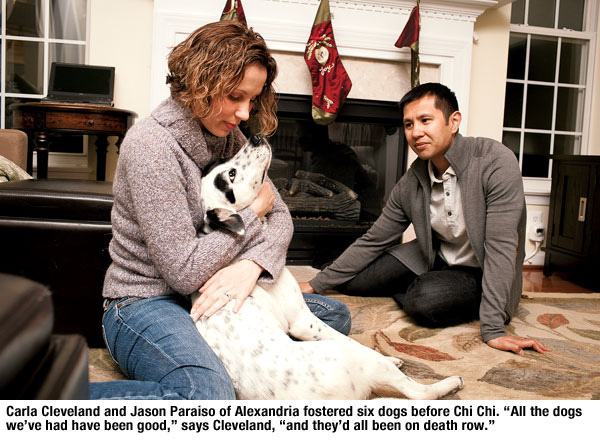 Chi Chi's adoption coordinator, Lindsay Cunliffe, talked to people who'd seen Chi Chi online and wanted to know more about her. Lucky Dog helps potential adopters find a dog that's the right fit. They won't adopt out a Chihuahua to a family with young children or send a husky to live in a small apartment.
"That's one of the good things about Lucky Dog," says Paraiso, who does contract work for a technology company. "They make sure people have realistic expectations."
While Paraiso was at work, he watched Chi Chi on a Web cam with two-way audio. If he saw her chewing on her crate, he'd play the sound of a barking dog to get her to stop. One morning, he looked at his screen and didn't see her. She was supposed to be in there all day, except when the dog walker came.
This isn't good, he thought. We've lost our foster dog.
It took him a few minutes to spot her, but she was lying there, content, camouflaged by the white material from the inside of the dog bed she'd ripped apart.
About a fifth of the people who foster end up adopting. It's a good thing, Horowitz says, and she's done it herself, but it makes things tougher for Lucky Dog. Many of those people stop fostering. When she loses a foster volunteer, she has to find another one.
By Chi Chi's third adoption event, during which she wore a green adopt me bandana, Cleveland and Paraiso had already thought about keeping her. Cleveland liked that Chi Chi had spots, as their first dog had, and that she was affectionate but didn't lick faces. And she liked the way Chi Chi's whole body wiggled when she got excited.
Why was a good dog like this on death row? she wondered.
But she wasn't sure the time was right. She still cried over Lilly. That's okay, a friend told her; you can miss one dog and love another.
They'd had Chi Chi for three weeks when they had to make a decision. They were leaving for a vacation, and Chi Chi was going to another foster home—if they didn't adopt her before they left, someone else might.
Hours before their flight, Cleveland sent Cunliffe a note: "Jason and I are very excited to have Chi Chi as part of our family," she wrote. "I think she's excited, too."
The day they got home, Cleveland and Paraiso went shopping for a tag with Chi Chi's new address on it. When Chi Chi saw them, she wagged her tail so hard they thought she might fall over.
This article first appeared in the February 2011 issue of The Washingtonian.
Subscribe to Washingtonian
Follow Washingtonian on Twitter
More>> Open House Blog | Homes | Real Estate