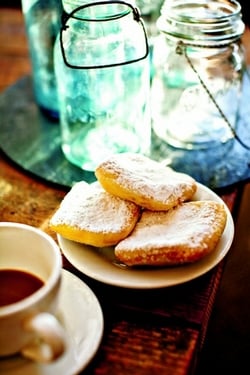 There aren't many places in Washington where you can get a good beignet. Luckily, Louisiana native David Guas has opened Bayou Bakery, which makes authentic versions of the Big Easy's answer to doughnuts. The pillows of fried dough (three for $3) are blanketed with powdered sugar and can accompany a French press of chicory coffee, if that's your thing.
Guas spent years as pastry chef for Passion Food Hospitality (Acadiana, PassionFish, Ceiba, TenPenh, and DC Coast), but at his industrial-meets-folksy cafe, where a cement counter shares space with a vintage kitchen hutch, he shows a talent for more than dessert. The menu includes breakfast and lunch sandwiches plus heavier fare for dinner.
Breakfast here is best when it includes buttermilk biscuits ($1.75), which can be enjoyed with sweet-spicy pepper jelly and cinnamon-spiked apple butter. House-made croissants ($2.50) and pain du chocolat ($2.75) were flaky outside, tender inside. Biscuits holding egg, cheese, and bacon or turkey sausage ($3.75) fell apart, and the egg tasted microwaved, but the good-quality meat—the bacon is from Benton's in Tennessee, the sausage from local charcuterie guru Jamie Stachowski—boosted their appeal.
For lunch, two sandwiches stand out: the Muff-a-lotta ($6), a stack of cured meats, provolone, and chopped olives on an excellent sesame bun, and the Creole Pilgrim ($6), a pressed sandwich filled with blackened turkey, arugula, smoked Gouda, and Dijonnaise. Less successful are the butternut-squash soup ($3) and gumbo ($4), which have been timidly flavored.
After 5 pm, a different menu emerges. There are the snack-like lagniappes (which generally refers to something given for free, but here you pay for them), including mustardy deviled eggs (three for $3.75), "porKorn" ($4)—a paper pouch of caramel popcorn studded with bacon—and five chilled shrimp ($6) with a brightly flavored green-onion rémoulade. Boudin sausage ($6) was crumbly but satisfying, and although the herby "blackened" turkey meatballs with tomato sauce and Parmesan tasted more Italian than Cajun, they were good, too.
The dessert case holds a tempting spread of red-velvet cupcakes ($2.75), heavenly hash ($3 for three pieces), and brownies ($2.50). But in true New Orleans style, it's the pralines ($2.50)—and those beignets—that are irresistible.
>>For more photos of Bayou Bakery, click here.
This article appears in the February 2011 issue of The Washingtonian.