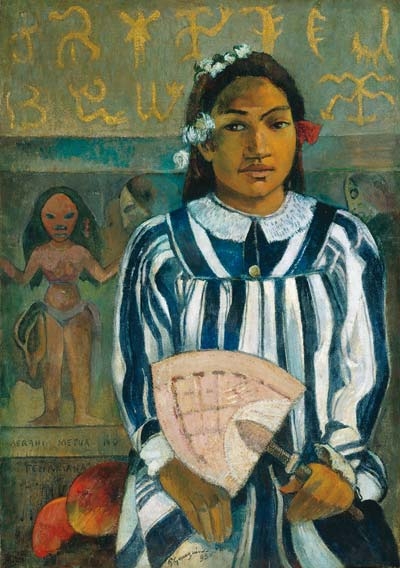 Much of Paul Gauguin's life has been subject to scrutiny. Best known as a painter, he was also a sculptor, a printmaker, a stockbroker, a fan of very young girls, and—if you believe the rumors—the remover of his friend Van Gogh's ear.
"People are obsessed with Gauguin's biography because he was poor, misunderstood, hard-drinking, womanizing," says Mary Morton, a curator at the National Gallery of Art. "But for all his exoticism and rebelliousness, he was very much engaged in the tradition of telling stories."
These stories are the subject of a new exhibition at the National Gallery, "Gauguin: Maker of Myth." The show comes from London's Tate Modern, where it was a huge hit with critics.
"This is Gauguin's pictorial imagination at full stretch, the show of a lifetime," wrote the London Guardian. It's hard to disagree. Whether you're familiar with the sketchier sides of Gauguin's biography or not, the show is gorgeous and sometimes profound, offering a more thoughtful side to the painter than just the sum of his dubious parts.
"Merahi Metua no Tehamana," an 1893 portrait of Gauguin's 13-year-old Tahitian mistress, shows the subject looking inscrutably away, her expression a model in thoughtfulness. Her Western dress is in stark contrast to the nude painting of one of her "savage" ancestors behind her, and she seems almost chastened by it. Gauguin was a master in capturing the nuances of people's faces—a skill he deployed in another work, "Clovis Asleep," which pictures his son peacefully slumbering while mysterious dreams hover above his head.
This is the first comprehensive exhibition of Gauguin's work in the United States in 25 years, and it's no disappointment. Instead, what we get is a brilliantly complex and detailed look at the artist's life and work—and an appreciation of his immeasurable talents.
"Gauguin: Maker of Myth" is in the National Gallery of Art's East Building through June 5.
Subscribe to Washingtonian
Follow Washingtonian on Twitter
More>> After Hours Blog | Arts & Events | Happy Hour Finder | Calendar of Events