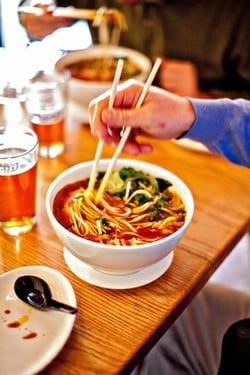 >>Click here for a slideshow of more photos of Ba Bay.
Every year, a new ethnic cuisine hits the big time. Throughout 2010, chefs were playing with kimchee and putting high-end spins on Korean fried chicken. Now—with bánh mì being sold at Whole Foods and pho working its way onto Michel Richard's latest menu—the focus has shifted to Vietnam. Which means the timing of the new Ba Bay couldn't be better.
The Capitol Hill restaurant is the debut venture of Khoa Nguyen, a former manager at Vidalia, and cousin Denise Nguyen, who has worked at Restaurant Eve and Bibiana. The pair have taken a few cues from New York's Momofuku Noodle Bar and DC's Kushi, with roughed-up concrete floors, a sound system blaring the Pixies, and locally sourced ingredients mixed with Asian-American fridge staples such as MSG-heavy Maggi sauce.
The menu is nontraditional—food is mostly served in small plates rather than the bountiful family style of many Asian restaurants. The Nguyens, who grew up on Vietnamese home cooking, set out to find a chef who hadn't and so could take a fresh look at the recipes they loved and help modernize them. They settled on Nick Sharpe, executive chef at the neighboring wine bar Sonoma, and the trio set about tweaking such family dishes as sugar-cane shrimp and pork terrine.
Translating Asian cuisine for an American palate can be risky (case in point: the candy-sweet Chinese fare at P.F. Chang's). At Ba Bay, the results are mixed. Autumn rolls—lightly fried rice-paper wrappers filled with Chinese sausage, jícama, and scrambled egg—are so tasty I ordered them on every visit. A quenelle of chicken-liver mousse is as luxurious and creamy as you'd find in an old-school French kitchen. And a heap of fried wings tossed in a reduction of chili-infused vinegar and brown sugar is sports-bar fare at its best.
Best of all is a filet of trout served with a beautifully thin half-moon crepe and sized like an entrée. Tear off a piece of fish, swaddle it in the crepe, add some fresh cilantro and basil, and dip it into tangy ginger sauce.
One measure of a Vietnamese restaurant is its pho, the aromatic Vietnamese soup. The generous bowl here, its rich broth conjured from beef bones from a Maryland farm, is both assertively spicy and soothing. Another barometer is bánh mì, and a lunchtime rendition of the sub-like sandwich was a mess. The meats change every day—this one was made with chicken—but the globs of mayo and too many pickled vegetables made it hard to tell anything else was in there.
The kitchen's fixation on Maggi seasoning, which tastes like amped-up soy sauce, can get old. At one meal, it marinated slices of shaky beef, played dipping sauce to an egg pancake, and—most unpleasantly—was splashed over a trio of grilled oysters. Vegetable sides are another problem. Although much of the food is light and brightly flavored, the vegetable-based sides we tasted—kabocha squash with coconut milk, Brussels sprouts with bacon, and carrots cooked with Padrón peppers and fish reduction—were either soaked in butter or bland. And caramel chicken, a staple at so many Vietnamese restaurants, suffered from a P.F. Changian sugariness.
You won't mistake much on the menu for anything at the Eden Center, the restaurant-packed Falls Church mall that's the hub of the area's Vietnamese community. The small plates are too prettied up, and sometimes too Westernized when it comes to flavor. But at the Eden Center you won't find a place where you can sip a fabulous Vietnamese-coffee milkshake to a soundtrack of Vampire Weekend.
This article appears in the March 2011 issue of The Washingtonian.