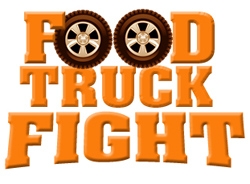 THIS POLL IS CLOSED. WINNER: YELLOW VENDOR.
It's an international barbecue battle this afternoon: Andy Kim and his Yellow Vendor truck, usually parked at 12th and F streets, Northwest, are the source of Korean bul goki, beef marinated in a sweet/salty mix of sugar, soy sauce, and garlic. It doesn't have the bells and whistles that lots of new trucks do, but the Yellow Vendor wins lots of points for simply delicious food. BBQ Bandidos, which roams Arlington, brings to the table Carolina pulled pork, Memphis brisket, Texas grilled chicken, and Mexican carne asada, carnitas, and chicken with salsa verde.
For a ranked list of all of the trucks, and a description of each, click here.
For complete Food Truck Fight coverage, go to washingtonian.com/foodtruckfight.
Subscribe to Washingtonian
Follow Washingtonian on Twitter
Follow the Best Bites Bloggers on Twitter at twitter.com/bestbitesblog
More>> Best Bites Blog | Food & Dining | Restaurant Finder