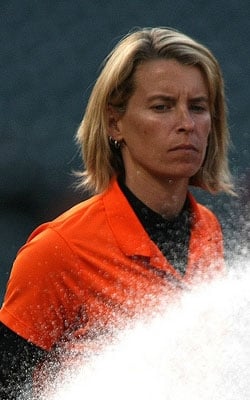 Nicole Sherry: The head groundskeeper at Camden Yards had to tear down the beloved centerfield ivy at the Orioles' stadium after it got attacked by a pathogen in the outfield soil. It turns out the care and feeding of ballpark flora is a serious scientific business—especially when you need plants that abide by Major League Baseball's rules for color uniformity.
Mark Lenhart: The director of Washington-based CET Academic Programs is facing a unique set of challenges. How do you weigh the risk of exposure to radiation or political revolution against trying to preserve students' study-abroad experiences? As the Middle East is convulsed by a series of uprisings and Japan recovers from a massive earthquake, Lenhart has become both an educator and a foreign-affairs observer.
Anastasia Adams: There's something kind of quaint about Trinity Washington University's policy banning people from visiting the campus after midnight. But with a new rule banning any cars, including cabs, from entering school grounds between midnight and 6 AM unless students get special passes in advance, Trinity may have gone too far. Adams, the student-government vice president, is speaking up, insisting the policy won't help students stay safe.
Jack Nicklaus: The golf legend is Washington's newest real-estate mogul, in his own way. Our new neighbor is developing Nicklaus Village in Loudoun County, 25 luxury homes in the golf community Creighton Farms. Nicklaus apparently needs a second home near Washington to facilitate his lobbying efforts. And we bet the charity-golf circuit in the area is about to get more competitive.

Irvin Nathan: The acting DC attorney general is jumping into the fray over online retail and taxes, suing Expedia, Orbitz, Priceline, and Travelocity. The District contends that the trip packagers aren't sending the full taxes they owe on hotel-room bookings to the city government. Who knows if Nathan can prevail in court, but it's a creative approach to the city's financial woes.
Subscribe to Washingtonian
Follow Washingtonian on Twitter
More>> Capital Comment Blog | News & Politics | Party Photos