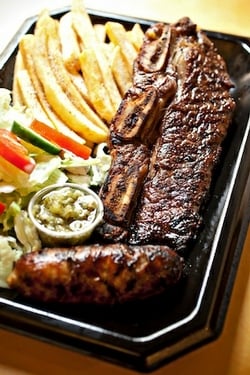 Lilian Clary runs Rockville's La Canela, one of the area's premier destinations for Peruvian cooking and easily its most stylish. Carbón, her new venture at the other end of Gibbs Street in Rockville Town Square, is a quick-service, no-frills cafe—counter service, foam plates, TVs on at all times.
It's La Canela's opposite, too, in focusing almost exclusively on meats. There are no ceviches, no tiraditos, no fish preparations—a bit of a surprise for a cuisine that showcases the delicacies of the sea.
The emphasis is on the grill (carbón is Spanish for charcoal), and as at La Canela, there's real care in the cooking. The anticuchos ($7) are hard to resist. The beef hearts are rendered into thin, easy-to-eat medallions, and the vinegary bite of the marinade offsets some of the intensity of the innard. The asado de tira, a short-rib steak, had more flavor and juice than the last few steaks I've eaten at high-end restaurants, and at $12 it's a fraction of the price.
Carbón also makes a good sausage sandwich, smeared with a garlicky chimichurri that mates well with the meat—though diner beware: It leaves a pungent odor.
The spit-roasted chicken could be juicier. It's a respectable bird, but the region's many pollo a la brasa houses do it better.
Desserts include stellar renditions of alfajores and tres leches cake. The house-made chocolate cake is excellent, its fudginess never quite crossing into too-muchness.
This article appears in the April 2011 issue of The Washingtonian.