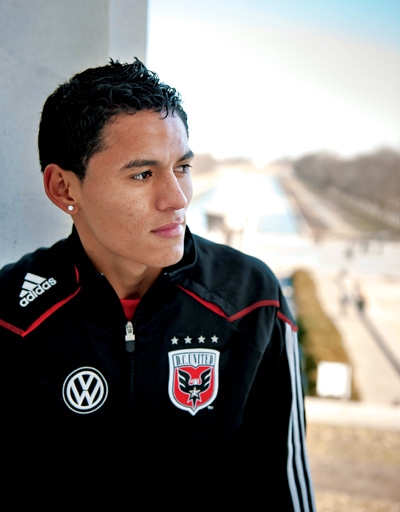 UPDATE April 5, 2:55 PM: Andy Najar has chosen to play for Honduras. Read more on that here.
It was 28 degrees on the soccer field, and the wind was blowing sideways. The training staff told coaches to keep practice short—no more than an hour. "I can't feel my toes!" said a bundled-up player on the sidelines.
For Andy Najar, the toughest adjustment to life here had been to the cold; there was nothing like it in the Honduran village where he grew up. But at 6:30 pm—half an hour before practice—Najar walked into the December bitterness in a D.C. United parka. At RFK's auxiliary soccer fields, 500 yards from DC's old stadium, overhead lights illuminated an AstroTurf field. The rumble of power generators silenced the Metro trains gliding by. Najar was among the first there.
No one would have blamed him for taking the night off. Several weeks earlier, he had been named Major League Soccer's Rookie of the Year. And just that morning, he had learned that World Soccer magazine had listed him among the sport's top 78 young stars.
Najar had risen through the soccer ranks seemingly overnight, and no one knew too much about him. His agent chose his words cautiously when talking about Najar's past. ESPN.com described the aura around him as a "combination of on-the-field attention and off-the-field mystery." The confusion was even more apparent in his native Honduras. "Everyone was asking, 'Who is Andy Najar?' " says Saul Carranza, a reporter for Diez, a Honduran newspaper.
Najar wasn't required to attend this practice. Like other members of D.C. United's professional squad—the first team—he had been off since the season ended in October. He had come to train with D.C. United's academy team, the upstart program committed to changing the way elite American soccer players are trained. For D.C. United executives, Najar wasn't just an explosive scorer. He was proof that their approach to molding talent was working.
At five-foot-seven, Najar was shorter than most other players. And although weight training had thickened his chest, his 150-pound frame still resembled a jockey's.
But when the coach whistled the start of the scrimmage, Najar became ferocious. Within seconds, he swiped the ball from an opponent and bent a pass to a teammate who chipped it past the goalie. When Najar had the ball, defenders slid backward. He curled long crosses to teammates who didn't realize they were open. At midfield, he plucked the ball from one opponent, streaked through several others, and zipped one into the back of the net. With that, practice ended.
Washingtonians have fallen for soccer prodigies before. Fourteen-year-old Freddy Adu was considered the future of American soccer when he played his first game for D.C. United in 2004. Two years later, he left the city as a letdown. But Najar's background has better prepared him to handle the off-the-field pressures that overwhelmed Adu, says Thomas Rongen, head coach of the under-20 US men's national team. "He really respects and appreciates the opportunities he has been given."
The scarcity of young prospects like Najar has long troubled American soccer officials—the 2006 World Cup was the snapping point. The US men's national team arrived in Germany with high expectations. Ranked fifth in the world, they hoped to build on a surprisingly strong showing four years earlier, when they advanced to the quarterfinals in their best performance since the 1930s. But the team collapsed and was sent home by Ghana in the first round.
The performance was demoralizing for the US Soccer Federation, which runs the national teams. The organization assembled a task force to take a hard look at the way players were being trained. It examined the US national-team program and the country's elite clubs and studied soccer academies in Argentina, Brazil, England, Italy, and Spain. "Our players are entering the international arena behind their counterparts around the world," the task force said; the American system of youth soccer was hogtying player development.
More than 3 million American boys and girls play soccer, compared with the 2.4 million who take part in baseball and softball. For many children, soccer—a safe team sport that emphasizes sharing—is their first experience in organized athletics. But as kids reach high school, many promising athletes move on to football, basketball, or baseball.
Although the US Soccer Federation had little power over these cultural headwinds, officials believed they could produce world-class players. Doing so would require uprooting the counterproductive features of the traditional youth-soccer system, establishing a new training infrastructure modeled on successful programs overseas, and convincing existing clubs to support their vision.
Over the past four years, D.C. United has implemented the federation's philosophy in Washington. Its efforts have altered the youth-soccer landscape and touched off a debate over the most effective way to train elite players. To demonstrate that its approach is best, D.C. United officials point to Najar. "He is the poster boy for what our academy system is supposed to be," says Dave Kasper, the club's general manager.
But Najar's success is rooted as much in the challenges he overcame before he arrived in Washington as in the lessons he learned once he got here.
Andy Najar's childhood home was just over the fence from a shaggy soccer pitch. From its sideline, you could smell the coals burning on the family's mud-brick stove. Each afternoon, once the men finished their shifts and the boys completed their classwork, the villagers gathered on the field. The thwup of the soccer ball didn't end until dark. "Where I lived, there was only soccer," Najar says. He was three years old when his father first plopped him on the grass.
Soccer is a Honduran national obsession. In 1969, a pair of matches with El Salvador helped spark a war between the two nations that claimed as many as 6,000 lives. The sport unites a population often divided by race and class, and it enables Honduras to stand toe to toe with the giants of North America and Europe. "Elections and soccer—the two things that give the country hope," says Mary Elizabeth Flores Flake, the Honduran ambassador to the United Nations.
Although hundreds of thousands of tourists arrive in Honduras each year, very few make it to Santa Cruz de Marcovia. The scorched village of 4,000 residents has none of the thick rainforests, white-sand beaches, or Mayan ruins that appeal to visitors. And while other parts of the country have distanced themselves from the nation's "banana republic" past, the residents of Santa Cruz remain tethered to the agriculture cycle's whims. In the second-poorest country in Central America, Santa Cruz is a backwater.
The village is a community of one-story houses wrapped in dry vegetation and pastel flowers. Dogs chase chickens along the gravel streets. Men drink beer and tell stories on the porch as women hang laundry to dry under a big, lazy sky. The village is tucked into a sugar-cane field. As harvest approaches, emerald stalks reach eight feet or higher.
In the early 1990s, Andy Najar's father was living in a small town near Santa Cruz. After a short professional-soccer career, he'd become a well-known player on the amateur circuit. When the Santa Cruz players learned of him, they invited him to the village to beef up their roster for an upcoming match. After the game, Andy's father approached the house closest to the field, where he asked a young woman for a glass of water. The two began a courtship and married soon after. Andy was born in the family's dirt-floor house in 1993. Within four years, he had two brothers.
Like many villagers, Andy's father worked at the nearby sugar factory. The $6 a day he earned was barely enough to live on, and the work ended when the harvest was over.
Andy spent much of his childhood on the soccer field studying his father's dribbling techniques, practicing shooting with his brothers, and playing pickup games with friends. When the rainy season flooded the field, he took the ball to the dry patches. Even back then, some villagers saw a spark. "You are going to feed your family with your feet," Ismael Reyes, a family friend, told Andy.
Andy's house was adjacent to his grandmother's and his uncle's. A towering mango tree tossed shade onto the interior courtyard, where the family shared meals of beans and rice with fish, chicken, or beef. They scraped by. When Andy's father's wages fell short, his mother sold tortillas. "We were poor, but we were together," says Rafael Rodriguez, Andy's uncle.
When Andy was five, a storm ripped through Santa Cruz, submerging the village in chest-high water. Hurricane Mitch, as it came to be known, maintained Category 5 intensity for 33 hours. Wind gusts exceeded 200 miles an hour. Along with his parents and brothers, Andy fled to higher ground at the sugar-cane factory and stayed there several days. "We didn't have anything to eat," Andy recalls. His grandmother and uncle were stranded on the roof of a car.
Hurricane Mitch was the deadliest storm to hit the Atlantic coast in 200 years, leaving more than 17,000 Hondurans dead or missing, a fifth of the population homeless, and 70 percent of the crops destroyed. When it was finally safe to return to Santa Cruz, the family found the village in ruins. Both Andy's and his uncle's homes were leveled. Because only Andy's grandmother's house—which was made of concrete—remained standing, the family crammed in with her. A nongovernmental organization later agreed to finance the reconstruction of Andy's house as long as the family provided the labor.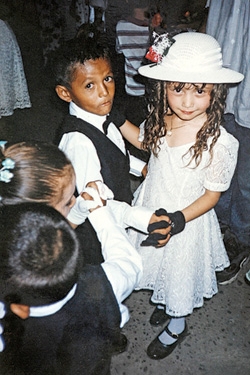 Andy's parents could feed and shelter their children, but Santa Cruz offered little hope for advancement. For a better life, villagers headed north. From 2000 to 2009, the Honduran-born population in the United States grew by 65 percent, to 468,000. The cash these emigrants send home is a vital source of income for many families. In 2009, Hondurans living abroad remitted $3 billion to their native land—20 percent of the country's economy.
Emigration was nothing new to Andy's family; his grandmother had left El Salvador for Honduras in the 1950s to find work. Andy's mother left for the United States in 2002 and settled with family in Dallas. She landed a job at a car wash and began sending money home. Eventually she earned enough to bring her husband to the States. They moved to Northern Virginia to be close to other family members. Andy's father worked in construction; his mother cleaned houses.
With their parents away, Andy and his brothers were under the care of their grandmother. Andy made sure his brothers stayed out of trouble and took them to the soccer field. "It was always those three with the ball," Andy's uncle says. Although he occasionally fought with his brothers, Andy was a respectful child who listened to his grandmother—and that may have saved his life.
The sugar harvest had always been an exciting time for children in Santa Cruz. When workers set the fields ablaze to separate the weeds from the crops, all sorts of critters—rabbits, raccoons, rats—scurried out. The animals raced onto the paved road in front of Santa Cruz, where village children lay in wait to catch them.
In November 2004, the kids headed over to the road to get in position. Andy, then 11, wanted to join them, but his grandmother told him to stay home.
As the children got in place, a freak wind picked up the fire from the sugar fields. In a flash of panic, at least 14 villagers ages 5 to 17—including several of Andy's cousins—burned and suffocated. In the following days, photos of their charred remains appeared in newspapers across the country. "It is a neighborhood of tragedy," Ricardo Maduro, then the president of Honduras, told La Tribuna newspaper.
For months, players refused to retrieve soccer balls that landed near the site of the tragedy. They believed the sugar fields were haunted.
As Andy grew older, his uncle, a former professional soccer player, noticed that the boy could run at blinding speed while maintaining control of the ball. "He was like a bullet," his uncle says.
After sixth grade—the final year of compulsory education in Honduras—Andy took a job at a drinking-water company near his house. He went to church on Sundays and played soccer whenever he could. At 13, he joined a Santa Cruz team that competed against clubs from nearby villages; some of his opponents were in their twenties. His elusiveness enraged the older players, and the men went after him with elbows. "It didn't matter how hard they hit him," says Andy's former coach. "He never got scared."
Despite Andy's ability, a professional career seemed unlikely. Honduran national-team officials were focused on finding bigger players to match up with teams in the United States and Canada. Andy tried out for Honduras's best-known professional team but was turned away.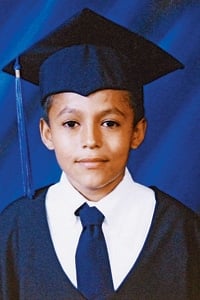 Andy was playing soccer with his friends one day when he heard his grandmother call him: His mother was on the phone. Andy's parents had finally saved enough money to bring him to the United States. "I want you to come here to have a better life," his mother told him.
Andy didn't want to leave his village. He had grown close with his grandmother and couldn't imagine being separated from his brothers. But he did what his mother asked.
For undocumented immigrants, the journey from Honduras to the United States is treacherous. The two-week overland trip takes them through Guatemala and Mexico before they slip into the United States. Those who can't afford to hire a smuggler sneak onto trains, where some—dizzy from hunger and exhaustion—tumble from rail cars to their death.
Those with enough money hire smugglers, who pay off law-enforcement officials as the migrants head north. Passage through Guatemala is relatively safe, but in Mexico gangs rape women and sell them into slavery and force men to mule narcotics across the border. Drug cartels—sometimes operating in league with smugglers and government officials—target migrants for kidnapping.
In August 2010, authorities discovered 72 bullet-ridden bodies on a ranch in Mexico. The corpses belonged to migrants who had been kidnapped by armed men. After the migrants refused to pay off the kidnappers—believed to be members of a drug cartel—the men opened fire. At least 21 of the victims were Honduran, including a young man from Santa Cruz who had grown up playing soccer with Andy.
Migrants who reach the border safely must then make a trek through the desert to avoid border checkpoints. After a two-day march—if everything goes according to plan—they meet a second smuggler on the American side of the border and join the 11 million undocumented immigrants already here.
Andy's uncle knew a smuggler with a good reputation. After receiving money from Andy's mother, he took $6,200 to the smuggler and made arrangements for the trip, Andy's uncle says.
Andy left Santa Cruz in February 2007 at age 13. "I love you very much," he told his grandmother. "I will always carry you in my heart."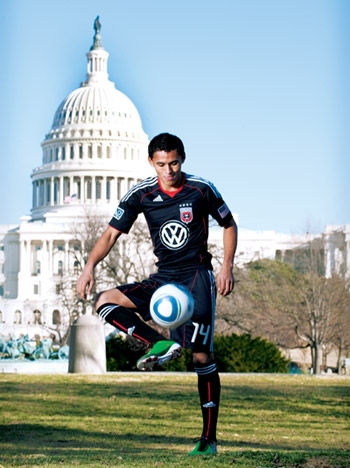 There are about 100,000 youth soccer players in Washington—considered one of the country's richest talent pools by the US Soccer Federation. Many of the largest immigrant communities here come from soccer-loving nations such as El Salvador, Mexico, Guatemala, England, Nigeria, Germany, and Ghana.
The American approach to cultivating talent bears little resemblance to successful overseas models. In Europe, elite youth soccer is run though the professional clubs, which administer networks of amateur teams designed to produce their next generation of stars. At often-elaborate facilities, young players get state-of-the-art coaching, training, and nutrition. Prospects who pan out have a direct route to the pros.
Without this top-down framework, soccer in the United States evolved into a jumble of locally organized clubs. These clubs—as opposed to high schools—are the center of gravity for elite players. College coaches rarely scout high-school games. And while many club players earn college scholarships, the system lacks a clear path to the national team or professional clubs.
The 63 clubs in the National Capital Soccer League draw from as far away as Fauquier County in Virginia and Damascus in Maryland. Recreational leagues in the area offer programs for kids as young as five and competitive travel teams for players up to 18. "At every level of competition, there is pressure to win," says Pat Delaney of the metropolitan area's state referee committee.
In its study of youth soccer, the US Soccer Federation identified an overemphasis on winning as a key shortcoming. Instead of results, players—especially at the younger ages—should focus on dribbling, passing, and shooting skills before they begin playing more competitively in their teens. "People confuse being on a winning team with the development of the player," says Mark Heilbrun, director of training at the Springfield/South County Youth Club and a former member of the US youth national team. "The two might be congruent, but they might not." For players under age 12, the federation recommends less structure. It encourages kids to spend more time kicking around a ball on a playground, an activity that helps them fall in love with the sport and prevents burnout.
At the same time, the federation concluded, elite players participate in too many games and don't train enough. Between high-school, club, and tournament teams, an elite player could have more than 100 matches a year. The US Soccer Federation believes 32 is more like it. Those extra games should be replaced with high-quality training. The top foreign youth programs the federation studied had practice-to-game ratios of three to one or higher. In the United States, it was more like one to three.
US Soccer officials also concluded it was time to dismantle the so-called pay-to-play model, which helps fuel the focus on winning and the too-frequent games. Successful overseas programs are often free, funding themselves by taking a cut of the professional contracts their star players go on to sign. In the United States, parents can pay more than $5,000 a year for their children to take part.
Although youth teams were once run by parents, many now outsource coaching to professional organizations such as HP Elite and Beyond in Fairfax and Soccer the Brazilian Way in Montgomery County. Top-tier private coaches can earn more than $100,000 a year by working for clubs, holding camps, and offering private lessons.
The arrangement has improved the quality of coaching but has also turned parents into demanding customers. For the thousands of dollars they pay each year, parents want wins and college scholarships, coaches say. The goals are linked. "If you have a winning team, you will have more college coaches at your games, and you will get more Division I scholarships," says Brandon Feather, a coach at Braddock Road Youth Club.
Competition for talent is fierce. "It's no different than Georgetown and the University of Maryland looking for that top basketball player—in fact it's sometimes worse," says coach Pete Mehlert, who has more than 25 years of youth-soccer experience in Washington.
And because elite players can hop from one club to another in search of college exposure, coaches feel pressure to win just to keep the talent they have. "We have to compete with these 50 or 60 other clubs for these players," says Mike Yeatts, executive director of Prince William Courage Soccer Club. "If we have a couple stumbles, there is a concern that maybe we will lose a player to a team that is having a good season."
The smuggler treated Andy well during the 14-day journey, delivering him by car to the Texas border region. From there, he was on foot. With canned food and bottles of water in his backpack, Andy hiked through the desert for two days and two nights. At one point, he told the smuggler he couldn't continue, but he pressed on, Diez reported. Finally, Andy reached the vehicle waiting for him on the American side, which took him to Houston. Andy's family paid another $1,500 to transport him to Virginia. He moved into his parents' apartment in Franconia, a Northern Virginia community that's popular with immigrants because it's affordable and safe.
Andy was ecstatic to have made it; he hadn't seen his mother in five years. But no one was more relieved than his grandmother, who had been too worried to eat during the two weeks Andy had been traveling. "I thanked God," she says.
In Franconia, Andy quickly made friends with other Honduran and Salvadoran teens. In the fall of 2007, he enrolled at Alexandria's Thomas A. Edison High School, which draws a large immigrant population. Half of Edison's 1,700 students are non-native English speakers, a quarter Hispanic.
When Andy arrived at school, he spoke almost no English. "Andy was pretty typical of the kind of guy we get from Central America," says Jeffrey Pandin, who teaches history to students in the English for Speakers of Other Languages program. Pandin recalls Andy as a quiet student who blended in. He showed up on time, did his homework, and never caused trouble: "He wasn't the best student in the world, but he made some basic progress." A kid like Andy, Pandin figured, was headed for Northern Virginia Community College or straight into the workforce.
In the fall of 2007, Alejandro Macias watched a group of Edison students play pickup soccer in front of the school. Macias, a recent Edison graduate, was an assistant soccer coach. He tried to recruit fresh talent to the team, and he had organized the day's scrimmage between Edison's squad and a collection of mostly Spanish-speaking kids who had never tried out.
Many of Edison's foreign-born students avoid extracurricular activities. Some have child-care duties or after-school jobs. Others don't want to call attention to themselves. "Some have come to the country illegally, and they worry that they will be asked for their papers," Macias says.
That afternoon, Macias's attention turned to a rail-thin player in his early teens. The boy's ability to change speeds while maintaining his dribble allowed him to slice through the varsity-level defense. "This kid is amazing," Macias said to himself. Although Andy hadn't played organized soccer since arriving here, he had practiced at a park near his house. Often he trained alone.
When the scrimmage ended, Macias asked Andy in Spanish if he'd be interested in playing for Edison's team. Andy's friends were against it, insisting the team was awful. But Andy agreed to join the team. "He just loved to play the game," Macias says.
The soccer season didn't start until the spring, but the team invited Andy to its early-morning workouts in the Edison gym that fall. Although high-school regulations prevented coaches from attending, players passed on enthusiastic reports about their new teammate—"You've got to see this kid play"—to head coach Scott Racek.
As Edison's spring season neared, Andy's enthusiasm impressed his coaches. "He would show up 30 minutes before practice and start kicking the ball around," Macias says. "And he would be the last person to leave at the end of the day."
Andy was a small but well-constructed athlete, Racek says. His frame was supported by long, wiry legs: "He was fast as a gazelle and had a nice touch on the ball." Unable to communicate in English, Andy was quiet. "He wouldn't even look me in the eye because his English was so limited," Racek says. Macias was Andy's translator.
Although only a freshman, Andy scored three goals in the varsity team's opening game. "At that point, I knew we had something special," Racek says. Andy earned a spot on the all-district team. The following year, he had a school-record 22 goals and five assists. Edison went 10-2-1 with Andy in the lineup. Without him, they were outscored 11-3 and lost three of four games. The Washington Post named Andy a first-team All-Met player in 2009, his sophomore year.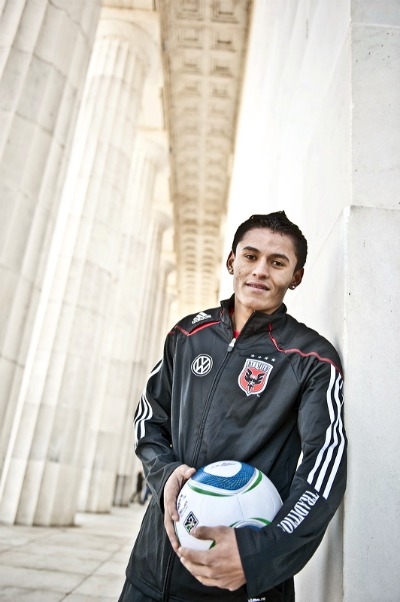 In the late 1990s, the US Soccer Federation began experimenting with European-style training when it opened its "residency program." Promising young players are housed at a campus in Bradenton, Florida, where they get top-notch coaching, high training-to-game ratios, and professional resources year-round. The federation was pleased with its results. Five alumni represented the United States at the 2006 World Cup—including Landon Donovan and DaMarcus Beasley—and more than 100 have turned pro.
The federation resolved to reproduce the residency model on a larger scale—to reach thousands, not hundreds, of young players. Like successful programs overseas, this one would be linked to the professional soccer league, the MLS. Each club would sponsor a farm system of teams composed of the area's most promising players. While they wouldn't live on-site, the players would train in a professional environment and compete against first-rate talent. Coaches would be judged not by wins and losses but by the number of players advancing to the first team. This would also allow the US Soccer Federation to scout elite players.
When the youth-academy program launched in 2007, D.C. United was among the first up and running. It had one team for players under 18 and another for those under 16. This past year, it added under-15 and under-14 teams. The program now has more than 100 players, some from as far away as Middleburg.
Andy tried out for the D.C. United academy at age 14 in January 2008, but the coaches said he was too young. "Okay," he said to himself. "I'll come back later." After months of working out on his own and playing varsity at Edison, he earned a spot on the under-16 team.
Andy arrived with skills superior to those of his teammates, but his physical conditioning lagged. "If we did ten sprints, he wouldn't be able to finish," says Roberto da Silva, an academy coach. Andy worked to build stamina, pushing himself through running drills. Within four months, he was placing first in sprints.
When Andy entered the academy, his teammates were skeptical. "No one would pass me the ball," he says. But the more he played, the more passes he got. "He was making his opponents look like cones," da Silva says.
The academy's under-18 coaching staff took notice, and the older team began bringing Andy up when they were short players. Conor Shanosky, the former captain of the under-18 team, remembers Andy cutting the line during shooting drills to get an extra chance at a goal: "He's like a little kid."
In the summer of 2009, D.C. United's under-18 team qualified for the development-academy playoffs in Los Angeles. Half a dozen players were in summer school and unable to make the trip. The shortage forced head coach Judah Cooks to rejigger his roster. Andy had always played defense for the academy, but Cooks asked if he would move to forward. Andy eagerly agreed; forward was his preferred position. "No one knew that," Cooks says, "because he is a good kid, very respectful, and did what he was told."
In D.C. United's first game, Andy scored three goals in the first 30 minutes. "So now I am calling Dave Kasper, our general manager, and saying, 'There is something very, very special about this kid—he's making it look very easy,' " Cooks says.
D.C. United advanced to the finals. They lost 1-0, but Andy had the highlight of the tournament when he caught the ball with his chest and popped a right-footed laser off the goal post. With four goals, he was the week's top scorer.
Before Andy had returned to Washington, professional clubs in Mexico were calling. "The word was out," Cooks says. Back at RFK, Andy began training with D.C. United's first team.
As D.C. United officials became increasingly excited about Andy, Edison coach Scott Racek grew frustrated. When a D.C. United game conflicted with Andy's high-school schedule, he missed the Edison game. Soon Andy began skipping Edison practices.
At one point, Racek rounded up his team. "Are we willing to put up with him missing our games and practices?" he asked. They voted to keep him. "When he would come to games, he was dynamite," Racek says.
Over the fall and winter, D.C. United decided Andy was ready to play with the first team for the 2010 season. "You look at him at different teams at different levels, and he keeps rising to the top," says Dave Kasper.
Before the season began, Andy had to return to Honduras to retrieve documents necessary to get a green card. He was mobbed by friends and family in Santa Cruz.
"I don't want to go," he told his grandmother before he returned to the United States.
"You have to go," his grandmother said. "Your future is there."
Andy got his green card with D.C. United's help and signed a multi-year contract paying him $60,000 through his first season. "For me it was a dream come true," he says of the March 22 deal. His first big purchase was a Toyota Corolla for his mother. He also began sending money to his grandmother for food and medicine: "They've done so much for me, so I have to do the same for them."
From its inception, D.C. United's academy has been unpopular with local coaches, many of whom have watched top players defect.
Conor Shanosky was playing for the Great Falls Soccer Club in a scrimmage against D.C. United when he caught coach Cooks's attention. Cooks called Shanosky and asked him to join the D.C. United academy. The Great Falls coaches were upset.
Shanosky doesn't regret the decision. After enlisting in the academy, he signed with D.C. United's first team, and he has since played with the under-20 national team. He believes more local players will make the same decision. "Before, all of the best players went to the local clubs," he says. "Now everything is really switching to the academies."
Many coaches dismiss D.C. United's academy as nothing more than a gussied-up club team. "There is nothing that really separates them from the other great coaches in the area—except the D.C. United label and the warmup gear," says Quan Phan of HP Elite and Beyond.
"All they do is recruit," says another local coach. "There is no development."
And D.C. United isn't the only academy team here. The development-academy system includes elite clubs with no MLS affiliation. Two other local programs—McLean Youth Soccer Association and Potomac Soccer Association—have academy programs, too.
Of the 78 clubs in the development-academy league, only a fraction are sponsored by MLS teams. The US Soccer Federation makes sure every academy program provides a similar environment. US national-team coaches evaluate each operation at least ten times a year to ensure compliance with more than 100 standards.
But D.C. United officials insist their academy is superior. Unlike Potomac or McLean, D.C. United's academy is subsidized by its parent organization and costs only $1,100 a year to participate, compared with $4,500 at Potomac and $5,000 at McLean. (All three academies—as well as many club teams—offer financial assistance for needy players.) D.C. United academy players have the chance to train with members of its first tea
m. Former captain Jaime Moreno and head coach Ben Olsen have worked out with academy teams. More than 90 percent of its players have gone on to play soccer in college.
But the academy system wasn't designed to send kids to college. D.C. United's biggest distinction is its direct route to the pros. Three of its alumni—Andy, Shanosky, and goalie Bill Hamid—have skipped college to sign with the club. That's good news for the US Soccer Federation, which believes NCAA restrictions make college soccer a poor training model. In its 2006 report, the US Soccer Federation called "education as a priority" a key challenge to improving player development in America. Still, most academy players aren't ready for the pros at age 18 and head to college instead.
Despite the friction between D.C. United and the local teams, the US Soccer Federation's ambitions rely in part on the club system. Because it's hard to identify talent at very young ages, the federation isn't organizing academies for the under-12 set. It wants clubs to supply technically sound players ready for the next step. "We support the local clubs, and we ask that the local clubs support us," Kasper says.
Most local soccer will continue to be played at the club level—youth programs such as D.C. United's can accommodate only a small sliver of the players. "Whether people want to admit it or not, D.C. United is the standard [for youth soccer in the area]," says Clyde Watson, technical director of McLean Youth Soccer Association. "But we can all coexist successfully."
Andy dropped out of school when he turned pro, but his contract required D.C. United to pick up the tab for his continuing education. He now studies with a tutor and is on track to receive his high-school-equivalency degree by the time his former classmates graduate this spring.
Coach Racek was troubled by Andy's decision. More than a dozen universities had expressed interest in Andy, and a college degree could have ensured his livelihood even if an injury cut his soccer career short. "He could have been the first one in his family to go to college," Racek says. But for an immigrant family just barely getting by, D.C. United's offer was hard to turn down.
D.C. United trumpeted Andy's ascension as a validation of its academy system. "This is a great story about the importance of our academy teams and the ability those teams give us to find young players who in the past we might never have met," D.C. United president Kevin Payne said in announcing Andy's contract. Some club coaches snickered. "D.C. United did not develop Andy Najar—they picked him up for a year," says coach Pete Mehlert.
In Santa Cruz, Andy's family was thrilled. No one from the village had ever played professional soccer abroad. "The whole town was celebrating," Andy's uncle says.
When D.C. United's coaching staff examined their roster for the 2010 season, they earmarked Andy as a backup who could come off the bench in certain situations. He was just 16, and they saw no reason to rush things.
But Andy's preseason performance made them change plans. "Every day he continued to prove himself," says head coach Ben Olsen. "The next thing you know, he is the last person you would take out of a game."
Andy started 22 of 30 matches—mostly at midfield—scoring a team-leading five goals. He was named D.C. United's most valuable player and was the team's only bright spot in a season of 6 wins and 20 losses. After each game, his mother drove him home to Franconia. At their apartment, he shared a bedroom with his youngest brother, who had recently arrived from Honduras.
Andy became a fixation of the Honduran media. Web sites chronicled his every move, and journalists arrived in Santa Cruz to interview his family and friends. One news outlet even sent a reporter and photographer to his home in Franconia. The attention became too much; Andy changed his phone number and took his e-mail address off his Facebook page. Then the downside of his newfound visibility turned serious.
In Santa Cruz, Denis Najar—Andy's middle brother, who was 16 at the time—was walking home from a village store in early summer. As he followed the dusty road, he noticed a vehicle behind him, his uncle says. It was dark, but he could make out a white pickup truck with no license plates. Three men were inside.
The truck trailed Denis to his house. When he stepped into his doorway, the driver stopped.
"Hey, can I use your cell phone?" one of the men asked.
"I don't have one," Denis said.
"I think you do," the man said.
When Denis entered the house and locked the door, the vehicle drove off. Denis didn't mention the incident to his family. But after the men reappeared two more times over the next several days, he decided to tell his grandmother.
When word reached D.C. United, team officials knew they had to act quickly. In the soccer-crazed nations of Central and South America, families of athletes make attractive targets for criminals. In 2007, gunmen kidnapped the younger brother of Wilson Palacios, a Honduran soccer star who plays for a premier English club. Though the family reportedly paid the ransom, the teenager's body was found in the mountains nearly two years later.
D.C. United contacted a Guatemala-based private security firm. Within 24 hours, several men with machine guns arrived in the village and drove Denis to the Marriott in Tegucigalpa, the Honduran capital. Meanwhile, D.C. United officials worked to secure an American visa for Denis.
For more than two weeks, Denis waited at the Marriott for his paperwork. The hotel staff grew suspicious. Why didn't this teenager ever leave the grounds? They became convinced that Denis was being held against his will by kidnappers, and they called the police. Authorities eventually realized he was already under the security firm's protection.
When the visa came through, Denis boarded a flight for the United States. At Reagan National Airport, he embraced his mother. It had been eight years since he'd seen her.
The Spanish-language media increasingly focused on the question of whether Andy would play for the Honduran national team or represent the United States in international competition. The gringos are coming to steal our jewel, declared the front page of the July 19 issue of Diez, featuring a large photo of Andy.
The Honduran soccer federation, which had only learned of Andy through recent media reports, began expressing interest. "We will do everything possible to convince him [to play for Honduras]," Javier Padilla, head coach of the under-20 national team, told Diez. "We will fight to the end for Andy."
Meanwhile, US national-team coach Thomas Rongen believes Andy is talented enough to play on the under-20 team immediately and on the full national squad in a couple of years.
For Andy, the decision is critical because soccer players are generally allowed to represent only one country in international competition. Once he plays for either Honduras or the United States, he can't switch teams.
And although Andy has a green card, he can't play for the US unless he becomes a citizen. The naturalization process requires permanent residents such as Andy to live in this country for five years before they can apply for citizenship, and Andy has had his green card for only about a year.
That rule has been bent for superstar athletes. David Regis—a French-born defenseman then playing professionally in Germany—had his US citizenship fast-tracked just in time for the 1998 World Cup. But since September 11, 2001, the system has become much less compromising.
D.C. United president Kevin Payne has reached out to Congressman Jim Moran, the Democrat who represents Andy's district, and Congressman Chris Van Hollen, the Maryland Democrat who cochairs the Congressional Soccer Caucus, to discuss expediting Andy's citizenship. The club's only option is an act of Congress. It's been done for athletes before—for example, to allow figure skater Tanith Belbin to represent the United States at the 2006 Winter Olympics—but it's rare. More often, the government grants posthumous citizenship for green-card holders killed in combat while serving the nation. For a teenage soccer star who arrived in the country illegally, a private bill would be nearly impossible to engineer.
Rafael Callejas, a former Honduran president who now runs the country's soccer federation, argues that the waiting period for US citizenship makes Andy's decision simple. "With us, he plays tomorrow," Callejas says. "With the US, you never know."
Andy's thinking shifts constantly, his agent says. One day he's ready to call the Honduran federation. The next, he's committing to the United States. "The US is a place that opens the door—it doesn't matter where you come from or what you bring," Andy says. "But you can't forget your roots."
His parents and D.C. United officials have promised to give Andy space to make up his mind. But Spanish-language reporters have been relentless. "They are always asking me with whom I'm going to play," Andy says.
Few have more influence on Andy than a 67-year-old woman who came to Honduras looking for a better life and watched her family head north for the same dream. "I want him to play for the US," his grandmother says. "His future is there."
One evening this January, soccer coaches crowded the Baltimore Convention Center for the nation's largest soccer trade show. They drank beer from plastic cups as they cruised past booths displaying coaching DVDs and the latest AstroTurf technology.
Andy sat on a folding chair under the Volkswagen tent. He took a half-inch stack of Andy Najar photographs and began autographing them. He was here at the request of Volkswagen, which had chosen him to promote an international youth-soccer tournament. For the first half hour, his booth was deserted, even as the adjacent station—with free scarves and cinch bags—attracted a ten-person line. Andy's knee bounced anxiously.
Passersby leaned forward to read his name. "What's he weigh?" one man whispered. "A buck thirty?"
It had been a busy off-season for Andy. In early November, his agent called with news: Andy had been named MLS's Rookie of the Year. "I didn't have words," he says. He was the youngest player ever to receive the honor. In addition to the $10,000 prize, Andy received a plane ticket to Toronto, where the awards event would be held.
The award gave him cover to delay his big decision. The Honduran national team had asked him to play in a November 17 match against Panama. Andy explained that the MLS banquet would take place two days after Honduras's match, making it impossible for him to play. But such excuses can't work forever; Honduras plans to call Andy again. He's expected to make his decision this spring, when he'll know more about the likelihood of expedited citizenship.
In December, D.C. United signed Andy to a multi-year deal with an annual value in the low six figures. The contract makes Andy, who turns 18 after the season opener in March, among the team's highest-paid players. That same month, his family moved into a bigger apartment in Franconia. The property is in a nicer development, with a community gym, a pool, and space out back for barbecues. For the first time, Andy has his own bedroom.
He shouldn't get too comfortable, coach Rongen says. With European clubs already interested, it's only a matter of time before a top overseas team buys out his contract: "He'll be a guy that Major League Soccer won't hang onto for long."
Three Najars now wear D.C. United jerseys. Andy's brother Denis joined the academy's under-16 team, and his youngest brother is with the under-15s. On days they don't have practice, Andy takes them to the park near their house to train.
Andy says his D.C. United academy coaches improved his game. But his artful ball control and gutsy determination can hardly be attributed to a year and a half with the academy. Says Rongen: "If anyone thinks that they made Andy Najar, they are mistaken."
Instead, credit the ragged pitch in Santa Cruz, the desert between Mexico and Texas, and the conviction that you can achieve a better life if you make enough sacrifices. "I always dreamed that I could make it," Andy says. "And thank God, when I got to this country I got the opportunity."
This article first appeared in the March 2011 issue of The Washingtonian.