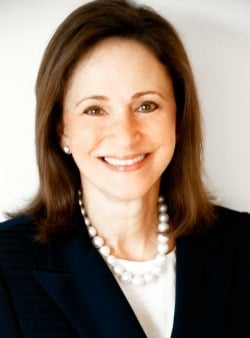 It's not unusual for international-arbitration lawyer Carolyn Lamm to visit two or three countries in a single week. As counsel to foreign governments involved in international disputes, the White & Case partner and immediate past president of the American Bar Association (ABA) is constantly on the go. Her practice, however, has led her to represent some eyebrow-raising clients, including the government of Libya.
In between business trips, Lamm found time to chat about her firm's work for Libya, her time as ABA president, and the fund she's creating with the United Nations to aid victims of sexual violence.

Did you always know you wanted to go into the law?
I knew I wanted to be a lawyer from a really young age. At that time, I had a cousin who was just a star. He was a lawyer, and I thought I should do that as well. My father said, "Well he's a boy, you're a girl, you can't do that." I said, "I think I can," and overcame his predisposition against my pursuit of a legal career.
How many miles of travel would you estimate you log per year?
I try not to focus on it, but I do travel an incredible amount. But I do also try to put things together. Like this week, I'm going to Geneva for a hearing before the Swiss Chamber, then I'm going from there to Rome to meet with my Italian clients. You learn to link work overseas together so you can be as efficient as possible to reduce travel and expense.
You've represented some controversial clients, such as the government of Libya. How do you decide which clients you'll take on?
We start with the premise—and it's fundamental in the code of ethics for lawyers—that all clients are entitled to the representation of counsel. It is, in fact, within the representation of those that might be viewed as the most reprehensible that we protect freedoms for all. A lawyer's representation of a client doesn't mean that the lawyer endorses or adopts the client's political, economic, social, or moral views or activities. A lawyer need not be judgmental about the person or the entity. What you're looking at are the legal rights that need to be protected. In the example of Libya, my law firm's role—led by my partner Chris Curran—was to negotiate a bilateral agreement with the United States to provide a mechanism to compensate those with judgments against Libya. That agreement did assist with reestablishing the relationship between Libya and the US at the time. Unfortunately, it has since taken a different turn. But the fund was created, Libya paid money into it, and the victims had a means to obtain compensation. It takes lawyers on both sides to get that done.

Can you explain more about the fund?
The government of the United States entered into an agreement with the government of Libya under which the Libyan government agreed to pay money into a fund, and then that money would be distributed to those who had judgments in a variety of cases—including the Lockerbie bombing, a German nightclub bombing, a plane bombed over Chad. What the bilateral [agreement] did was to establish a fund for compensation.

As the first Washington-based ABA president in 50 years, did you feel your proximity to the federal government gave you advantages your predecessors didn't have?
Certainly my knowledge of Washington and proximity to the agencies as well as the Hill enhanced what we were able to do in terms of our advocacy on various issues.

As president, you voiced ABA's support for same-sex marriage. You also sent a letter to Congress urging the end of "don't ask, don't tell." Why was this important to you?
It's an important issue of equality and nondiscrimination. One of the 30 substantive law sections of the ABA, the section on individual rights and responsibilities—often referred to as the conscience of the ABA—advanced the issue. They promote issues of social justice, individual rights, and liberties. The section had been studying it for a while. There was legislation and some court cases at the time going forward supporting marriage equality. Given that it was a timely and important issue that the legislature and the courts were looking at, as thought leaders in the law, the ABA should have a voice and be heard.

Since stepping aside as ABA president last summer, what have you been focused on?
My law practice—I love my practice, my clients, and the many challenging legal issues in the international disputes I am counsel in. But in the ABA, you continue, as the immediate past president, to serve on the board and as a liaison to many things. So I continue to do a lot of ABA work as well. I'm also serving as the ABA's representative to the United Nations. I've been working on an issue that I think is very important. It's an international effort to work within the UN to find a means to get reparations to victims of sexual violence that's used as a weapon of war. It destabilizes communities and rips apart families, and it's not sufficient to simply prosecute the perpetrators. It's recognized as a crime under many multilateral conventions, but it does nothing in all of that criminal prosecution to help the victims. So what I've been working on at the UN this year is to try to find a way—either through the UN or through proceedings against the offending governmental entities that are using this as a weapon of war—to create a fund for reparations for the victims.
Subscribe to Washingtonian
Follow Washingtonian on Twitter
More>> Capital Comment Blog | News & Politics | Party Photos