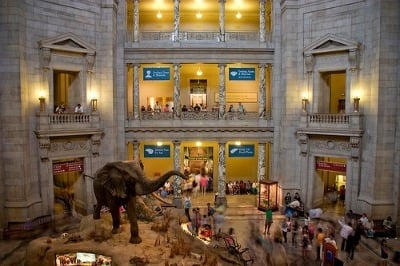 What does Washington have in common with Elmo and All Things Considered? It feels as though every five minutes someone's trying to take our funding away. This week, the debate returns (again) to the funding of our beloved federal museums, which the Bowles-Simpson commission decided back in December might be an overpriced luxury. With President Obama taking steps towards austerity, the Smithsonian's future is once again a matter of contention. Would you pay a $7.50 admission fee to visit local museums? Let us know in the comments below.
Hotels have found one way to save money (beyond charging $10 for bottles of water): Tracking devices have been rolled out in three US hotels that actually keep tabs on hotel linens, from dressing gowns to pillowcases. So those 300-count Egyptian cotton sheets you've been resting on? They could be fitted with a microchip to help managers keep on top of inventory—and of course, deter sticky-fingered guests.
We have two upgraded hotel deals for you this week. Affinia Hotels recently launched its For the Love of the Game package in New York City for $216 a night. The deal, intended for sports fans everywhere, includes an upgraded accommodation to a one-bedroom suite, a $10 Metrocard, a $10 Modell's gift card, late check out, and either a six-pack of beer or a bottle of wine. The package is valid for stays through the end of the year at one of five New York locations; to book or for more information, see this link.
The four-star Signature at MGM Grand in Las Vegas is also offering a suite deal (pun intended): Sunday through Thursday, the nightly room rate for a junior suite is just $79 ($99 on Fridays and Saturdays), while the rate for a 950-square-foot one-bedroom suite is $99 during the week and $149 on weekends. A two-night minimum stay is required, with the addition of a $20 daily resort fee, which includes access to the gym, wi-fi, and bottled water. See this link to book (travel must be booked by April 22).
And finally: We get asked this question a lot and have never had much advice other than to search widely, look for package deals, and follow your instincts. But CNN Money has put together a terrific guide on how to save on airfares in the age of travel-Web-site confusion. Worth a read.
Subscribe to Washingtonian
Follow Washingtonian on Twitter