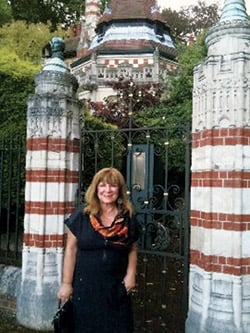 At a yard sale not long ago, my husband found a video of the Beatles' 1964 concert in DC. The sound wasn't great, the picture worse, but we loved it. It was fun to see Ringo serving as his own roadie. The girls in the audience looked more than a little groovy. I so wished I had been one of them.
The Beatles first came to the United States in the winter of 1964 to appear on The Ed Sullivan Show. Later the same week, they performed two concerts. The first was at DC's Washington Coliseum.
I was a 13-year-old in Chicago consumed with the idea of going to Washington. Still reeling from JFK's death, I was the kind of teenager who learned all about the Civil Rights Act even as I was obsessed with John, Paul, George, and Ringo. But back then I couldn't just go to the nation's capital. That would happen later. And I'd stay.
Watching the Beatles video got me thinking about Elva—my teenage pen pal in London. I was a Girl Scout; she was a Girl Guide. We needed friendship badges, and the way to get them was to write to someone overseas.
We corresponded almost three years, bonding over the Fab Four. I told her about my first boyfriend, troubles with my parents. In her photos, she was a fresh-faced English schoolgirl; I wore a beehive hairdo and white lipstick. When I got pregnant at 16, I stopped writing. My days of Girl Scouts and crushes were over.
I tried to figure out how to find her. My older daughter—the baby I was carrying when the letters stopped—had the answer: Facebook. Nearly 50 years later, there Elva was, still in London. I sent her a note through cyberspace.
"Come over here, Mate," she replied.
Mate—her name for me way back when. A few weeks later, my husband and I boarded a plane.
Elva had once sent me a beautiful silk scarf—orange flowers on a black background. I told her I'd be wearing it. When she saw me, we ran to each other.
Elva and I talked nonstop, spending an inordinate amount of time discussing the Beatles. George was still her favorite; John had replaced Ringo as mine. Elva's friend Peter told us his grandfather's home was close to George Harrison's estate. I couldn't see the Beatles in Washington back in 1964, but dammit, Elva and I could pose in front of George's house.
There was a fence, so the only place to stand was outside the gate. Elva chickened out, but Peter got a shot of me. I'm wearing the orange-and-black scarf.
In London, I found out Elva got pregnant with her son not long after I became a teen mother. I was a bit shaken yet oddly content, knowing that an ocean apart we'd led parallel lives. I wish we'd continued to write. We could have been each other's support when we needed it.
Her son and my daughter now have children of their own. Elva and I keep in touch on Facebook. She sends me ribald jokes from England. I'm trying to talk her into coming here.
The Washington Coliseum is long gone. Who knows what became of all those groovy girls watching the Beatles at Third and M streets that winter night? Elva and I have endured. This one's for her:
If there's anything that you want,
If there's anything I can do,
Just call on me and I'll send it along
With love from me to you.
Subscribe to Washingtonian
Follow Washingtonian on Twitter
More>> Capital Comment Blog | News & Politics | Party Photos