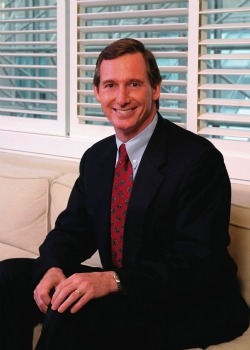 For more than a decade, J. Warren Gorrell Jr. has headed one of Washington's largest and most profitable law firms. Under his leadership, DC-based Hogan & Hartson—now Hogan Lovells, thanks to last year's mega-merger with London firm Lovells—has transformed into an international powerhouse. Gorrell was chairman of Hogan & Hartson from 2001 until the union with Lovells last May. He and Lovells's former leader are now co-CEOs of the combined firm, which numbers around 2,500 attorneys.
Between juggling his corporate-law practice and managing one of the world's largest law firms, Gorrell found time to chat with Washingtonian about what he believes is the key to successfully growing a business, the recent dissolution of another homegrown Washington firm, Howrey, and the big merger nearly a year after it became official.
You've said previously that you thought about going into business, so how did you decide on law?
Well, I was an economics major at Princeton. When it came to deciding to go to a professional school, I thought to myself that it'd be better to go to law school than business school because I already had a background in economics. I went, in a way, just to increase my options, and once I got there, I realized I liked the aspects of the law and that I could do both. By being a corporate lawyer, I could be involved in the business of the client and still be a lawyer. Of course, today, since I'm able to keep practicing as well as being the co-CEO, I actually literally have the best of both worlds—or the worst—by basically being able to run a substantial global business and also continuing to practice.
What is the key to smart global expansion, as opposed to how we've seen some firms overextend themselves and pay a steep price?
The number one rule is "know thyself." In terms of the way that we built our international practice and ultimately did the combination, it was really important to understand what our strengths and weaknesses were, and where the markets were where we could compete at the high end. So we resisted just going some place because other people were going there. And I think it stood us in good stead over all these years. That would include the merger. Basically, I had in effect told our partners that I didn't think I'd ever be in favor of a transformational merger, but then we saw what was happening in the legal market. More multinational firms and financial institutions were trying to work with fewer law firms. We felt that if we could establish a position that would be distinguished in the market for doing really high-end work, and preserve the team-oriented, collegial culture that both [Hogan & Hartson and Lovells] had, that we should do it. Again, that wouldn't be right for everyone. Hogan & Hartson was pursuing a strategy of being a preeminent international firm, but we only had 20 percent of our people and our revenues outside the U.S. We would never have gotten there by just hiring an individual lawyer or a team, market by market. Being able to identify another firm that shared our values and also had the right capabilities and footprint was what threw us over the line. We, of course, looked at a lot of other firms—that was one of the beauties of this. We could identify who we wanted to do this with because we were coming to it from a position of strength, as was Lovells. So I think that's the key. Don't try to do things just because other people are doing them. Make sure that it works for you.
This question of smart expansion is on a lot of people's minds lately, given what happened at Howrey and the fact that the firm's failure was partially blamed on focusing too much on international markets, as well as growing too quickly.
Howrey was a great firm. They were pretty narrowly focused—litigation and intellectual property, and they did a lot of antitrust litigation. Well, our strategy's different. We have a broad practice that includes those capabilities but also rounds them out. Roughly 60 percent of our business is corporate and litigation. Corporate is our biggest [area]. And then we have finance, government regulatory, and IP that make up the other 40 percent. That's a pretty good balance if you look at the capabilities clients really want. So I think when you look at some of the failures, these were firms that were too heavily oriented toward one type of practice rather than a well-balanced, broader practice.
Since the merger, nearly a year ago now, how has the transition been?
It's been great to see how clients have received Hogan Lovells. We had high expectations for that, but we can really point to many, many examples of major pieces of work that neither firm would've gotten but for the merger. That's very helpful in convincing clients as well as our partners and associates that, hey, there really is merit to this concept. We could point to being selected as the worldwide primary counsel for a major insurance and investment company. We beat out three other global law firms. The idea is to replace many of the more than 300 law firms that were working for this client last year around the world. Already in the first four months we have over 100 lawyers who've started working on matters around the world for this client. Well, we'd never have had that capability [before the merger].
There are other examples in every practice. The challenges have been more internal. We overlapped in ten different markets. We were determined on day one that we were going to consolidate everyone as fast as we could. We moved everybody around. The week after the merger, we had 700 office moves around the world in all ten of those overlapping markets. That was hard. There also are just general cultural and integration challenges that you have to recognize and deal with. It seems that they wouldn't be that hard, but when you do a "merger of equals" with two strong organizations, it's not as easy as when "I work with GE" so GE goes in and acquires someone, it's going to be the GE way. In this case, we were focused on saying, it's not the Hogan & Hartson way, and it's not the Lovells way, it's the Hogan Lovells way. That's not necessarily the best of the past. It could be a whole new way of thinking about things. You can't make those decisions by fiat. You have to bring people along. I look back after the first year and we're pretty much there. I feel really good about that.
You used to try to visit all of Hogan & Hartson's offices at least once a year. Now that you've got a lot more ground to cover, is that goal still in place?
It's still important to spend time with all the lawyers and the staff in all of our offices, and with our clients in these markets, and I'm still totally committed to doing that. Whether the yard stick is the calendar year now, or maybe every 18 months, I think it's probably lengthened a little bit. But I'm still going to do that. It's so important
to make sure that I know everyone and they know me, and everyone feels part of the same global organization.
How do you maintain loyalty among your partners, especially now that you have so many more of them and that partners are much quicker to switch firms these days?
It's a bit of a challenge, but we're up front about what we're about and what it means to be a part of Hogan Lovells. We just had a worldwide partners conference and the theme was "forging a winning team." These softer elements about what we're about—collegiality, teamwork, good citizenship, friendliness—were at the core of everything that we did [at the conference]. So even when we were talking about our strategy in different industries or different practices, it must always come back to teamwork in order to make it work for the clients and for the firm. Another way we seek to keep people together is by breaking things down into smaller pieces—practice groups, offices, and industry groups. And, of course, I'm not the only person involved in management around here. We have a strong management team, and we're all out there interfacing with people. The idea is to have as many points of contact as possible with everyone, not just with the partners but also the associates and the staff.
There's been a lot written lately about law school and how it's not as good of a value as it once was—jobs are no longer a sure thing after graduating, many students go into serious debt. What's your advice to a young person considering law school?
It's a difficult question. In days gone by, people might have gone to law school because they didn't have anything else to do. I recommend strongly against that. It's both expensive and hard. That said, whether you want to be a lawyer in a large law firm or a small firm or work for a company or the government, or go into a whole range of other areas, a legal background is really helpful. It's expensive, but it's helpful. So I sort of advise my children's friends who are thinking about actually doing this to have their eyes open. It's very challenging, certainly at the top of the profession, to get jobs in the best firms today, and they should be sure that being a lawyer is something they really could see themselves doing. Look, I think being a lawyer is a good thing. We obviously need lawyers to make our society work, our form of government work, so I wouldn't tell somebody not to be a lawyer. You've just got to think it through, make sure it's for you.
Subscribe to Washingtonian
Follow Washingtonian on Twitter
More>> Capital Comment Blog | News & Politics | Party Photos