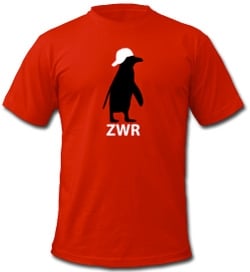 Last year's opening-day game for the Nats created talk when Phillies fans packed the stadium, seemingly outnumbering our hometown crowd. It's likely to happen again when the Phillies arrive in mid-April. While most Phillies fans will drive here, one of the team's most high-profile boosters is a Washingtonian.
"Rick," who asked for anonymity, is a 33-year-old originally from South Philadelphia who moved to Fairfax six years ago for work. But like many transplanted baseball fans, his heart remains elsewhere. When the Phillies traded for pitcher Roy Halladay in 2009, Rick had a dream involving the Philadelphia Zoo and the new player: "It was one of those 'right before you wake up' dreams, so it stuck with me long enough to remember after the morning haze lifted," he recalls.
Rick's fan blog—I Want to Go to the Zoo With Roy Halladay—was born, even though he admits he doesn't really have much interest in going to see animals with the star pitcher. The blog found a following. It offers commentary on the team as well as throwback Microsoft Paint–made images and penguin videos. Regular features are posts such as "The Phillies as Muppet Babies: The Definitive Guide." There's even a Man of the Year (Halladay, of course).
In 2010, Halladay threw a perfect game in the regular season, a no-hitter in the playoffs, and won the National League Cy Young Award. Rick's site exploded: nearly half a million visitors, 2,000 Facebook fans, and 3,200 followers on Twitter.
Rick bears no animosity toward his adopted hometown ("The Nats aren't someone evil like the Yankees or Red Sox," he says), and for 2011 he has new reason to care about the Nationals: Former Phillie Jayson Werth signed with the Nationals.
If the Phillies fan ever gets a chance for that outing with Halladay, he wouldn't settle for Washington's zoo. Says Rick in an e-mail: "Love that it's free to all, thought the pandas were hip. Rates below Philly's, though."
This article first appeared in the April 2011 issue of The Washingtonian.
Subscribe to Washingtonian
Follow Washingtonian on Twitter
More>> Capital Comment Blog | News & Politics | Party Photos