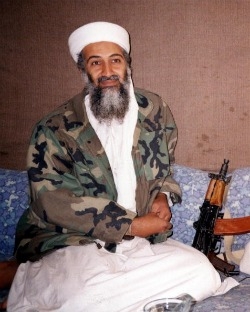 Washington was up late Sunday night as the news broke that Al Qaeda leader Osama Bin Laden has been killed by US forces.
Word got out via early news reports on Twitter and Facebook about an hour before President Barack Obama finally appeared on television to tell the country. A celebratory crowd of what appeared to be largely students from nearby George Washington University gathered outside the White House as chants of "USA! USA!" were broadcast live on CNN. (There's a short video of the White House scene here.)
"His demise should be welcomed by all who believe in peace and human dignity," Obama said in his late night address. Bin Laden died in a firefight during an operation inside Pakistan. No Americans were harmed.
In cities around the country, patriotic scenes like the one outside the White House were repeated large and small. On ESPN, fans at the Phillies-Mets game could be seen and heard briefly switching allegiances from their favorite baseball teams to the "USA!" In a Chicago bar, "Born in the USA," was the song of choice, according to Washingtonian editor Garrett Graff.
Shortly after midnight, the Washington twitterverse seemed to come to a consensus about the significance of Bin Laden's killing: It will be tough to find a newspaper come the morning. We're recommending taking a stroll outside the Newseum at some point on Monday if you have the chance, to take a look at all the newspaper covers posted outside.