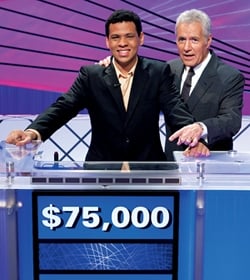 What is college tuition? After winning the Jeopardy Teen Tournament, Richard Montgomery High School senior Raynell Cooper must now decide how to spend his $75,000 in prize money. Raynell, 16, is captain of the Rockville school's It's Academic team and prepared for Jeopardy by studying young-adult literature and wagering theory. But it was in David Breslaw's world-history class that he learned the correct response to the deciding Final Jeopardy clue: "Completed in 1869, it has also been known by its nickname, 'the highway to India.' "
"It was kind of an easy question," Breslaw says. (The answer is the Suez Canal.) Raynell's $10,800 all-in wager vaulted him from last place to the winner's circle. The final segment aired March 2.
On graduation, Raynell hopes to study political science and geography at George Washington University and embark on a career in government. "I love being in the city," he says. Good thing he's got that prize money. A year at GW will cost him more than $44,000.
Think you can take on Raynell? Four clues he responded to correctly during the tournament follow below.
Jeopardy Round
Category: The world.
Amount: $600.
Clue: The trail named for these people led from Cuzco to Intipunku—"the gateway of the sun"—and on to Machu Picchu.
Correct response: Who are the Inca?
Double Jeopardy Round
Category: First things first.
Amount: $800.
Clue: Opened in Houston in 1965, it was the first fully enclosed sports stadium; today it bears the Reliant name as well.
Correct response: What is the Astrodome?
Double Jeopardy Round
Category: Art-isms.
Amount: $800.
Clue: Abstract Expressionism has been called the first movement to develop independently in this country.
Correct response: What is the United States?
Double Jeopardy Round
Category: Discoveries.
Amount: $2,000.
Clue: Only weeks after this planet was discovered in 1846, William Lassell discovered its largest moon, Triton.
Correct response: What is Neptune?
Subscribe to Washingtonian
Follow Washingtonian on Twitter
More>> Capital Comment Blog | News & Politics | Party Photos