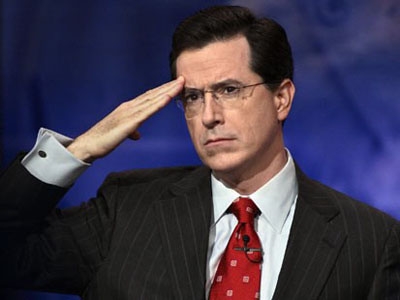 Stephen Colbert plans to drop in on the Federal Elections Commission (999 E St., NW) to file for his "SuperPAC" today at 4 PM. He's been tweeting frequently about his visit today. The Comedy Central star started this process by first bringing FEC chairman Trevor Potter onto his show to explain how to set up a PAC. When Potter advised Colbert that he might want to be careful and follow the law when creating his own PAC, Colbert asked if anyone had ever gone to jail for breaking PAC law. When Potter told him no, Colbert exclaimed, "That's my kind of law!"
The host of The Colbert Report has encountered several roadblocks in his endeavor to launch the Colbert SuperPAC, including Viacom's lawyers telling Colbert that discussion of his PAC on the show amounted to in-kind donations, but Potter, who has been advising Colbert on the process, informed him that the law allows for a "media exemption," which PAC-holders on Fox News such as Karl Rove have used because they're "reporting the news." Colbert plans to file for his media exemption today.
Comedy Central has posted a complete archive of videos related to Colbert's journey to set up his PAC, but here's the video of his announcement to visit the FEC in person from the end of last night's show.
Colbert's campaign to set up a SuperPAC is part of the comedian's attempt to highlight altered election law following last year's controversial US Supreme Court decision in Citizens United, which allowed near-unlimited spending from SuperPACs.
Are you going down to the FEC today? What do you think of Colbert's SuperPAC?
Subscribe to Washingtonian
Follow Washingtonian on Twitter
More>> Capital Comment Blog | News & Politics | Party Photos