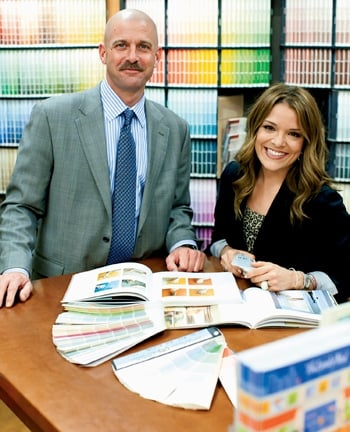 Sabrina Soto and Mike Aubrey have gained national popularity by staging interventions in Washington. Their target hasn't been wayward souls but homes lagging on the market.
On HGTV's Real Estate Intervention, the duo has become known for a combination of Soto's cheery home-staging tips and Aubrey's blunt explanations of real-estate reality.
Aubrey, 41, is a former Howard County firefighter. The Virginia Tech graduate became a real-estate agent after injuring his knee. He now can't walk into a local Starbucks without hearing, "We love your show!" Television recognition helped his second career zoom: He sold $40 million worth of property last year out of his Gaithersburg Re/Max agency.
Aubrey says he never had any desire to be on television, but after he was recommended to a producer for his ability to dish out "brutal truth," he jumped at the opportunity.
The telegenic Soto is known for her budget home-staging expertise and upbeat personality. She dispenses decorating tips in commercials for Target, and in January she anchored HGTV's Rose Bowl parade coverage.
Soto, 34, grew up in New Jersey, Florida, and California and came to her TV job naturally—her father was a TV-news producer, her mother a home decorator. "Growing up, instead of being outside playing with kids, I'd be helping her make crafts and go shopping for clients," says Soto, who went on to study interior design at UCLA.
After doing television work for MTV and TLC, Soto was at home in California when she sent in a résumé for the HGTV show Get It Sold. "They told me, 'We really want you to do this, but you'll have to move to DC.' " Why? "Because there's so much great architecture here that you can't really get anywhere else in the country.
"I was supposed to be here for six months, and it turned into four years," she says. With this season's Real Estate Intervention in the can, Soto recently relocated to New York, where she's writing a book on home design. Her new HGTV show, High Low Project—in which she decorates someone's "dream room" for less than $5,000—debuts in September. Next season, Aubrey will have a new cohost on Real Estate Intervention, which will shoot in Philadelphia, San Jose, and Dallas.

In a joint interview prior to Soto's departure, Aubrey and Soto talked about what they've learned.
Next: Why homes sell—and when homeowners should lower their prices when they don't
What's the strangest thing you've seen going into area homes?
Soto: How people don't pick up when they know we're coming. I mean, we're not ambushing them. It's like, Really? You couldn't pick up your underwear? Rooms covered in cat hair. I'm extremely allergic. If you've ever seen me in an episode where I look a little swollen, it's because the homeowners have cats.
Aubrey: The camera is just not going to pick up what in person is amazing—carpets that haven't been vacuumed, bathrooms that haven't been cleaned.


What sells? Have you seen changes in what appeals to homebuyers here?
Soto: Back in the '80s and '90s, it was all about homey. Now it really is about creating a minimalist, uncluttered space.
Aubrey: Baby boomers were okay with buying a house that had projects. They were going to paint, pick the colors, and make it their own. I don't think that's the way buyers in the Washington market are now. They want to be able to drop their furniture and start living. So many people spend time in their cars commuting, and so much time with work, that they just want a product they can buy that they don't have to do anything to. The days of projects—that was a long time ago.


What's the best way to stage a house for quick sale?
Soto: The easiest thing is to clean and declutter. It doesn't cost a lot. You'd be surprised how much better the space can look just by doing those two things. Then if the furniture's really ragged, maybe it's time to either rent or borrow something or make that investment and buy new furniture that you'll be able to use in your new place.
So it's not a good idea to show a vacant home?
Soto: No. You can't really envision how your furniture will be placed. It's always better to put a few pieces in there to set the scene.
What sort of tough love is needed for real-estate interventions?
Soto: We're kind of like a good cop/bad cop. If Mike walked in and said, "Oh, it's perfect," it wouldn't do them any good.
Aubrey: Prior to this, things were booming in real estate, and real-estate shows were pretty happy. There's an edgy side to this show, in part because it deals with a marketplace that changed not for the better. That's really where the idea of intervention came.

Soto: It's a very delicate situation Mike and I walk into every week because these people are sometimes in dire straits—they're wanting to move on with their life and don't know where to turn. And then here we are with a camera crew.


Mike, do you think you might get into fights if Sabrina weren't there?
Aubrey: I've got news for you—I got into a fight with a couple of people even when Sabrina was there. It was in Arlington, right across the bridge from Georgetown.
Soto: Mike was very honest. The husband did not like what Mike was saying and didn't want to finish the episode. We had to walk out of the house for a minute.
Aubrey: It is probably the number-one episode I'm asked about by people. And yeah, it was twice as uncomfortable in real life as it was on camera.
When you talk about homes and their value, is that a touchy issue?
Soto: Of course. It's like saying when you were little that you could make fun of your mom but nobody else could. It's the biggest investment everyone makes in their life, so they don't want to think they've made a mistake or it's worth less than what they think it is.

Aubrey: People are super-emotional about it. And there's this idea of "my house is better than everyone else's." I've got news for you: Everybody feels that way. If somebody's house was worth $1 million in 2005, and in 2011 it's worth $500,000, that's a big deal.
Besides those caught by declining real-estate values, are there other reasons for taking losses?
Aubrey: People who use their house like an ATM. Lenders were giving out home-equity lines of credit, but you didn't have to do anything to qualify. Whatever they did with the money, people forget about it because that money is usually gone. And now they're in a situation where suddenly I'm telling them, "Guess what—you're going to have to write a $20,000 check to sell your house." That's pretty upsetting.
And sellers have the idea that their situation has some impact on the buyer. It makes no difference. The market is what it is. And no matter how horrible or sad or tragic a seller's situation is, it doesn't impact worth. Never.
It becomes sort of a cathartic journey for these people, where I hand somebody a reality grenade and pull the pin out.


When should sellers consider lowering their asking price?
Aubrey: In this marketplace, if a house is not getting any offers—nobody is asking me to dance at all—at 30 days I want to move the price.
What would you do in Silver Spring that you wouldn't do in Georgetown?
Soto: For me, it's more the architecture and the bones of the home. We did a rowhouse in Northwest DC. Very traditional. I couldn't put Ikea furniture in there. I bought a vintage map of DC and antique-looking furniture. I can get away with a little bit more in, let's say, Silver Spring.
Are homeowners resistant to your advice to change?
Soto: Some people really love their taste—they're very attached to their own decor. It's sometimes difficult to explain to them why not everyone's going to love the color salmon, so those things get a little tricky. When they move to the next place, by all means paint every room pink. Have a blast—have a pink party. It's just about neutralizing your current home so you can get to the next one.
I want the decor to not stand out because I want people to be looking at the house. So I don't use bright colors or vibrant art or accessories. I want everything sort of muted so the home shines. That's what staging's all about.
Sometimes people over-improve. If you think you're going to move within five years, maybe even ten, you don't want to make it too specific to your own taste. For instance, we walked into a house and the homeowner loved orange, so she had orange countertops.
Aubrey: In the '70s people had an expectation that they wanted harvest gold or one of those avocado refrigerators. Never make the mistake as a seller of thinking that your style is what somebody else is going to like.
Next: Pet peeves, quick fixes, and ways to dress up a home quick—and on the cheap
What's the first thing buyers notice when they walk into an open house?
Soto: It's what they notice before they walk into the open house. It goes down to the sidewalk. You have to make sure curb appeal is in tiptop shape. Most people look at homes after work with their agents. They have plenty of time to look around the front door, so make sure the porch is nice, you have a new welcome mat. If you have a doormat that's falling apart and a broken doorbell, forget about it. You may have already lost the buyer.
If you could stage only one or two rooms to make your house appealing, which are the most important?
Soto: Kitchens, bathrooms—they're the most expensive to renovate, so those are the first rooms people look at. But people really make a decision on whether or not they like the house in 60 to 90 seconds of touring. So really, it's that first floor. There really is no room that you could just negate.
Aubrey: Staged homes sell 52 percent quicker than non-staged homes, last number I saw. And when you talk about hard versus soft upgrades, you see a dramatic difference in value shift. Putting in granite countertops or stainless appliances, ceramic tile into a bathroom that has vinyl—that's a hard upgrade. Soft upgrades are more about accessories, paint color. You see less of a dollar-for-dollar return for soft upgrades.
What are your pet peeves?
Soto: I don't like toilet-lid covers or carpeting in a bathroom. Having the carpet right around your toilet, it's just not sanitary. I don't like too much furniture in a space. I'm not a huge fan of collections—beer cans, things like that. My grandfather had a beer-mug collection, and it was extensive, but he had it in the bar. That is acceptable.
Aubrey: Gold fixtures in bathrooms—people want brushed nickel. They want oil-rubbed bronze. They don't want to see dated-looking fixtures because that then becomes a project house. Light fixtures—I mean, builder-grade brass is a loser. Wallpaper's a huge offender with me. People hate wallpaper.
Soto: Mike, hold on. Wallpaper has made a comeback. People hate some wallpaper, but there's really wonderful wallpaper out there. So any wallpaper that was installed before 2009 I would say is probably bad wallpaper.


Sometimes don't you just rely on quick fixes?
Aubrey: I tell people all the time: If you have a limited amount of money, paint isn't that expensive, and you don't have to hire a professional. Have your carpet cleaned—make it look good and fresher and newer.
What else can make a house look nice cheaply?
Soto: The smallest thing, the accessories. People think about the big things, the furniture. That's great, but that's only half the battle. New throw pillows, new window treatments, maybe a slipcover, coffee-table accessories—that's what makes a space look polished. Light fixtures, lamps, sconces, chandeliers can completely transform a space.


Do "green" techniques help or hurt in home marketing?
Aubrey: Green is the new black. Everybody is all about eco right now. I still see a lot of buyers who maybe want to recycle and do some small stuff to be green. But they don't necessarily want to spend green to be green.


What are the next hottest things in home design and staging?
Soto: For 2011, it's going to be black and white with pops of primary colors—reds and blues and yellows. You'll also see honeysuckle, which is the color of the year. It's like a golden kind of orange. You'll see that in home accessories. And also metallics. Matte gold, which is almost like a white gold—you'll see that in accessories as well, and in frames and chandeliers and even switchplate covers.


How's 2011 turning out for local real estate?
Aubrey: We are in the midst of a W-shaped recovery in real estate. We were screaming downhill, and that sort of stopped. In the Washington area, we saw things come back up a little bit. Recently, they released new numbers and we've seen things go down. Once we get to the bottom, you're not going to see appreciation go up at a dramatic rate. My view of the Washington area in 2011 is that we will either stay flat or see very small growth.
Areas inside the Beltway—Arlington Virginia's Route 29 corridor, Northwest DC—have the best chance of growing some equity in 2011. Outside the Beltway, markets are going to be tougher—the 270 corridor in North Potomac, Gaithersburg, Germantown.
Prince George's County got amazingly overbuilt during the boom. A lot of people there did some really impractical and unstable loan products, and there's a high number of short sales and foreclosures. Recovery is going to take longer in a place like PG.
Do you ever run into homes that seem too much of a dump to help sell?
Aubrey: Thank God you can order PODS as storage places because I've gone into places where I literally have to turn sideways to get down the hallways because of the stacks of stuff sitting around. Do you remember, Sabrina, the house in Laurel—the older Victorian? It was a guy and his son, they were bachelors, and the place sort of had a frat-house feel. In a shower upstairs, the handle had broken off, so they had a set of vise grips clipped onto it. They had no intention of fixing that. It worked to turn the water on and off, and they didn't really get why that needed to be changed.


Are you surprised at the types of people who watch a home-and-real-estate show?
Aubrey: I'm driving down 370 to go into the Shady Grove Metro, and there's a police officer standing in the road holding a radar gun. I'm going about 20 miles an hour over the limit. He asks for my license and registration, so I give it to him and he says, "Listen, my wife and I like the show. We watch it all the time. You think you could sign an autograph for my wife?" So I sign an autograph—and get a warning. This officer is about six-four and 240 pounds, and he watches HGTV.


Any other surprising fans?
Aubrey: I was at the Donovan House hotel near Dupont Circle, standing by the bar on the roof waiting to order a drink, and I got this tap on my shoulder. I heard this guy say, "Yo, man, I really love the show." I turned around and said, "Clinton Portis, you watch HGTV, man?" He said, "Yeah, man, all the time." I was pretty much floored that a Redskin was watching HGTV. And like everybody else in the world, including the non-famous people, Clinton said, "How about Sabrina? Is she really that good-looking in real life?"
Some people have "brag walls" of themselves with well-known figures. How does that affect potential buyers?
Aubrey: Stay away from politics, religion, things that are polarizing to people—especially in the Washington area, because this is such an amazing melting pot of cultures, religions, and types of people. You want them to see themselves in that house. You want to take away all that stuff that is polarizing. It's about the house, not the seller.
Soto: You want them to walk away and go, "Oh, I love the house with the gorgeous deck or the fabulous front porch or that wonderful master bedroom!" Once you put that for sale sign in front of your home, it's no longer your home. It's a pr
oduct you're trying to sell.
What have you learned about life?
Aubrey: That it's meant to be lived and not watched. My job has awarded me the opportunity to see all sides of the human experience. I've seen people at their happiest—and at the very bottom. Things can change at a moment's notice. Life is not all about money or things you can buy or sell—it's about the experiences, memories, and the people you love along the way.
Soto: I've learned the same thing I've learned doing design for TV: There are a lot of compromises you have to make, and you just have to be flexible. Mistakes happen every day. If you aren't flexible, you end up making everybody's life difficult. So you have to be a bit easygoing but still keep your vision.
Listen, I still have a lot to learn.
This article appears April 2011 issue of The Washingtonian.