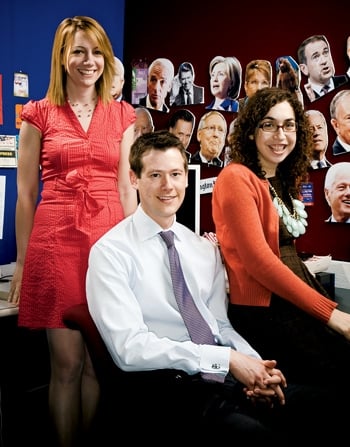 Rachel Weiner has the résumé of a journalism veteran—and she's 25.
In the summer of 2006, Weiner covered politics for Talking Points Memo while getting her degree at George Washington University. That fall as an intern, she worked on one of the Washington Post's political Web sites. With her degree in hand, she was hired as Talking Points Memo's associate Web editor. She was 21.
The Huffington Post hired her away to manage its politics page. Post editor Sandra Sugawara lured her back last year to be a political Web editor. Then Weiner became a national Web editor. At 24. "But," she says, "I had always wanted to be a reporter."
Chris Cillizza, author of The Fix on the Post's site, asked her to be one of his assistants. In March, Weiner became what's affectionately known in the Post newsroom as a Fixette. She joined two other young writers who have leapt over hundreds of ink-stained wretches at the daily newspaper to seek success on its Web site.
Political coverage has long been the Holy Grail at the Post, and getting there once required paying your dues. Aspiring David Broders wrote for less renowned papers and hoped to get noticed. Once at the Post, they labored in Metro, climbed to national, and kept their eye out for a White House or congressional beat. Now the path to political writing can be a quick step from hot Web sites to Washingtonpost.com.
Hard to tell how many readers actually visit the haze of blogs on Washingtonpost.com. It now has 92, about a dozen of them focused on politics. Some get hundreds of page views, others thousands. The Post doesn't release numbers, but The Fix is considered a popular "brand within a brand" and a coveted beat.
Felicia Sonmez had written music reviews for the Harvard Crimson, but journalism wasn't her first love. She failed the Foreign Service oral exam and shipped off to teach English in Beijing. While there, she worked for Yomiuri Shimbun, a Japanese daily.
When she landed in DC, another Japanese paper asked her to cover the 2008 US presidential campaign. She was 25. From there she went to Hotline as a staff writer and coeditor of the morning roundup, Wake-Up Call. Then Cillizza asked her to become a Fixette. "I nearly dropped the phone," she says. "I had never been so scared—in a good way."
In May 2010, she and Aaron Blake became the first Fixettes. Blake came to Cillizza from the Hill newspaper. A Minnesota native, he worked for the Star Tribune before the Hill's Al Eisele brought him to DC. "He was looking for someone young and cheap to cover politics," Blake says.
For Cillizza, the Fixettes write their own stories, do some aggregating and some research. "It's the best place to be," says Sonmez. "We're not just breaking stuff—we can change the conversation."
Sonmez started covering Congress on her own Post blog, 2chambers, in February. She's the first former Fixette, leaving two.
Cillizza was 29 when he started blogging at the Post. He became one of the paper's first hybrid writers, hired to blog for the Web site, then published in print. Now he has moved to video with Fast Fix.
Does he feel like a geezer at 35? "Only after I've played a game of pickup basketball," he says.
This article appears in the June 2011 issue of The Washingtonian.
Subscribe to Washingtonian
Follow Washingtonian on Twitter
More>> Capital Comment Blog | News & Politics | Party Photos