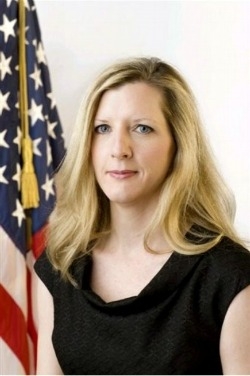 President Obama announced Thursday that White House Counsel Bob Bauer is returning to private practice, and Kathryn Ruemmler­—previously Bauer's number two in the office—is taking his place. That makes Ruemmler Obama's third White House Counsel—Greg Craig was his first—as well as the first woman to hold the job since Harriet Miers in the George W. Bush administration.
So who is the president's new top lawyer? Ruemmler brings an impressive résumé to the assignment. She has been called one of the most influential women lawyers in the country by the National Law Journal, and she was named to Washingtonian's 40 under 40 list back in 2006. Bauer recruited her to the White House Counsel's office to serve as principal deputy counsel after he replaced Craig in January of 2010. Since the elections last fall, Ruemmler has reportedly been tasked with orchestrating the White House's strategy for responding to investigations launched by the now Republican-controlled House.
At the start of his presidency, Obama tapped Ruemmler to be principal associate deputy attorney general, a high-ranking official at the Justice Department, and the position she held before arriving at the White House. She was also one of three lawyers recommended in 2009 by California Senator Barbara Boxer to become the US Attorney for the Northern District of California, though Ruemmler took herself out of the running when she decided to become Bauer's number two.
Earlier in her career, Ruemmler prosecuted Enron founder Kenneth Lay as deputy director of the Justice Department's Enron Task Force before jumping into private practice as a litigation partner at Latham and Watkins—one of the largest and most prominent law firms in the country.
While it may seem like there has been a lot of turnover in the White House Counsel's job since Obama took office, it's not at all unusual for the president to be on his third counsel. George W. Bush also had three different White House counsels, and Bill Clinton had six over the course of his two terms.
Bauer will return to his former firm Perkins Coie at the end of the month, where he will serve as general counsel to Obama's reelection campaign, as well as to the Democratic National Committee. It's a logical move, given that campaign law has long been his area of expertise, and he was one of Obama's fiercest allies on the campaign trail in 2008.
Subscribe to Washingtonian
Follow Washingtonian on Twitter
More>> Capital Comment Blog | News & Politics | Party Photos