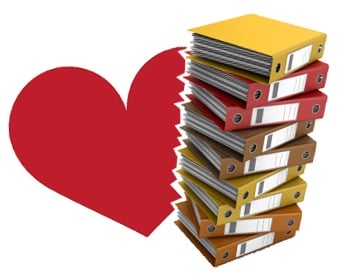 It may be a stretch to call them Washington's version of "Brangelina." But Jay Carney and Claire Shipman already have a celebrity-style nickname—JayClai—to note their elevated status in the world of local power couples.
Carney, a former Time correspondent and communications director for Vice President Joe Biden, moved to the big podium in January, when he became White House press secretary. Shipman has been an ABC News correspondent for a decade. They're among the Obama-era power pairs—couples with double doses of prestige and clout plus matching invitations to A-list parties. Here's a sampling.Samantha Power & Cass Sunstein
Power is special assistant to the President for multilateral affairs and human rights; Sunstein heads the White House Office of Information and Regulatory Affairs. Both halves of this intellectual duo have offices in the Eisenhower Executive Office Building and a close relationship with Obama. Power has expertise on human rights, foreign affairs, and genocide (plus a Pulitzer Prize); Sunstein brings decades as a University of Chicago law professor to his job crafting the administration's regulations.
Shivam Mallick Shah & Rajiv Shah
Shivam Mallick Shah is an education consultant and former director of special initiatives at the Education Department's Office of Innovation and Improvement; Rajiv Shah is head of the US Agency for International Development. As USAID chief, he is one of the highest-ranking Indian-Americans in any administration, with a medical degree to go with his master's. He and his wife have founded a nonprofit organization to nurture young Americans of South Asian heritage.
Holly Petraeus & General David Petraeus
General Petraeus is the Afghan war commander; Holly Petraeus is head of the Consumer Financial Protection Bureau's Office for Servicemember Affairs. While he runs the war in Afghanistan, his wife looks out for the interests of servicemembers back home.
Antony Blinken & Evan Ryan
Blinken is national-security adviser to Vice President Biden; Ryan is assistant to Biden for intergovernmental affairs and public liaison. Half of this all-Biden team has long ties to the Veep. Blinken was Biden's top staffer on the Senate Foreign Relations committee. The couple met in the Clinton White House, where Blinken served on the National Security Council; Ryan was a part of Hillaryland.
Dan Pfeiffer & Sarah Feinberg
Pfeiffer is White House communications director; Feinberg is director of communications and business strategy for Bloomberg News. The couple met in 2000 while working on Al Gore's presidential campaign. Until recently, both worked in the Obama White House; Feinberg had been senior adviser to chief of staff Rahm Emanuel, now Chicago's mayor-elect, before heading to Bloomberg.
Tom Donilon & Cathy Russell
Donilon is President Obama's national-security adviser, and Russell is Jill Biden's chief of staff. Donilon's political skills are helping President Obama navigate turmoil in the Middle East, while Russell helps the Vice President's wife balance a teaching job and Second Lady duties. Work is a family affair: Tom's brother, Mike Donilon, is counselor to Vice President Biden.
General Douglas Lute & Jane Holl Lute
Lieutenant General Lute is deputy national-security adviser for Iraq and Afghanistan; Jane Holl Lute is Homeland Security deputy secretary. While Jane Holl Lute, former assistant secretary general of the United Nations, works to keep the nation's borders secure, her husband, the National Security Council's "war czar"—a holdover from the George W. Bush administration—helps coordinate the White House's Iraq and Afghanistan policy.
Derek Chollet & Heather Hostetter
Chollet is the National Security Council's senior director for strategic planning; Hostetter is a family-law attorney. Chollet, a Richard Holbrooke protégé who's one of the best-connected people in the foreign-policy world, just moved to the White House from State, where he was deputy director of policy planning. Hostetter has made a name for herself as a leading divorce lawyer.
Melanne Verveer & Philip Verveer
She is a longtime aide to Hillary Clinton; he is US coordinator for international communications and information policy. As head of global women's issues at State, Melanne Verveer—Hillary's former chief of staff at the White House—is now an ambassador-at-large. Her husband, one of the nation's top communications lawyers, also rates the rank of ambassador as the leader of the State Department's digital efforts abroad.
Bob Bauer & Anita Dunn
Bauer is White House counsel; Dunn is former White House communications director, now a managing director at SKDKnickerbocker, a communications consulting firm. He took over as the President's top lawyer at the end of 2009, just as she stepped down from her White House post.
Jason DeParle & Nancy-Ann Min DeParle
He's a New York Times reporter; she's deputy White House chief of staff for policy. The former director of the White House Office of Health Reform, Nancy-Ann Min DeParle helps the President craft social policy, while her husband, known for his reporting on poverty and welfare policy, writes about it.
Kurt Campbell & Lael Brainard
Campbell is assistant secretary of State for East Asian and Pacific affairs; Brainard is undersecretary of the Treasury for international affairs. There's almost no part of the world that doesn't fall under the purview of one or the other of this powerful couple.
This article appears in the May 2011 issue of The Washingtonian.
Subscribe to Washingtonian
Follow Washingtonian on Twitter
More>> Capital Comment Blog | News & Politics | Party Photos