Spa-like details such as glass tile and soothing colors are a trend in home bathrooms, as in this one by interior designer Lori Graham.
When it comes to the latest in bathrooms, spa-inspired spaces rule. Goodbye, fussy details. Hello, Zen oasis.
"Turning your bathroom into something you might see at a luxury resort is really big right now," says Shannon Kadwell, a designer for Anthony Wilder Design/Build in Cabin John.
Spa-like details range from showers with multiple body sprays and rainfall "water tiles" to walls bedecked with dazzling glass tile. But the trend goes beyond finishes and fixtures.
"In years prior, a bathroom was just a shower, a toilet, and a sink," Kadwell says. "The modern bathroom is a multi-function room with separate areas." Think distinct but connected spaces designated for cleaning, changing, relaxing, and even admiring the scenery.
A house's master suite, she says, has become a living space in which the bathroom and bedroom are connected via dressing area and walk-in closet. Sink vanities often resemble stylish furniture, while framed mirrors and lighting also elevate the look.
The bathroom itself, though, isn't necessarily bigger.
"People are looking for a more open feel but typically looking to work within the existing space," says Josh Baker, founder of Bowa, a builder in McLean and Middleburg. "There's a trend toward the master bath not being as expansive as it used to be. Years ago, some bathrooms were almost opulent. With the trend toward sleek sophistication, you don't need that much space if it's well done."
Inspired by a love of antique Asian furniture and Buddhist ideals, Sonya and Thomas Ricketts of North Arlington redesigned their master bathroom with the tranquility of a Thai spa. The Rickettses picked out travertine tiles and sumptuous fabrics. They mounted carved hangings on the walls. For storage, they chose an antique Chinese "chicken cabinet"–a slatted wooden cabinet originally designed for carrying live chickens home from the market.
High-tech touches abound. Along with a Jacuzzi tub, the couple selected a two-person shower tricked out with six showerheads as well as Kohler tiles, including an integrated panel for controlling water flow.
Some nature-loving urbanites look to the great outdoors for design inspiration. The ultimate goal: to bring the outside in, from earthy materials and textures such as bamboo, cork, wood, and stone to natural lighting courtesy of oversize windows and skylights.
As part of a gut renovation of their Georgetown home, real-estate consultant and developer Jeff Zell and his wife transformed their 300-square-foot master bath into a breezy beach escape. Large tinted windows open to become an open-air shower that faces a back alley. Sunshine also spills in through a large skylight. And mounted on the shower ceiling, 14 showerheads give new meaning to the term rainfall shower.
"My wife wanted 16 showerheads, but I thought that was over the top," Zell says.
The couple's biggest concern has nothing to do with privacy but everything to do with water supply. "With 14 showerheads running, that is a lot of water that has to go through those pipes," says Zell, though they usually use only two heads at a time. Their solution was to install a quick-recovery gas system as well as an energy-efficient 225-gallon water-recycling tank.
"Our contractor joked about giving us a snorkel and mask as a moving gift," he says.
What else is new in bathroom design and innovation? Read on for a look at the latest in everything from lighting and flooring to showerheads and tiles.
Next: Lighting, Shower, and Fixture Trends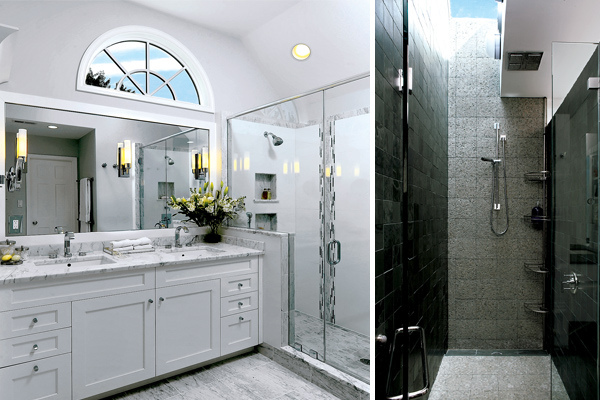 Shades of gray are fashionable for baths–from tile and marble to paint and cabinetry–as in these projects by Jennifer Gilmer Kitchen & Bath (left) and Anthony Wilder Design/Build.
LET THERE BE BETTER LIGHT

When it comes to bathrooms, designers say Washingtonians prefer an intimate and cozy aesthetic to the colder feel of old.
"Everything used to be big and bright–big tubs with big decks and lots of bright lights," says Ellen Gilday Witts, a designer at Gilday Renovations in Silver Spring.
One way to make a bathroom feel cozier? Better lighting.
To achieve warmer light, Witts says, opt for a combination of light sources–including decorative wall sconces, pendant lamps, and even chandeliers. Sconces emit soft lighting for relaxing sessions in the tub, while decorative pendants inject a shot of style.
If you have no room or budget for multiple lighting sources, one solution is to put the existing lights on dimmers, Witts says. Especially in an older bath with bright light, dimmers can create a more intimate ambience.
Want to make your home more green? The lighting that's the most earth-minded is also the most intuitive–natural sunlight from skylights and windows.
Or you can go green, 2011 style. "CFLs–you know, those twisty light bulbs–are so 2003," says Jason Holstine, owner of Amicus Green Building Center in Kensington. "Light-emitting diodes, or LEDs, are the way of the future. They use less electricity than compact fluorescents, can last decades, and don't have mercury."
LED bulbs are available in "warm" (the most popular option and one that gives warmer skin tones) or "cool" (which produces better light). If you want warm light, look for a CRI, or color-rendering index, higher than 80. The best LEDs have a CRI in the low 90s.
Different family members often have different preferences when it comes to brightness. So companies such as Lutron offer digital-control systems that can be configured to recall customized lighting combinations.
"Users can activate their light settings by pushing a button," says Shannon Kadwell.
One way to make a bathroom feel lighter is glass walls.
"We do more glass walls than we used to," says Bowa's Josh Baker. "Whether it's in the shower or some sort of opaque glass that can hide a toilet area, it gives a sense of light, of spaciousness."
BATH AND SHOWER TRENDS

Multi-person whirlpool tubs are disappearing from bathrooms.
"Not only are they a nightmare to install," says Kadwell, "but maintaining the tub is where homeowners start to rethink their purchase." Whirlpool tubs require cleaning after each use to avoid dirt-clogged jets. "The last thing you want to do is spend time scrubbing your tub after every use, undoing all the relaxation you just experienced."
"Ten years ago, everyone had to have a gigantic tub with acres of deck around it," says Bill Millholland of Case Design/Remodeling in Bethesda and Falls Church. "Everyone thinks they'll lounge in the tub all evening, but that's not often the case."
If you want a tub, says Kadwell,"a smaller but still generous one-person bubble or air tub is a better solution."
Many homeowners are skipping tubs altogether. Bigger showers get the focus now and have emerged as luxurious, prominent parts of the bathroom.
In terms of design, more homeowners are choosing frameless-enclosure showers–in other words, no metal. They not only look more high-end, Millholland says, but they're easier to clean: "You don't have that frame that collects soap and shampoo and gunk."
One trend that's fading is showers with open entrances. "We do less of those now," says Josh Baker. "There's concern now about closing them in to keep the shower warm."
Completely enclosed steam showers–which combine the benefits of a steam room with a shower–are very popular. For more on steam showers, see page 146.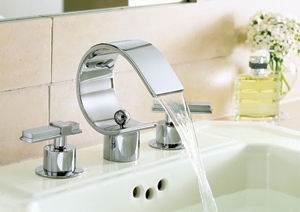 While some spa-loving homeowners believe more is better when it comes to the number of showerheads, Carolyn Thomas, a designer with Jennifer Gilmer Kitchen & Bath, says half of her clients aren't interested in rows of body sprays along the sides of shower walls: "I think there is a sense that if they're putting in double showerheads and double handhelds, they might be starting to feel guilty about the amount of water used."
A handheld, most bathroom designers agree, is a must–if nothing else, because it's very helpful for cleaning.
Bathroom designer Dee David says that while today's showerheads are restricted by law to a maximum flow of 2½ gallons a minute, some heads by Hansgrohe and Grohe produce a high-pressure feel with a flow of just 1½ gallons a minute.
So even with multiple showerheads, she says, "you can still get a luxury shower without using so much water."
For more on conserving water, see page 144. For tips on boosting water pressure, see page 135.
Another luxurious extra finding its way into showers: heated tiles. Nuheat, which makes radiant heated floors, now makes radiant electric mats for floors and benches inside the shower–eliminating that first cold step into the shower without wasting hot water.
FINISHING TOUCHES
These days there are so many choices in faucets, sinks, toilets, tiles, cabinets, and other fixtures and finishes that most homeowners can get exactly what they want
What more people want these days is to mix styles.
Christa Capozzola and her husband love modern design, but they live in an old rowhouse in DC's Columbia Heights. When they renovated the bathrooms, they chose classic and modern accents for an updated look. In one bathroom, traditional four-by-eight-inch subway tiles cover the walls from floor to ceiling, but more contemporary features include square silvery-gray tiles on the floor, sleek rectangular sinks, and chrome faucets. A clawfoot tub sits at the end of the room.
"It's an old house, and we didn't want to fight that," Capozzola says.
Next: Cabinets, flooring, and tiles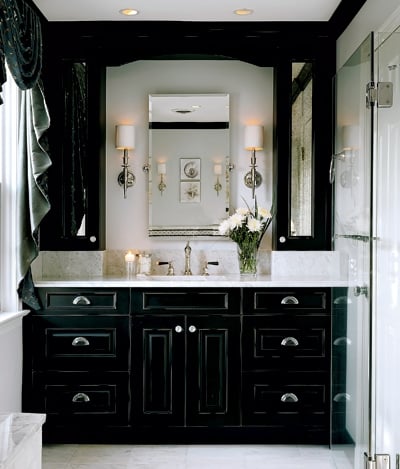 FIXTURES
When it comes to faucets, Ellen Gilday Witts says that low-maintenance chrome and brushed nickel remain the most popular. Warm antique brass is gaining traction, too.
Carolyn Thomas is seeing more interest in chrome and polished nickel: "Chrome has come back with a vengeance.
SCULPTURAL SINKS, TUBS, AND TOILETS
"What I've seen in the past two years is a real movement toward a sculptural sense in the bathroom," Thomas says. "Each of the things in the bathroom has a curvilinear feel."
And people love polished nickel–it has a beautiful color and beautiful shine."
A vanity or toilet with a sculptural shape might be suspended from the wall, almost floating in space like art. "And a lot of times when people have room for a tub, they're putting in a freestanding, sculptural piece that's sitting off by itself," Thomas says, "sort of the way in the Victorian period you had clawfoot tubs that sat in the middle of the room. But these are very contemporary-looking."
CABINETS

As for cabinet finishes, "black stain and natural maple are in," says Jason Holstine of Amicus Green Building Center. "They can be put into a variety of styles. Flexibility is a big factor these days as people think more long-term."
Likewise, flat-panel and Shaker-style cabinets are popular, he says, because they're "less trend-sensitive."
TILES
Glass tile is still very popular. "Glass tile has a clear, cheerful look," says David Bartley of Bartley Tile Concepts in Bethesda.
Companies such as Oceanside Glasstile and IceStone sell tiles made from shards of glass and other recycled products for a "green" choice that's also stunning.
"It used to be that many homeowners viewed the use of reclaimed material in a newly built, custom space as undesirable," says Shannon Kadwell. "But now I have clients with luxurious walk-in showers or tub surrounds with glass tile made from old beer bottles, and it looks fabulous."
Another trend is mixing tiles–particularly glass and stone–to give a room texture. Having different surfaces, Thomas says, is "much more interesting than all glass or all stone. I'm also seeing natural stone mixed with wood when not in a wet area. That's what you find in nature–stone and wood."
Homeowners aren't always embracing all things natural. Thomas is seeing more people opt for engineered materials on countertops because they're easier to care for than natural-stone tile, which has to be sealed.
FLOORING

Classic honed marble and limestone floors will never go out of style, says Ellen Gilday Witts, but today's homeowners have lots to choose from when it comes to flooring.
"Our customers are moving away from the rustic look of tumbled stone and instead selecting marble, limestone, and slate with straight edges in honed, patina, or gloss finishes," David Bartley says.
Bowa's Josh Baker has seen many clients steering away from polished marble and gravitating to warmer finishes.
"We use a lot of matte finishes so that it feels like it's been there a long time," says Witts. The main difference between matte floors then and now: Today's marble and stone floors often feature radiant heat.
Those with maintenance concerns sometimes opt for easier-to-care-for porcelain flooring made to look like stone. Experts suggest choosing a style with natural variations for a more realistic feel.
Carolyn Thomas says customers are opting to mix various sizes of tiles: "Patterning on the floor seems to be a big thing. One section of the floor will be small tiles, almost mosaic-size, with larger tiles next to them. But it's all the same color. Changing the scale of the tiles gives interest to the walls and floors."
Another choice gaining favor is cork. Although it's a relatively new player in bathroom flooring, the use of cork dates back more than 100 years, Jason Holstine says. The material is warmer and easier on joints than harder surfaces, plus it's antibacterial.
Its low ecological impact gives it appeal among the eco-minded. "Cork comes from the bark of a cork-oak tree every nine years," says Holstine. "Trees can still produce when they're 200 years old, which makes them extremely environmentally sustainable."

This article appears in the May 2011 issue of The Washingtonian.