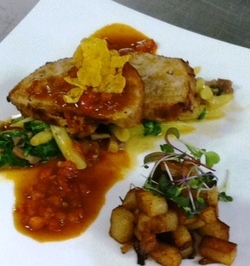 Walking through Chinatown on a recent Friday afternoon, the air was a soupy 98 degrees. Despite the heat, I'm heading to PS 7's in search of the meatloaf on its 1940's-era "All in the Family" menu.
Inside, bartender James Lindahl is on lunch break from his day job at the Department of Justice, and making off-duty cocktails.
He's working on an assignment: Head mixologist Gina Chersevani had asked Lindahl to come up with a Scotch cocktail to submit to Tales of the Cocktail, the bartender event of the year held in New Orleans every July. The rules, he said, were to create a drink with fewer than five ingredients that can be made in three minutes or less. Finalists get an all-expenses-paid trip to the event; the winner's prize is a two-week trip to Paris.
He's playing mad scientist, creating a drink with Caol Ila Scotch, Dolin Vermouth, and Cointreau. He strains the liquid from the shaker into a chilled martini glass and passes it to me.
"What does it need?" he asks.
I'm not necessarily a smoky Scotch person, but it's a lovely drink, especially for fall. And then there's the menu I'm here for, which also doesn't seem suited to scorchingly hot days.
The "All in the Family" menu is inspired by a cookbook that chef/owner Peter Smith inherited from his mother-in-law. I'm drawn to it because it reminds me of my friend Abby and the cookbook she inherited from her grandmother. It's a massive binder of photocopied recipes with copious notes from a woman whose son ended up becoming one of the most feared critics in the country, Raymond Sokolov of the Wall Street Journal.
I'm captivated by the idea of a family cookbook, but there's nothing so organized among my grandmothers' cookbook belongings. So this afternoon, I'm living vicariously through Smith. If anyone can make Thousand Island dressing and aspic relevant, he's the one.
The lunch menu is brief but interesting. And cheap: no plate is more than ten bucks. "Crisp and Cold" translates to ham salad with crispy onions and pickled ramps—my first choice, until a chef passing by informs me that it's an aspic. Mmmm. Meat Jello.
The Thousand Island, a dish named for the dressing, is house-made venison cotto with pickles and well, Thousand Island dressing. Then there's Bertha's ham loaf with roasted potatoes, yellow wax beans, bacon, mushrooms, and ramps.
I order "chef's choice" because that usually means the freshest most compelling dish. The rest of the dishes all sounded a little disturbing. The server consults with a line cook and returns. "You'll be having a ham loaf," she says. Great. I order an Allagash.
Because Lindahl isn't on the clock, he opts to stay for lunch—fried-chicken paillard with a waffle. The presentation reminds me of pizzelles, my mother's favorite Christmas cookie. Indeed, Smith uses a pizzelle maker for his savory, ramp-flavored waffles—much thinner than the breakfast waffles that are normally with the dish.
Then comes my ham loaf: two slices of what looks like meatloaf, garnished with cornflakes and crispy onions. Underneath is a bed of spring onions, pickled ramps, and mushrooms. A trio of wax beans and a pair of roasted fingerlings sit on the side.
This is actually a delicious—and huge—lunch. Two slices of the loaf feels decadent, like eating two burgers. I couldn't finish if I wanted to.
A half a cocktail, a beer, a bite of chicken and waffles, a plate of ham loaf. I might as well try the hot-potato doughnuts, because it's been that kind of lunch. For $4.50, out comes five Munchkin-sized doughnut holes, garnished with a dollop of lime curd and strawberry jam.
With that, I pay my bill and say goodbye to my dining companion. I swing open the door and put on my sunglasses, delighted at how much I enjoyed a Friday lunch. I look down to avoid the blazing sun, only to find a trail of powdered sugar decorated the front of my dress—embarrassing evidence of my afternoon's gluttony.
Subscribe to Washingtonian
Follow Washingtonian on Twitter
Follow the Best Bites Bloggers on Twitter
More>> Best Bites Blog | Food & Dining | Restaurant Finder