Biden's large family is a big part of his life. Photograph courtesy of Democratic National Committee
Two years down, two to go, and Vice President Joe Biden is living even larger than he—an admittedly sunny optimist—could have imagined as an Irish Catholic growing up with a stutter in Scranton. Despite a few open-mike gaffes and even a book out called Sh*t My Vice President Says, Biden seems to have hit his stride.
What's life like inside the Vice President's residence? How does it compare to your home life in Delaware?
First, Jill and I feel extremely privileged to live on the grounds of the Naval Observatory. Best of all, my grandkids love it, which means they come to see their Pop more often, especially in the summertime when they can swim in the pool.
But it's the special visitors who come through our doors who are the greatest part about living there. Over the past two years, the Naval Observatory has been a great place for small meetings and dinners with visiting heads of state and world leaders, including Afghanistan president Hamid Karzai and Kurdistan Regional Government president Massoud Barzani. It's also served as a nice setting to hear from small groups of outside experts on topics ranging from foreign policy to education reform, as well as a place for quiet meetings with my former colleagues in the House and Senate.
Jill and I have also had the pleasure of hosting hundreds of military families and wounded warriors for everything from back-yard barbecues to Thanksgiving dinners. Not to mention the great causes we've celebrated—from breast-cancer survivors and advocates to the anniversary of the Violence Against Women Act to the first Eunice Kennedy Shriver Challenge—a cycle/run/walk benefiting the Best Buddies program and the Special Olympics.
You and your wife have regularly stepped out for personal trips such as meals at Cafe Milano. What do you look for in your down time in DC?
We love going to the movies—we've been to E Street Cinema a number of times. We saw The Adjustment Bureau, The Fighter, The King's Speech, Black Swan, and True Grit most recently. And we love going out for pizza—2 Amys and Pete's Apizza are favorites.
I try to catch Syracuse basketball when they play here against Georgetown, and Jill has been known to attend a Nationals or Capitals game to cheer on her Phillies and Flyers when they're in town.
We also try to attend our granddaughters' athletic events on weekends—Naomi rows crew, Finnegan plays lacrosse, and Maisy plays basketball. Maisy and the President's daughter Sasha actually play on the same team. So more often than not it will end up being the four of us—Jill, me, Michelle, and the President—in a gymnasium on a Saturday morning watching our girls play.
Have you gotten used to the security and motorcades?
It's difficult to get used to it, but it's different being in Washington versus Wilmington. Washington is more formal—we don't have much control. But in Wilmington, it's no police escorts, no sirens, no shutting down traffic or streets. Jill and I are still able to go to the same places.
Are you an easy traveler, or do frequent trips take a toll?
I guess you'd say I'm an easy traveler. Over the past two years, I've visited 126 US cities and 26 countries. But the part I enjoy most is how many times I've been able to go to Iraq and Afghanistan and meet with the great men and women who make so many sacrifices, who serve our country so well. As the military doctor assigned to me likes to tell me, "You never get tired because you truly love what you do, day in and day out." And that's true. But I have to admit I love it a lot more when I have Jill along with me.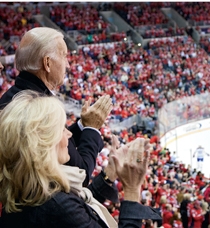 When you return to the Senate as that body's leader, what makes you nostalgic about your time there?
I spent 36 years on the Senate floor. It's as close to home as it gets when I'm in Washington. A lot of my close friends are still there. Aside from the floor, I'd say the Foreign Relations and Judiciary committee rooms—as well as the Senate gym—bring back the most memories. I try to spend as much time as I can on the Hill. Staying in close touch with my former colleagues is an essential part of working together to get things done.
Can you share something people would be surprised to know about President Obama?
I'm not sure people would be surprised to hear this, but the President's commitment to spending time with his daughters is impressive. Let me give you one example: He not only attends most of their basketball games on Saturday mornings, but on Sundays he and his personal aide, [former Duke basketball player] Reggie Love, hold clinics for Sasha and Malia—and the President often invites my granddaughters, Maisy and Finnegan, to join.
Your highest and lowest moments in the last two years?
Clearly the highest moment was when our son Beau came home after serving in Iraq for a year. And the lowest was when my mother passed.
One thing that has disappointed me is the assumption on the part of so many that our political system is broken and that we're incapable of making progress. The reality is that while politics can be very difficult, the myth that our system is dysfunctional is just that—a myth. I believe that leaders of both political parties understand this and agree that it just takes hard work to get things done.
What are you reading for pleasure? Have you made it through any good books since becoming Vice President?
I read a great deal, but not everything I read is for pleasure. Some of the books I've read recently are Outliers by Malcolm Gladwell; Switch by Chip and Dan Heath; The Icarus Syndrome by Peter Beinart; The Wisdom of Gandhi; War by Sebastian Junger; The Freedom Agenda by James Traub; The Next 100 Years by George Friedman; The Wrong War by Bing West; The Social Animal by David Brooks; The Starfish and the Spider by Ori Brafman and Rod Beckstrom; and Born to Run by Christopher McDougall.
I'm also a Michael Connelly fan—I recently read The Reversal and The Brass Verdict.
But if Jill—our family's resident English teacher and bookworm—had her way, I would be reading a lot more of the classics, that's for sure.

How did the experience of King George VI, as depicted in the movie The King's Speech, compare to your own mastery of stuttering?
It captured it so closely it was upsetting. Parts of the film were difficult to watch. To this day, I still mark my speeches the same way King George marked his, though I was fortunate to overcome my stuttering at a much earlier age. I never had any professional help—it was the support and patience of my teachers and family that gave me the confidence to succeed.
This article appears in the July 2011 issue of The Washingtonian.

Subscribe to Washingtonian
Follow Washingtonian on Twitter
More>> Capital Comment Blog | News & Politics | Party Photos