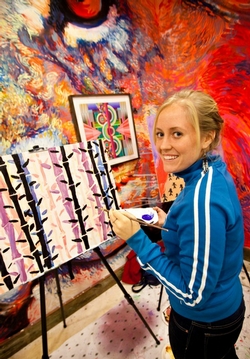 Wednesday, July 6
ART: Unleash your inner-Van Gogh at tonight's Art Jamz showcase in Columbia Heights; tonight's the first of a four-night run. Attendees will receive a canvas and easel, acrylic paints, brushes, and other materials. Whatever you create is yours to take home. Light hors d'oeuvres and Vitaminwater will be served, and alcoholic beverages will be available for purchase. Tickets ($48) can be purchased at the event Web site. 6:30 to 10 PM.
MUSIC: Chopteeth Afrofunk Big Band is bringing their spicy beats to Strathmore as part of the center's Summer Outdoor Concert Series. The 14-piece orchestra seamlessly blends modern jazz, Yorubu tribal music, and James Brown-inspired rhythms. Barbecue and Ben & Jerry's Ice Cream will be available for purchase. Free; 7 PM.
YOGA: If sitting behind a desk all day has left you bent out of shape, drop by the Bethesda Unity Woods Yoga Center for a free introductory class. Learn about the Iyengar method of yoga, body alignment, and beginner poses. Open to new students only. 6 to 7 PM.
SIGNING: Humanitarian Suraya Sadeed is stopping by the Shirlington Busboys and Poets to read from her new memoir, Forbidden Lessons in a Kabul Guesthouse: The True Story of a Woman Who Risked Everything to Bring Hope to Afghanistan. Sadeed, who founded Help the Afghan Children in 1993, recounts gripping adventures in her war-torn homeland—like traveling alongside teenage militiamen, smuggling $100,000 into dilapidated villages, and coming face-to-face with members of the Taliban. A book signing will follow. Free; 6:30 PM.
FILM: NoMa is offering tonight's free screening of Ghostbusters 2. After being sued by the city of New York for property damage of marshmallow-y proportions, the Ghostbusters are bankrupt and out of business. But when strange things start happening around the city, the gang springs back into action. Smokin' Somethin' and Sweetgreen restaurants will be on site with refreshments. This screening is part of NoMa's outdoor summer screen series. Film begins at 9 PM.
Subscribe to Washingtonian
Follow Washingtonian on Twitter
More>> After Hours Blog | Arts & Events | Happy Hour Finder | Calendar of Events