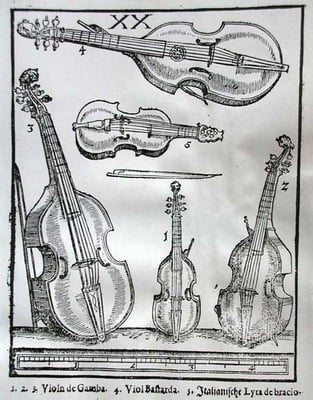 The body of music known as "classical music," judging by the fairly narrow offerings of traditional classical music ensembles at least, began with Mozart. Fortunately Washington has a surprising number of performing groups specializing in early music, a nebulous term that is usually applied to music composed before the 18th century and played on historical instruments or otherwise informed by scholarship, in an attempt to revive the sounds of previous centuries. Since 2004, the Washington Early Music Festival has offered a forum for these ensembles to present concerts on a common theme. After the first couple of seasons presenting the festival every summer, the event is now presented in even-numbered years only, in alternation with the Boston Early Music Festival. In odd-numbered years, the festival presents a single gala concert, which happened on Saturday, at St. Mark's Church on Capitol Hill.
The three-hour event featured nine ensembles in perhaps too much music, all of it loosely centered on the theme of passions, some celestial and some more human. The most beautiful musical discovery was a motet, Ave suavis dilectio, by Isabella Leonarda (1620-1704), a woman who had a prolific career as a composer while a nun in an Ursuline convent. Soprano Rosa Lamoreaux sang with limpid tone, never pushed to more abrasive sound by the clean playing of ArcoVoce, and trading phrases of the Latin poem, on the delights of the Catholic sacraments, with ecstatic outbursts from the paired violins.Other vocal high points came in the three selections performed by the all-male vocal ensemble known as the Suspicious Cheese Lords. With their numbers reduced to about a dozen, the group had a more rarefied and well-blended sound than heard in some recent performances, still with a few infelicities of intonation so that some widely spaced harmonies, in particular, did not line up from top to bottom. The selections, as always, were unexpected, including a madrigal by Vittoria Aleotti, a motet on a text from Song of Songs by Jean Mouton, and a comic canzonetta by Orlando de Lassus. The festival's director, harpist Constance Whiteside, also directs the ensemble Armonia Nova, and her simple accompaniments to medieval songs, by Blanche de Castille and Guillaume Machaut especially, were an ethereal background to the voice of soprano Allison Mondel, a little brittle and constricted.
The mixed voice choir Carmina sang with well-shaped phrasing in two motets by notorious Renaissance composer Carlo Gesualdo, but with more pronounced discrepancies of intonation and vowel color. Mezzo-soprano Barbara Hollinshead gave well-declaimed, flowing-lined renditions of French Renaissance songs, especially Il me suffit de tous mes maulx and Étienne Moulinié's Enfin la beauté que j'adore. These pieces were best suited to viola da gamba player Tina Chancey, who did her best to approximate the accompaniment, originally planned to be played by a lutenist. Chancey, one of the doyennes of Washington's early music scene, played with several of the ensembles, where she was generally overshadowed by another solo colleague.
With Harmonious Blacksmith it was the watercolor translucency of flutist Jeffrey Cohan, who gave florid embellishments to rather simple Irish and Scottish melodies. With the Vivaldi Project it was violinist Elizabeth Field, who stood on her own with strength and flair in Telemann's B-flat fantasy for solo violin. Least satisfying were the somewhat scratchy, off-color Beethoven piano trio (op. 1, no. 3) from Modern Musick, but not because of the flashy pianoforte playing of Dongsok Shin, and the slightly awkward sonata (op. 2, no. 8) by Jean-Marie Leclair (1697-1764) from Ensemble Gaudior, a beautiful piece that has a devilish part for viola da gamba in contrapuntal dialogue with the solo violin. A joyous encore, a dancing song for the conclusion of the Corpus Christi procession in Valencia by Juan Bautista Comes, drew all of the performers back together for a fervent farewell performance.
Subscribe to Washingtonian
Follow Washingtonian on Twitter
More>> After Hours Blog | Arts & Events | Happy Hour Finder | Calendar of Events