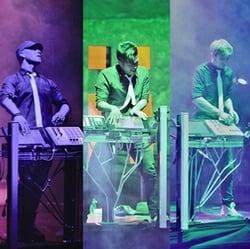 Wednesday, July 20
BARBECUE: Where can you get bourbon, barbecue, and cigars in one place? At Old Glory's Bourbon and Cigar Dinner, of course! The four-course menu will pair a flight of bourbon with each dish, along with one cigar for the evening. The spread includes juniper seared Hudson Valley duck breast, grilled sea scallops, porcini crusted NY strip steak, and blueberry bourbon sorbet. Tickets ($50) can be purchased at the event Web site. 6:30 to 9:30 PM.
MUSIC: The Glitch Mob is dropping by the 9:30 Club for an evening of dance and hip-hop fusion. The three-man electronica group recently collaborated with Daft Punk for the Tron: Legacy soundtrack. You can sample some of their tracks here. Tickets ($20) can be purchased at the event Web site. Doors open at 7 PM.
PARTY: Join WGirlsDC for their Summer Fun party at Acre 121. Enjoy live music by the bluegrass band Split String Soup while sipping on a free drink of your choice. Proceeds will benefit Weave, a program that fights domestic violence against Washington women. Tickets ($10) can be purchased at the event Web site. 6 to 9 PM.
HAPPY HOUR: Humanities Happy Hour is bringing sexy back at Bar 7 with tonight's panel, "DC's Triple Threat: Sex, Scandals, and Social Media." Join sex therapist Peter Chirinos, journalist Marc Sandalow, gossip columnist Amy Argetsinger, and blogger Stef Woods as they discuss the scandalous sex lives of Washingtonians and the role of social media in it all. A percentage of your tab will support the Humanities Council of DC, a nonprofit that helps support community programs. Free; 5 to 7:30 PM.
ART: As part of Belgian Restaurant Week, the Morton Fine Art gallery is hosting an exhibit of two Belgian artists through Thursday. Champagne and Belgian chocolates will be provided by Locolat Café. Free; Wednesday: 4 to 8 PM, Thursday: 11 AM to 8 PM.
Subscribe to Washingtonian
Follow Washingtonian on Twitter
More>> After Hours Blog | Arts & Events | Happy Hour Finder | Calendar of Events