The interior of Rabbit, left, and the tuna Niçoise salad with egg, red potatoes, olives, haricots verts, and roasted tomato. Photographs by Kyle Gustafson
The phrase "rabbit food" has a negative connotation, but at restaurateur Aaron Gordon's Rabbit—a greens-and-grill shop opening in Clarendon Thursday, July 28—you don't have to worry about eating just sprouts. Instead, plan on tucking into grilled flank steak over spinach with blue cheese and baby potatoes, or seared peaches over arugula with prosciutto, ricotta, and toasted hazelnuts. Add one of the 13 cupcakes from Red Velvet (which Gordon owns along with the fro-yo business TangySweet) and a glass of wine or pint of beer—it comes from Ashburn's Lost Rhino Brewery—and you'll have a very un-bunny-like meal.
Gordon took cues from such order-at-the-counter places as Cava Grill as well as sit-down burger and pizza joints in Clarendon. He added a green ethos, so meals come on recycled baking trays, and salads are served on china instead of plastic.
Chef Katsuya Fukushima, an Iron Chef America winner and alum of José Andrés's ThinkFoodGroup, designed the menu. Traditional salads get slight tweaks. Case in point: the caprese, which comes with the typical tomatoes-basil-mozzarella trifecta but also roasted cherry tomatoes, marinated sun-dried tomatoes, and cubes of watermelon. Grilled sandwiches will please both kids (grilled cheese, hot peanut butter and jelly) and adults (a Cuban with six-hour-braised pork shoulder, ham, dill pickles, mozzarella, and mustard aïoli). One difference from the restaurants Gordon took inspiration from: there's no build-your-own anything.
"We have wonderful, delicious combinations as they are," he says.
Rabbit, 3035 Clarendon Blvd., Arlington; 703-243-5660; rabbitsaladandgrill.com. Open daily 11 AM to 11 PM. Opens Thursday, July 28, with free cupcakes from 4 to 8.
Click the menu to view at full size. Click, hold, and pull down to scroll.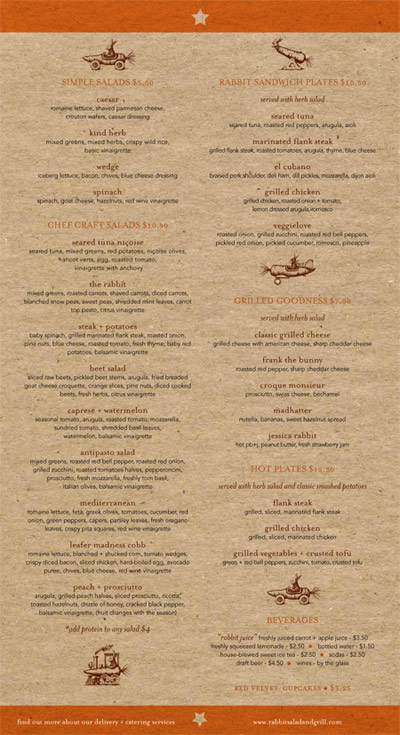 Subscribe to Washingtonian
Follow Washingtonian on Twitter
Follow the Best Bites Bloggers on Twitter
More>> Best Bites Blog | Food & Dining | Restaurant Finder