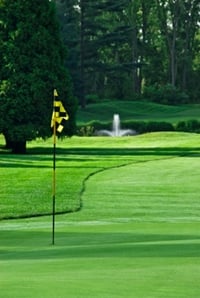 This summer, President Obama (estimated handicap: 17) is losing a regular golfing partner: White House staffer Ben Finkenbinder is returning to Chicago to work on the reelection campaign. Never heard of him? The First Duffer's preferred foursome is filled out by lower-level administration staffers, people not known much beyond the Andrews Air Force Base links.
BEN FINKENBINDER
Day Job: Assistant White House press secretary—a.k.a. press "wrangler," who gathers reporters for events and trips
Salary: $50,000
Age: 26
Parents: Son of David Finkenbinder, former executive vice president of the National Mining Association
Hometown: Bethesda
Alma Mater: Macalester College
2004 Campaign Role: Knocked on Minnesota doors for John Kerry '04.
Handicap (According to Golf Digest): 7
Golf Background: Played in college.
Fun Fact: On the '08 presidential campaign, he arrived by 3 each morning to begin compiling news clips.
—–
DAVID KATZ
Day Job: Now White House senior policy adviser for manufacturing; formerly energy-efficiency adviser to Energy Secretary Steven Chu
Salary: $92,001
Age: 29
Parents: Son of Lucinda Lee Katz, former director of University of Chicago Laboratory School, which Obama's daughters attended pre–White House
Hometown: Chicago
Alma Mater: University of Michigan; Stanford (MBA)
2004 Campaign Role: Was Obama's campaign photographer beginning with his US Senate run.
Handicap (According to Golf Digest): 1.8
Fun Fact: On election night 2008, Katz released 82 behind-the-scenes photos of the Obama family on Flickr.
—–

MARVIN NICHOLSON

Day Job: White House trip director, who runs every detail of the President's movements
Salery: $130,000
Age: 39
Parents: His American-born mother, Liz Beatty, and stepfather live in North Saanich, British Columbia.
Hometown: Toronto
Alma Mater: University of Western Ontario
2004 Campaign Role: Was Kerry's "body man," or personal aide.
Handicap (According to Golf Digest): 8
Golf Background: Has extensive caddying experience in Vancouver and at Augusta National.
Fun Fact: While working for Kerry, he carried business cards that proclaimed him "chief of stuff.
This article appears in the August 2011 issue of The Washingtonian.
Subscribe to Washingtonian
Follow Washingtonian on Twitter
More>> Capital Comment Blog | News & Politics | Party Photos