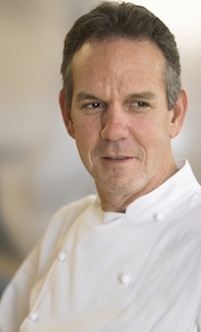 Sophie Gilbert, assistant editor:
• It's funny how the foods we crave can often tell us more about our state of health than anything else. Former Boqueria chef Seamus Mullen, who was diagnosed with rheumatoid arthritis, is publishing a cookbook about foods that can make us feel better: A Chef Finds Healing in Food.
• If I did this, my daily food photo would be embarrassingly full of wine, candy, and a few carrot sticks for good luck. A photographer and writer traveled the world taking pictures of different people next to all the food they typically eat in a day. And, as you might guess, the results aren't all that pretty over here in the U.S.: Breaking Bread Everywhere, Plentifully or Pitifully.
• It's official: The best grocery-store coffee brand is . . . Gloria Jean's, which tied for first place with Newman's Own: 'Consumer Reports' Picks the Best Coffees.
• Revered chef Thomas Keller is heading across the pond—but only for a ten-day stint at the helm of a pop-up restaurant in London. Fun fact: Harrods, the department store hosting Keller's venture, was also the first place in London to sell Krispy Kreme doughnuts, and it boasts an outpost of French patisserie La Durée: Thomas Keller Headed to London for Temporary French Laundry at Harrods.
Kate Nerenberg, associate food and wine editor:
• Speaking of Thomas Keller, who doesn't want to see what's in the guy's fridge? The two most shocking things about its contents: 1. There's more than just a dozen kinds of mustard—about par for course when it comes to chefs' fridges, and 2. Keller, who's well known for having an obsession with everything being orderly and neat, has one or two things askew on the shelves. Gasp! KCET 'Uncorks' its Independence at Bouchon Bistro in Beverly Hills.
• I'll read anything Ruth Reichl writes, and this piece is a particularly interesting look at the intersection of old-school farming, new-school technology, and chefs fighting to get the best products: A Farm With Heart . . . and Brains.
• While this Eatocracy article includes lots of things I already knew—the life of a restaurant critic isn't as glamorous as it might seem; the Michelin Guide can boost business by 20 to 30 percent—it also introduced me to a gem of a Tumblr account. Its self-description: An exploration of the douchebaggery idiots commit when enabled with an Internet connection, enough money for a meal, and a sense of entitlement. In other words, crazy Yelp-ers: Everyone's a Critic, Some Just Call it Their Day Job. 
Ann Limpert, food and wine editor:
• I also sifted through that Tumblr collection. Here's NanaDiana M. on Porto's Bakery: "Perhaps my problem was that I was raised with manners and other cultures were raised to fight for the right to a bakery item. When I finally retrieved the cake, the sales girl looked at me and said Is this what you have been waiting for. I wanted to smash her face into the cake": Fuck You Yelper.
• I loved the New York Times Book Review's wonderfully quirky illustration about what writers snack on when they're working. Writer Kathleen Flinn did too, and went on to ask more writers what they like to eat. Food52's Amanda Hesser goes for salted nuts, bourbon, and cookies and milk, while Washington Post food editor Joe Yonan says he eats something that relates to what he's writing about. My own sad admission: Hint of Lime Tostitos and lapsang souchong tea (not together): What Do Food Writers Eat When They Write About Food?
• Should aspiring chefs go to culinary school? A surprising number of pros say no: Culinary School Versus On-the-job Chef Training.
Todd Kliman, food and wine editor:
• Yum: farm-fresh produce from a Manhattan construction site! You can practically smell the breezes off the East River as you chow down on a cucumber from Tom Colicchio's "secret" "farm"! Tom Colicchio's Secret Farm, Right Next to the F.D.R. Drive.
• The Internet is a great way to fill up time with silly arcana, but I found this fascinating and even oddly moving: artist renderings of the last meals of death-row inmates. The final repast of Jeffery Barney, by artist Mat Collishaw, summons the eerie stillness and sublimity of a 17th century Dutch master still life. And it's a bowl of cornflakes: Artists Capture Death Row Convicts' Final Feasts.
• Men's Health relays the findings of an unsettling new study from Canadian researchers: 70 percent of lab mice on a high-carb, Western-style diet developed tumors, compared with only 30 percent of mice on a low-carb diet. Just once I'd like to see a study showing that broccoli and apples and blueberries are carcinogenic and should be consumed in moderate dosages: The Carb/Cancer Connection.
Subscribe to Washingtonian
Follow Washingtonian on Twitter
Follow the Best Bites Bloggers on Twitter
More>> Best Bites Blog | Food & Dining | Restaurant Finder