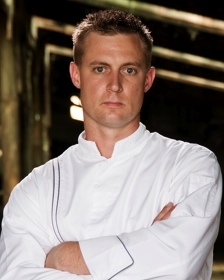 District
The Hamilton (600 14th St., NW). The Clyde's group is opening its 14th restaurant—with 860 seats and a downstairs stage for music acts—in a former Borders store. Brian Stickel, who has worked at 1789 and as executive chef at Clyde's of Georgetown, is overseeing the menu, which will include some of the company's tavern staples as well as a large sushi bar. Projected opening: December.
Maryland
North Market Kitchen (331 N. Market St., Frederick). The second act for Bryan Voltaggio, a Top Chef runner-up and owner of Frederick's Volt, is a 200-seat restaurant, store, and kitchen with a raw bar, cheese counter, sweets shop, and rotisserie. Projected opening: early 2012.
Debuting later next year in DC's Chevy Chase Pavilion is Bryan Voltaggio's third project: a not-yet-named 250-seat bistro with a menu that recalls his former position as executive chef at Charlie Palmer Steak. His neighbor there? The Cheesecake Factory.
Virginia
Café Pizzaiolo (2800 S. Randolph St., Arlington). Owner Larry Ponzi is planning a third location of his pizza shop—this one in Shirlington Village. To improve his Neapolitan-style pies, he's importing an Italian brick oven; he'll cook the New York pizzas in the same stone hearth that's in his Fairlington and Crystal City locations. Projected opening: November.
Society Fair (277 S. Washington St., Alexandria). On the heels of their new pub in Old Town, Virtue Feed & Grain, Cathal and Meshelle Armstrong of Restaurant Eve are opening a 7,000-square-foot one-stop shop with cooking classes, a bakery, a butcher, a wine bar, and a "studio" kitchen with a three-course menu. Projected opening: October.
This article appears in the August 2011 issue of The Washingtonian.
Subscribe to Washingtonian
Follow Washingtonian on Twitter
Follow the Best Bites Bloggers on Twitter
More>> Best Bites Blog | Food & Dining | Restaurant Finder